Clay can be used as a plugging compound to create all kinds of flower arrangements. Clay is a natural, more environmentally friendly and sustainable alternative to conventional floral foam. I have answered general and frequently asked questions about floral foam in FAQ focusing on sustainability, disposal, microplastics, etc. For questions related to floral foam for dried flowers, I created a separate FAQ about dryl floral foam.
This FAQ covers general questions about the use of clay for flower arrangements.
I already utilized clay an an alternative to floral foam in the following DIY: Spring Arrangement with Clay.
Questions about clay for flower arrangements
What is clay?
Clay is a natural material that occurs in the earth's soil. Clay is a decomposition product of other materials, such as feldspar (mineral of the earth's crust).
In particular, clay consists largely of clay minerals, such as phyllosilicates, quartz, calcium and feldspar. Clay also contains water which makes it soft and malleable. When exposed to air, clay dries and becomes solid.
Why looking for an alternative to floral foam?
Floral foam is available as wet/normal floral foam for fresh cut flowers and as dry foam for floral arrangements with dried flowers. In both cases, the foam is made of plastic and a source of microplastics. Floral foam for fresh cut flowers also does not reuse well.
Clay is a natural, more sustainable and environmentally friendly alternative for creating floral arrangements with fresh cut flowers or dried flowers. In this regard, clay is well suited for table flower arrangements. Unfortunately, hanging flower arrangements are more difficult to create with clay due to its heavier weight.
How to use clay for flower arrangements?
Clay can be used for fresh and for dry flower arrangements. I use normal pottery clay for all flower arrangements. This is very soft and the flowers are easy to put in.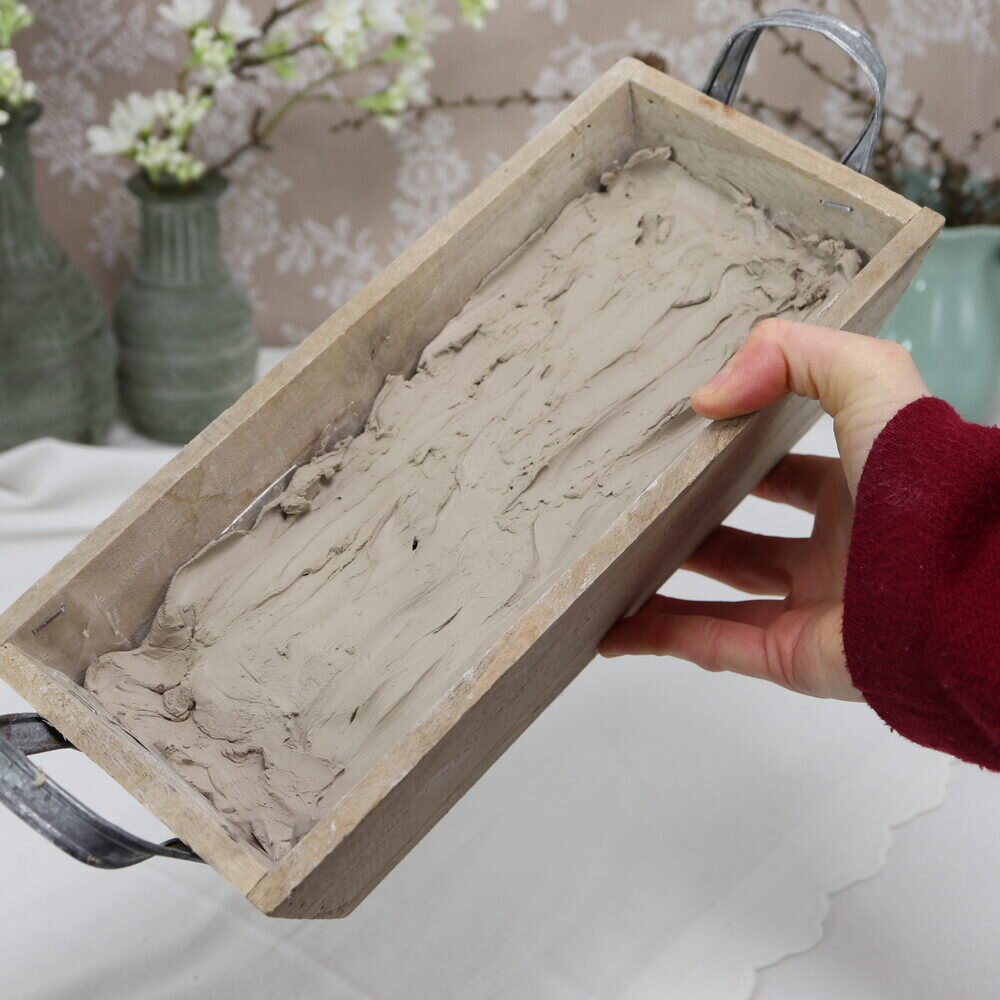 I put the clay in a container and smooth the surface. Then I put the cut flowers into the clay. As the surface comes into contact with air, it can dry out. For arrangements with fresh cut flowers, I therefore make sure that the entire clay is covered. This is accomplished, for example, by using moss or lichen to fill the spaces in between. In addition, I always give a little water on the fresh arrangement, so that the clay remains soft and releases the water to the flowers.
How long will last fresh arrangements with clay?
Fresh flower arrangements with clay last for several days. My spring arrangement with clay with tulips, ranunculus, freesia, roses, larch branches and lichen looked like this on the first day: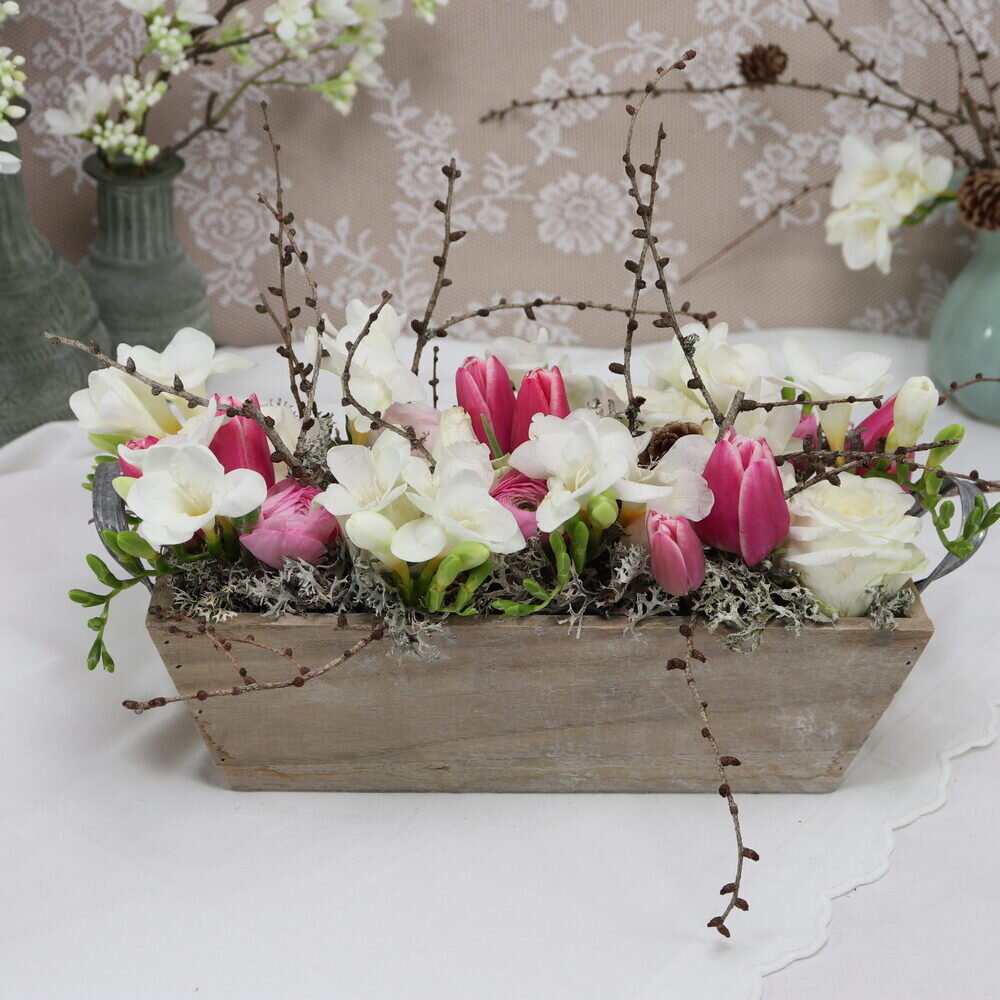 This is how the arrangement looks on the fifth day: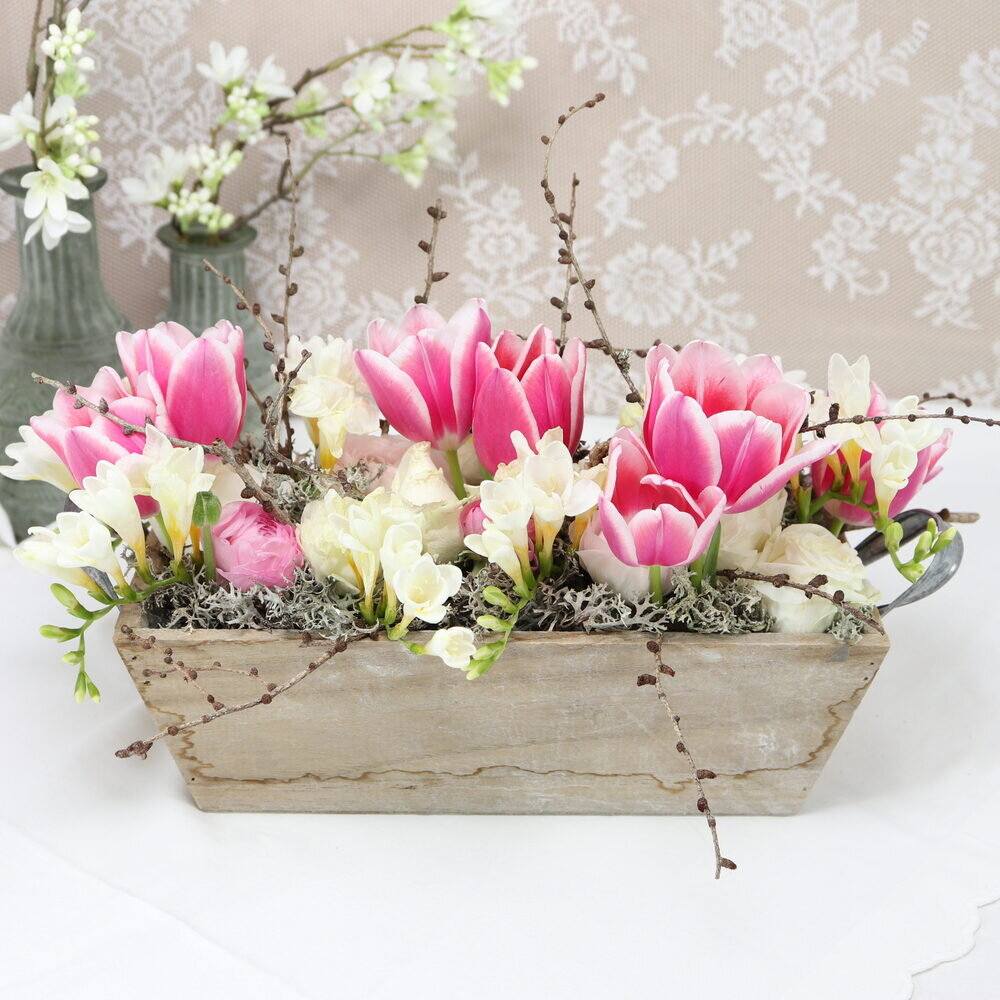 The arrangement still looks beautiful after five days. Only individual freesias begin to wither slightly. The surface of the clay is still well moistened.
If the clay of the arrangement is still moist, the wilted flowers can easily be replaced. To do this, pull them out of the clay and replace them with fresh flowers.
Can clay be reused?
Yes, the used clay can be reused for further flower arrangements. If the clay has become hard, it is necessary to soften it again. For this purpose, a bag and water are needed. If the clay is still a little damp, you can put it in a bag in one piece with a little water and seal it airtight. When the clay is completely dry, it is advisable to break it into small pieces beforehand, for example with a hammer.
It may take a few days for the clay to soak up the water and become soft again.
How to store clay?
Since clay dries and solidifies when exposed to air, it is recommended to seal it airtight.