Maybe the Winter season is also the most beautiful time of the year for you? Every year I look forward to the lights, decorating and being creative. And today I show you how you can create an Advent wreath with pampas grass and eucalyptus yourself!
For the Advent wreath I combine fresh eucalyptus with the dried flowers hare's tail grass and pampas grass. I tie these with wire on a straw wreath and decorate it with golden Christmas balls and a golden candle holder.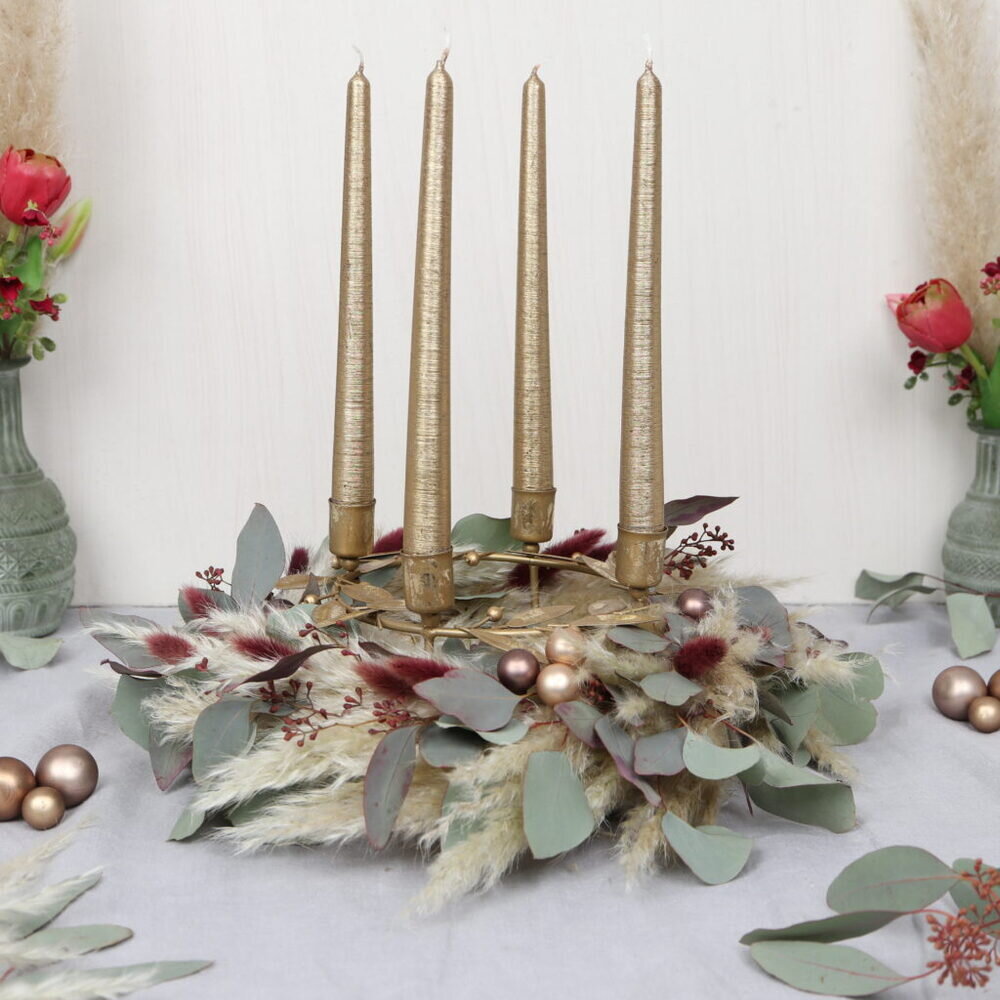 With the following step by step instructions you can easily make the Advent wreath yourself!
Tools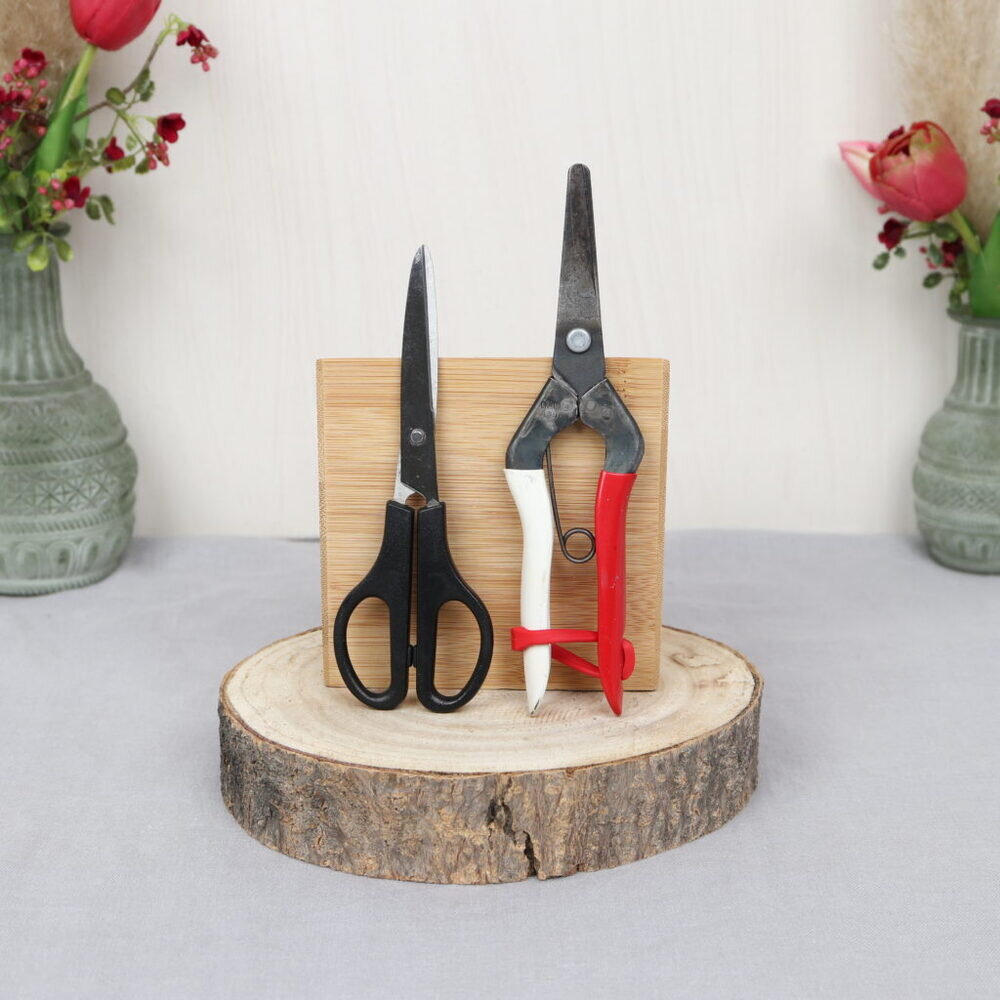 Here you can see what tools I used for the Advent wreath. You need scissors (I use them to cut the thin wire, you can of course also use a wire cutter) and flower scissors to cut the plants.
Materials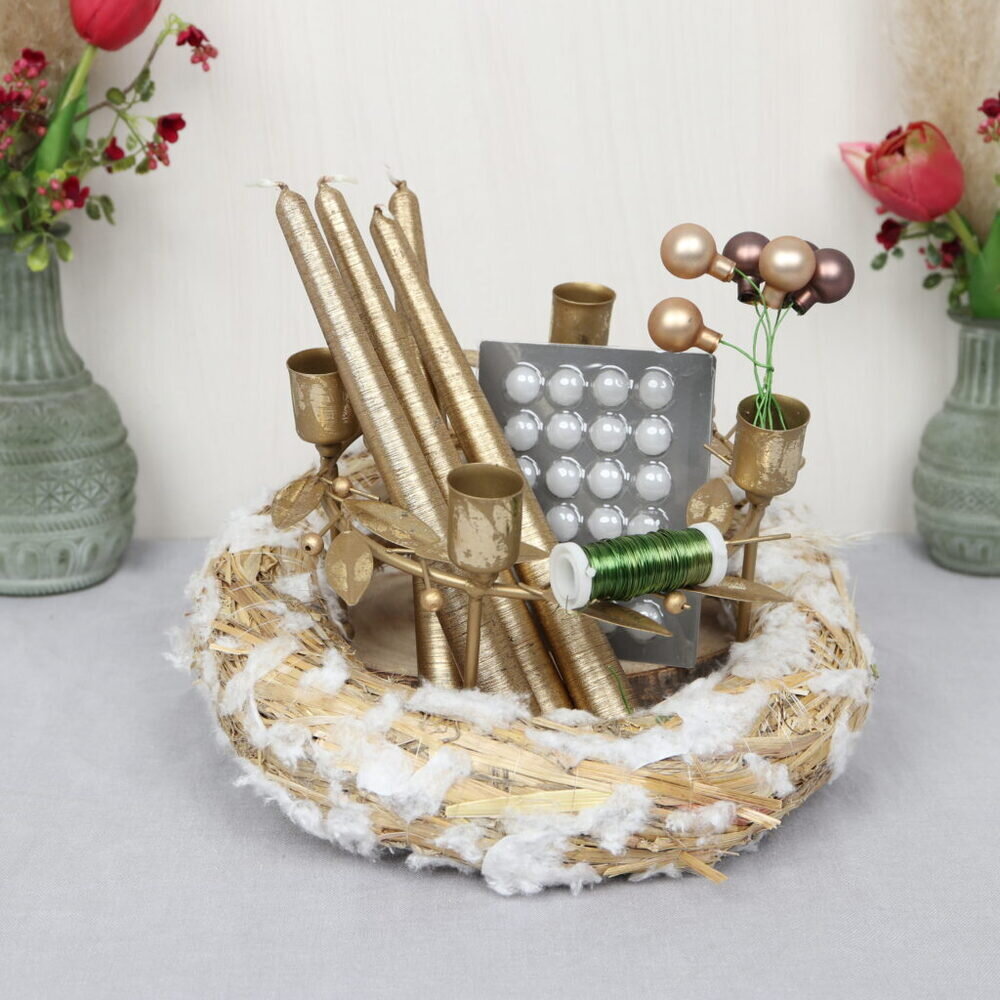 These are the materials I used for the homemade Advent wreath: a straw wreath, a golden candle holder for four candles, four golden candles, small golden Christmas balls with wire, wax dots for candles and thin floral wire.
I used the following flower and plant material: Fresh eucalyptus, pampas grass and dried hare's tail grass.
Advent Wreath DIY Guide
Step 1: Cut plants
In the first step I prepare the plants.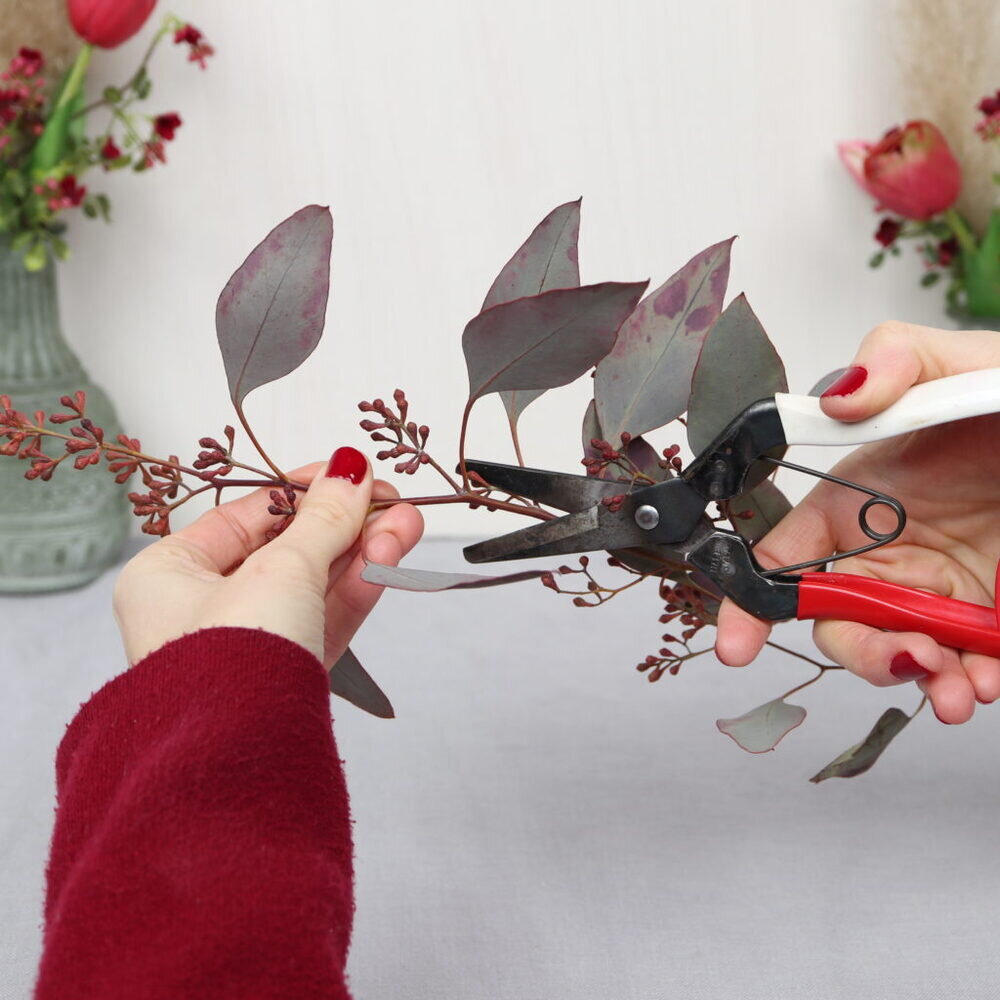 I cut the stems of eucalyptus and hare's tail grass short with my flower shears.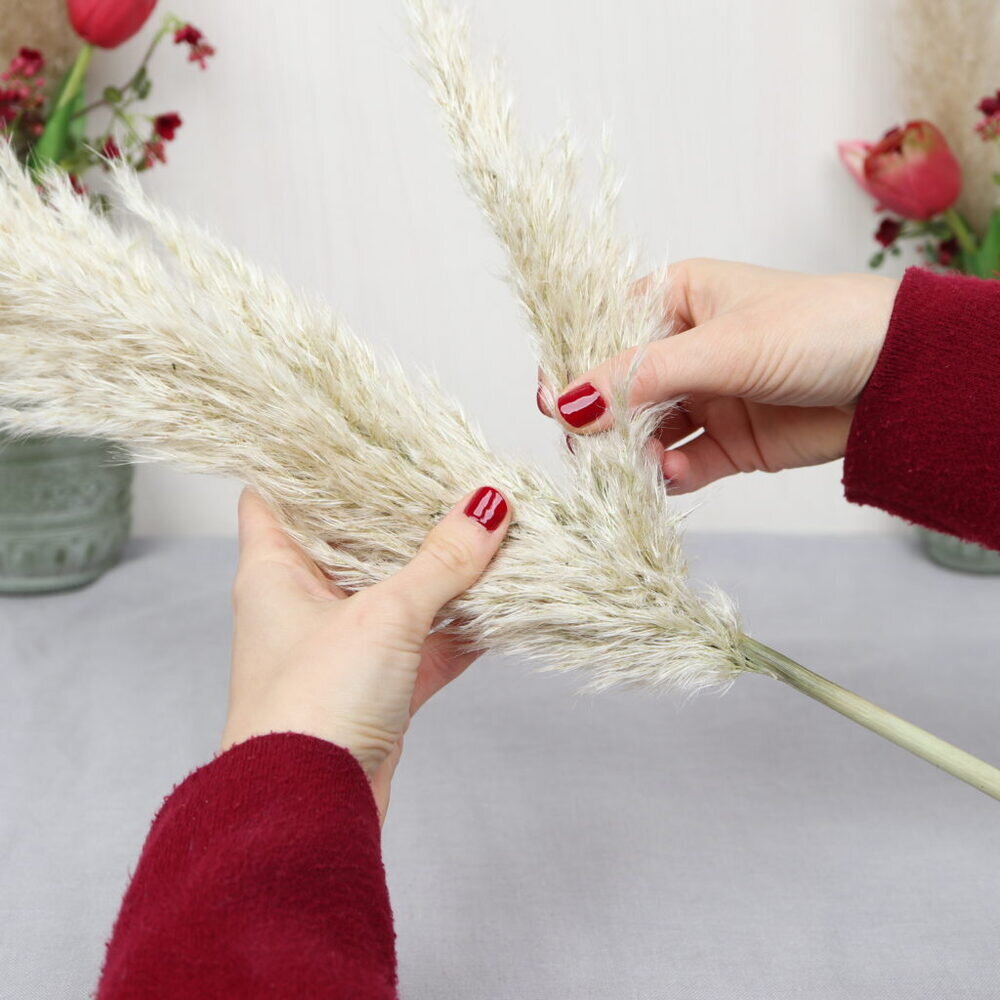 I take small bunches from the pampas grass.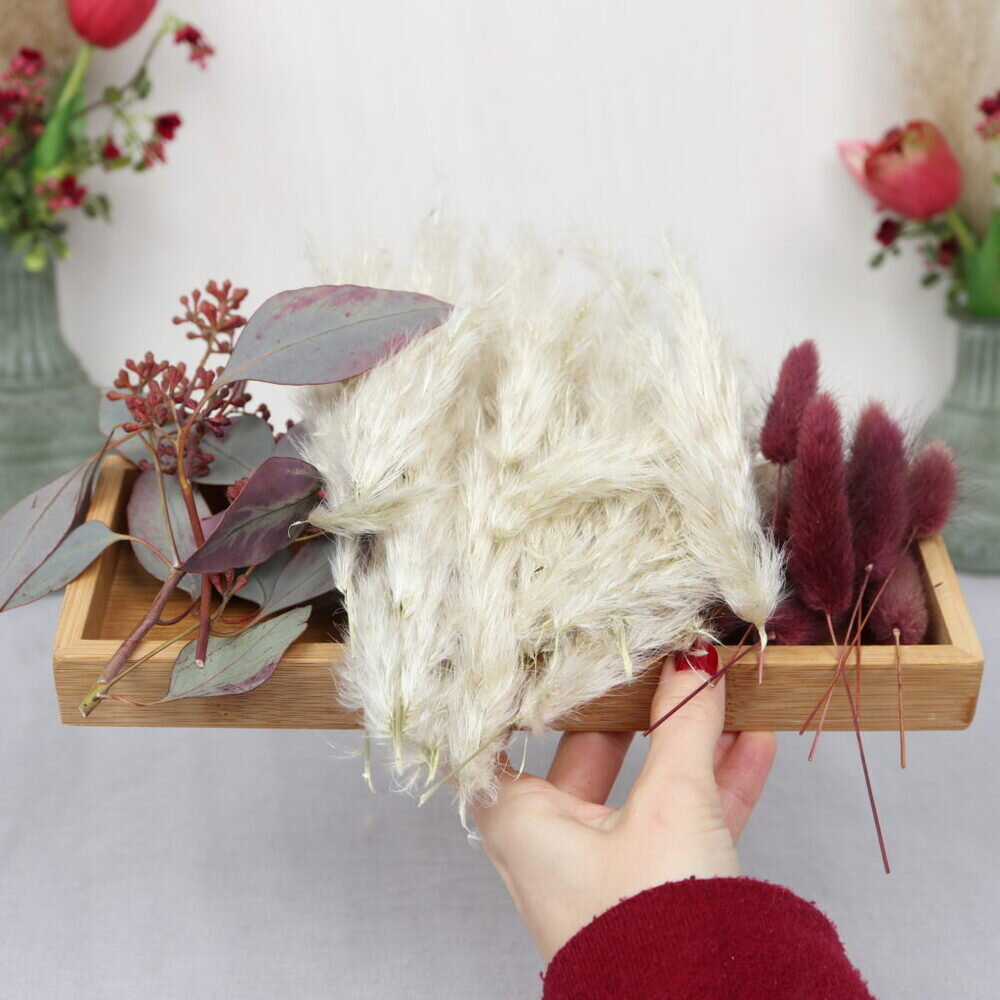 Step 2: Tie wire to the straw wreath
Now I attach the floral wire to the straw wreath. For this, I leave a piece of wire protruding, wrap the wreath several times and then twist the wire.
Step 3: Tie plants to the wreath
Now begins the binding! To do this, the plants are wrapped layer by layer and put on top of each other again and again.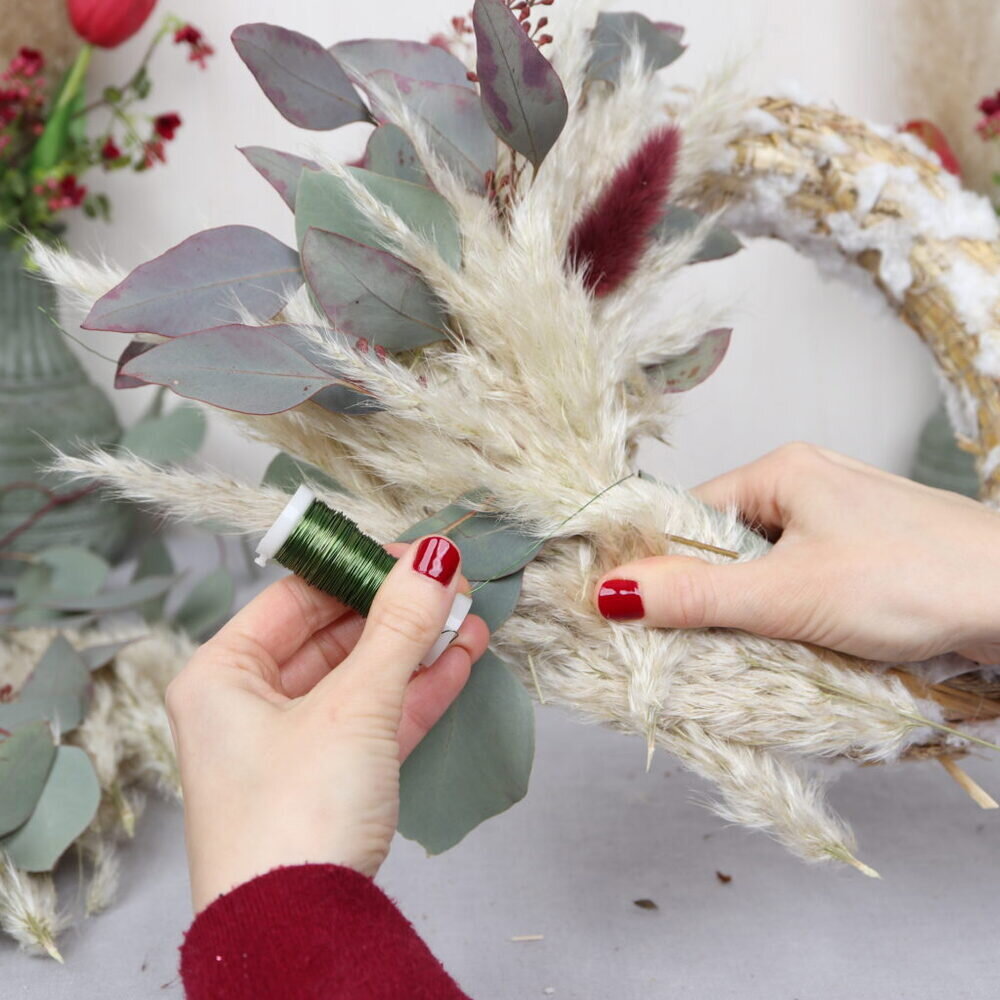 First I place pampas grass on the ring, above it some eucalyptus green and hare's tail grass. Then I wrap everything with the wire. Over the wire I place another layer of the plants, wrap and tighten everything well again.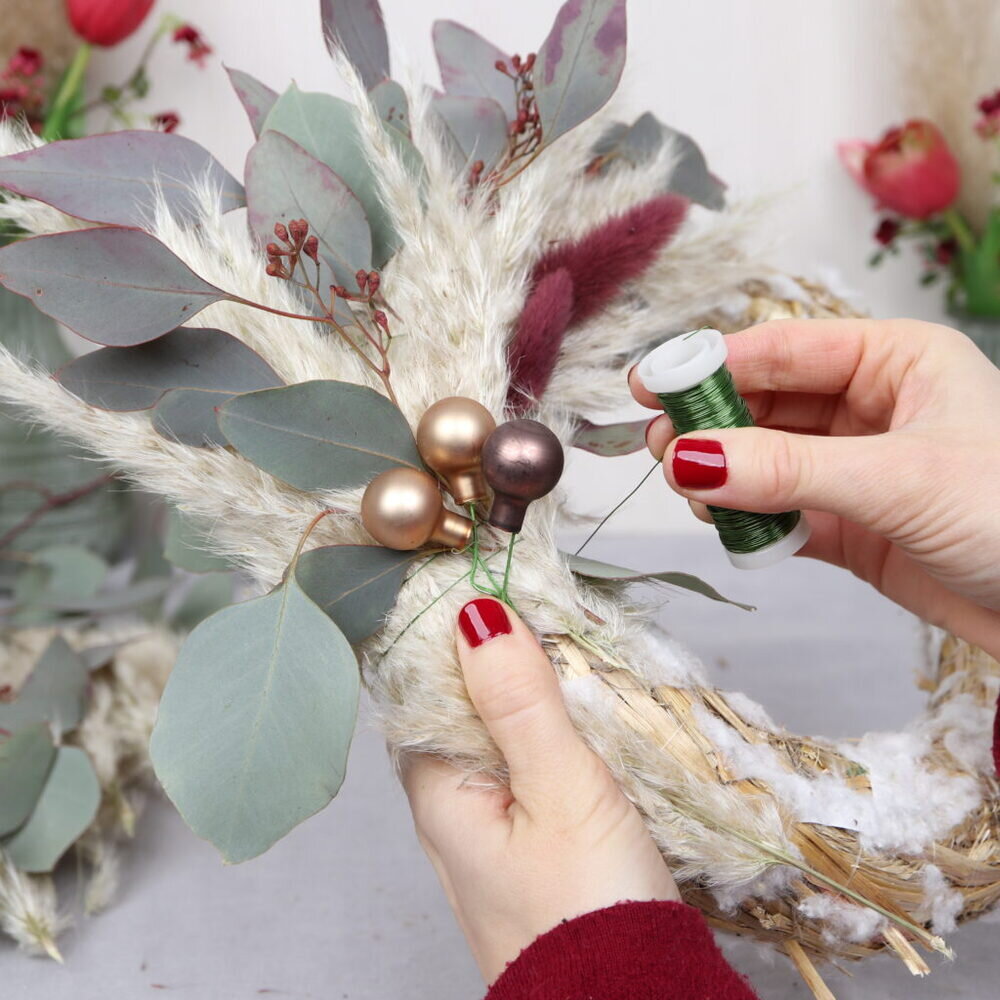 The small Christmas balls can be easily attached to the wreath. Just put the Christmas ball with the plants and wrap again. I have attached groups of three balls at four different spots.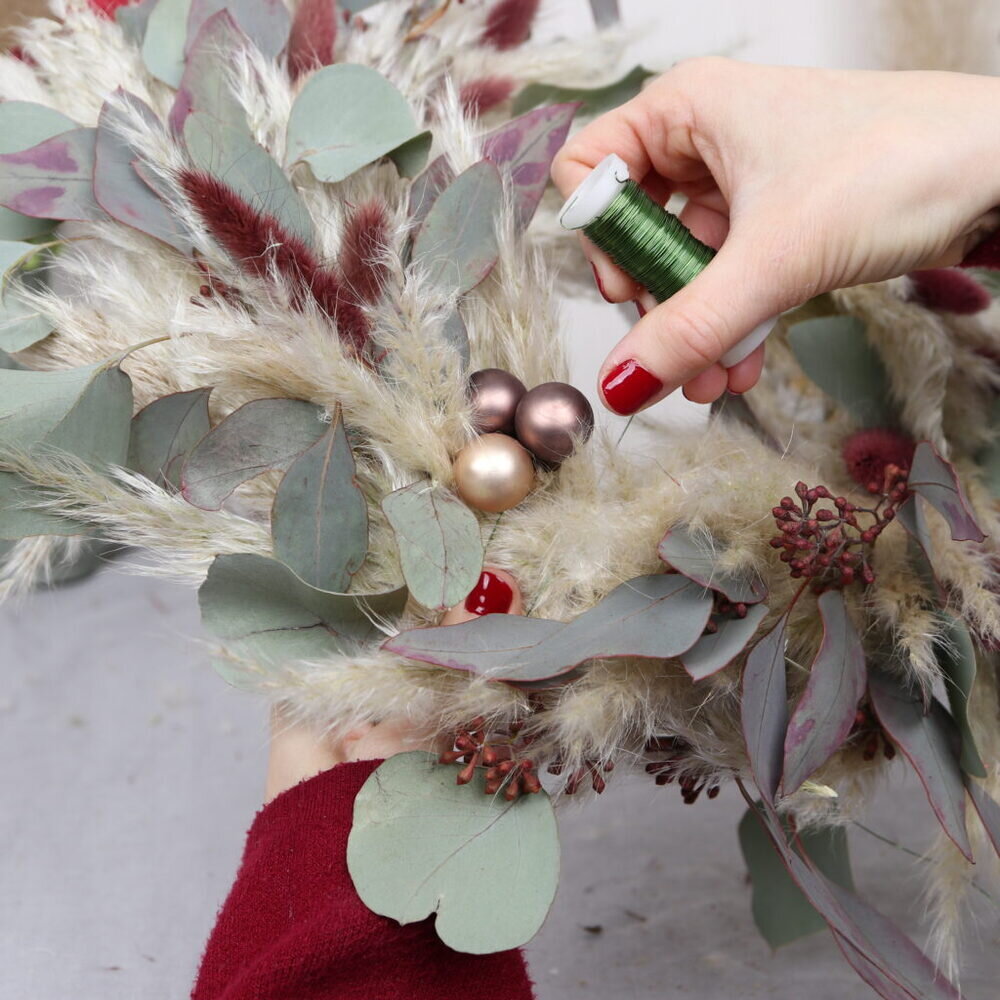 At the end it's a little tricky, because to make that the beginning and of the plant wrapping looks good.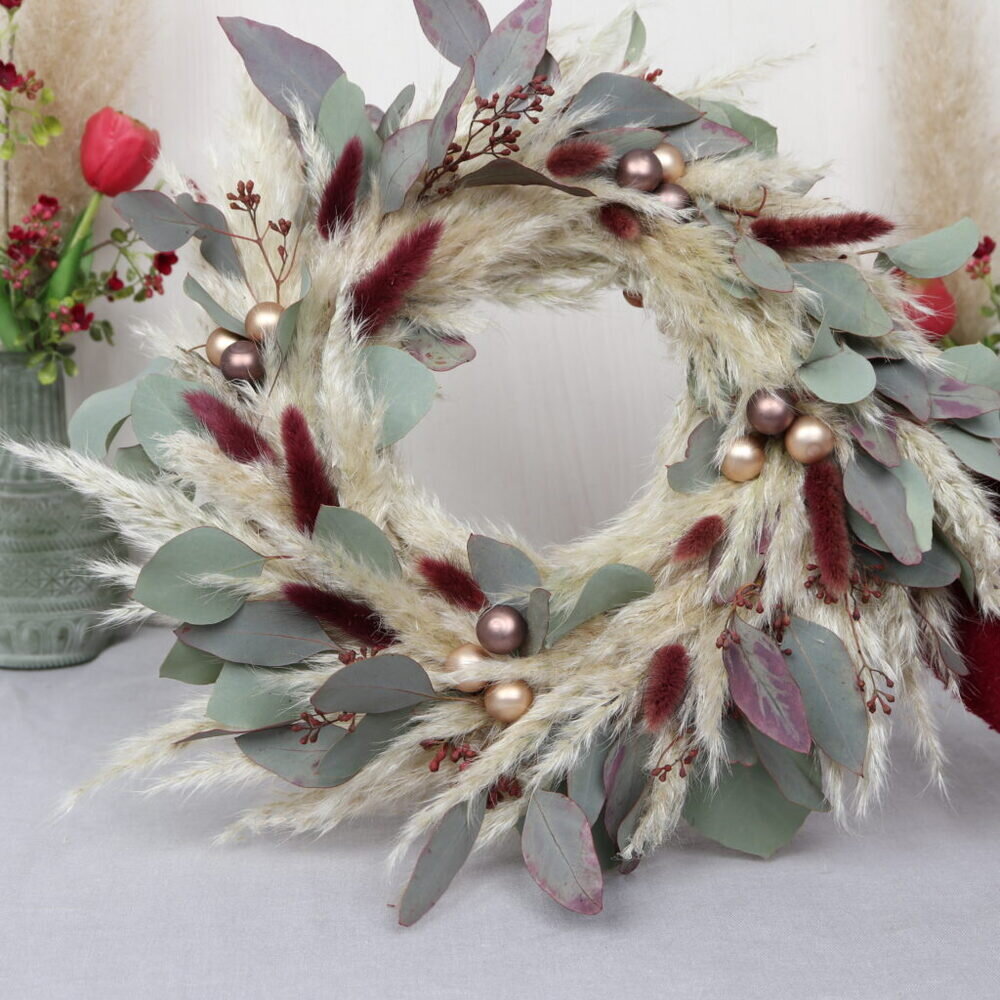 Step 4: Insert candle holder
Now simply place the golden candle holder inside the wreath. You may have to press it with some force.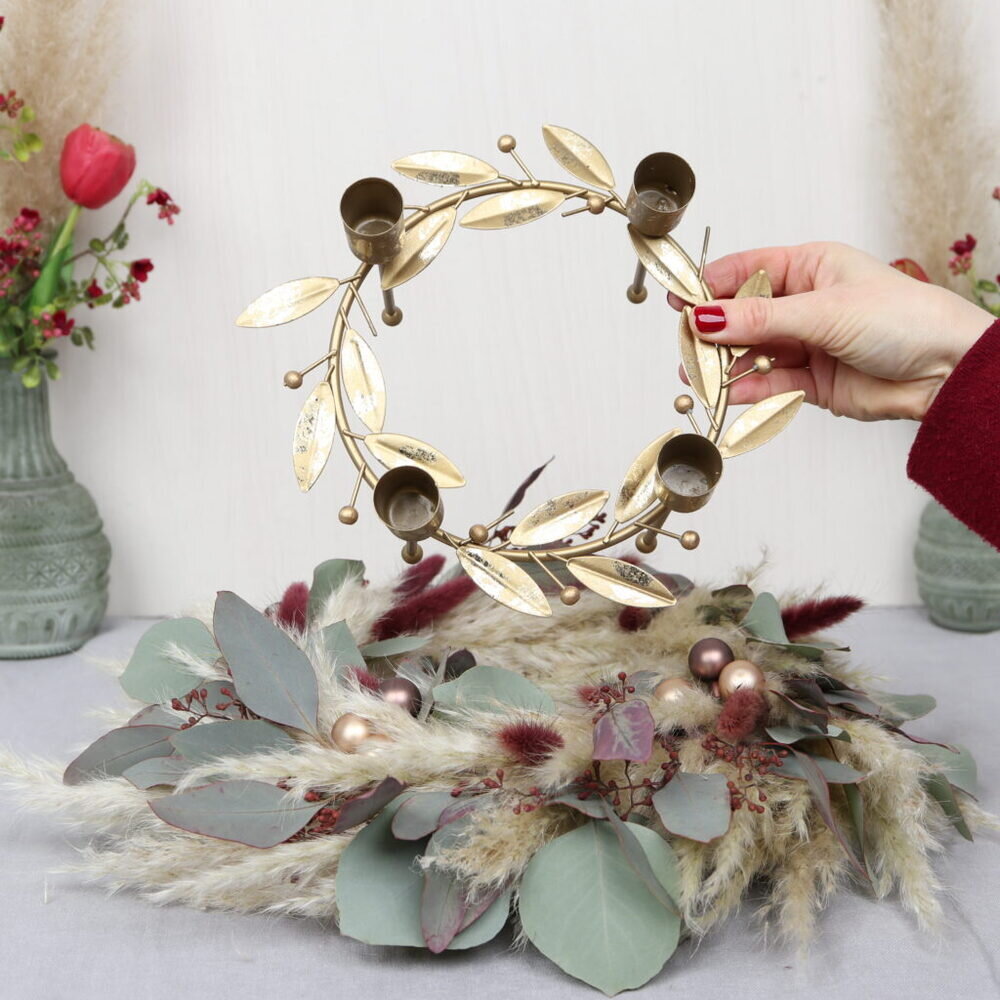 My candle holder was a perfect fit to the size of the wreath.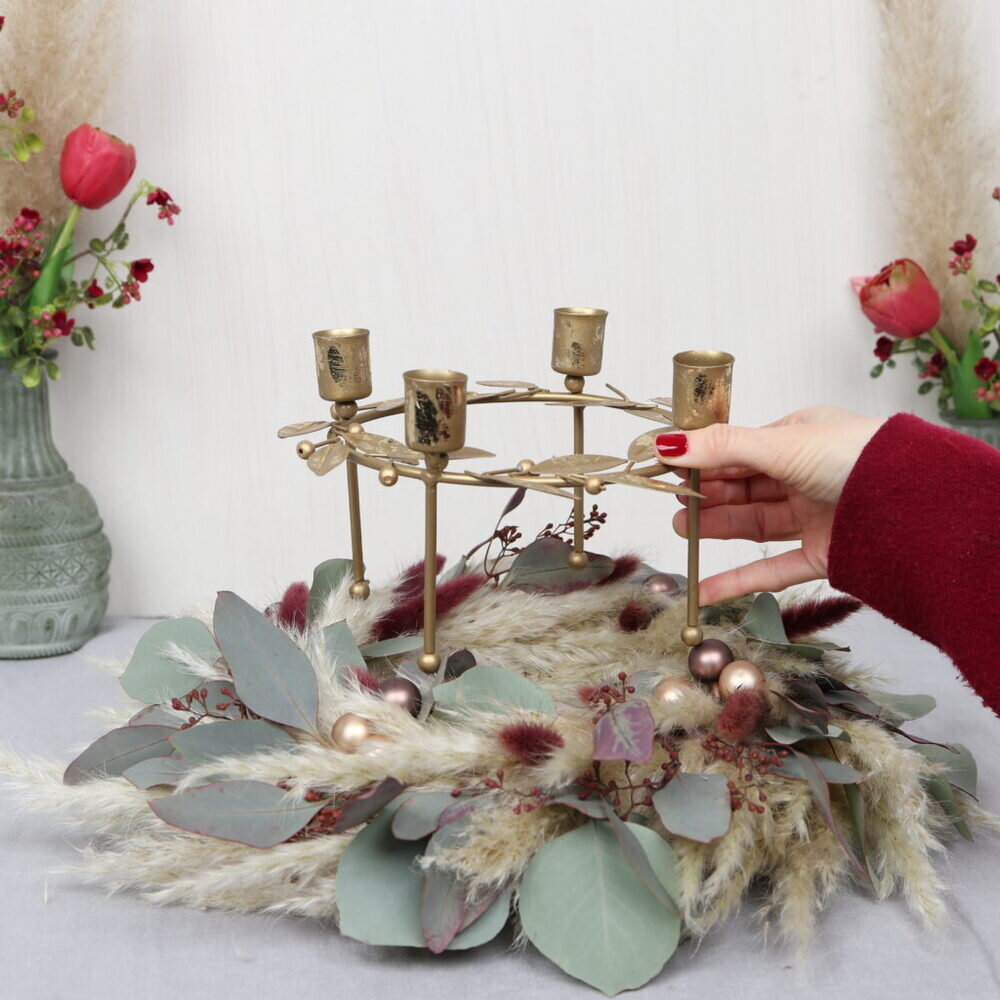 Step 5: Insert candles
Now put the golden candles into the candle holder slots.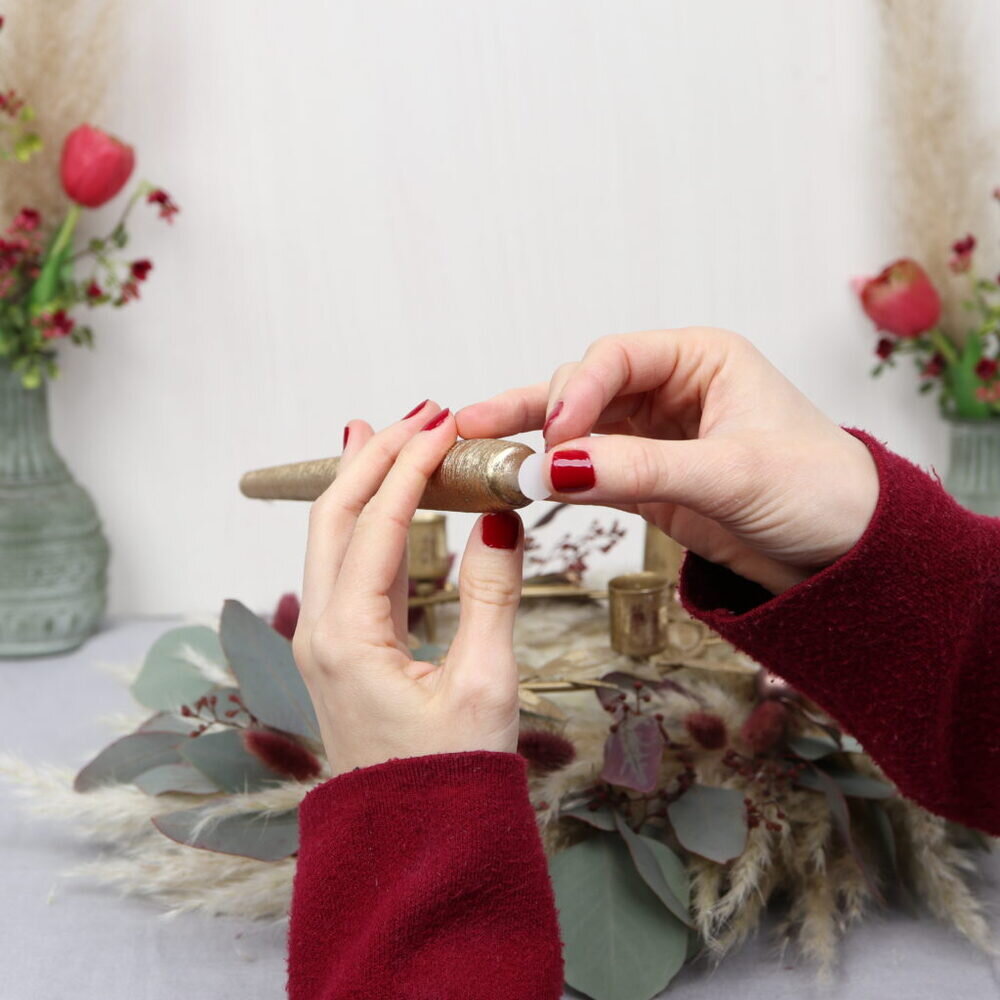 To do this, simply press the wax dots onto the bottom of the candles and then press them into the candle holder.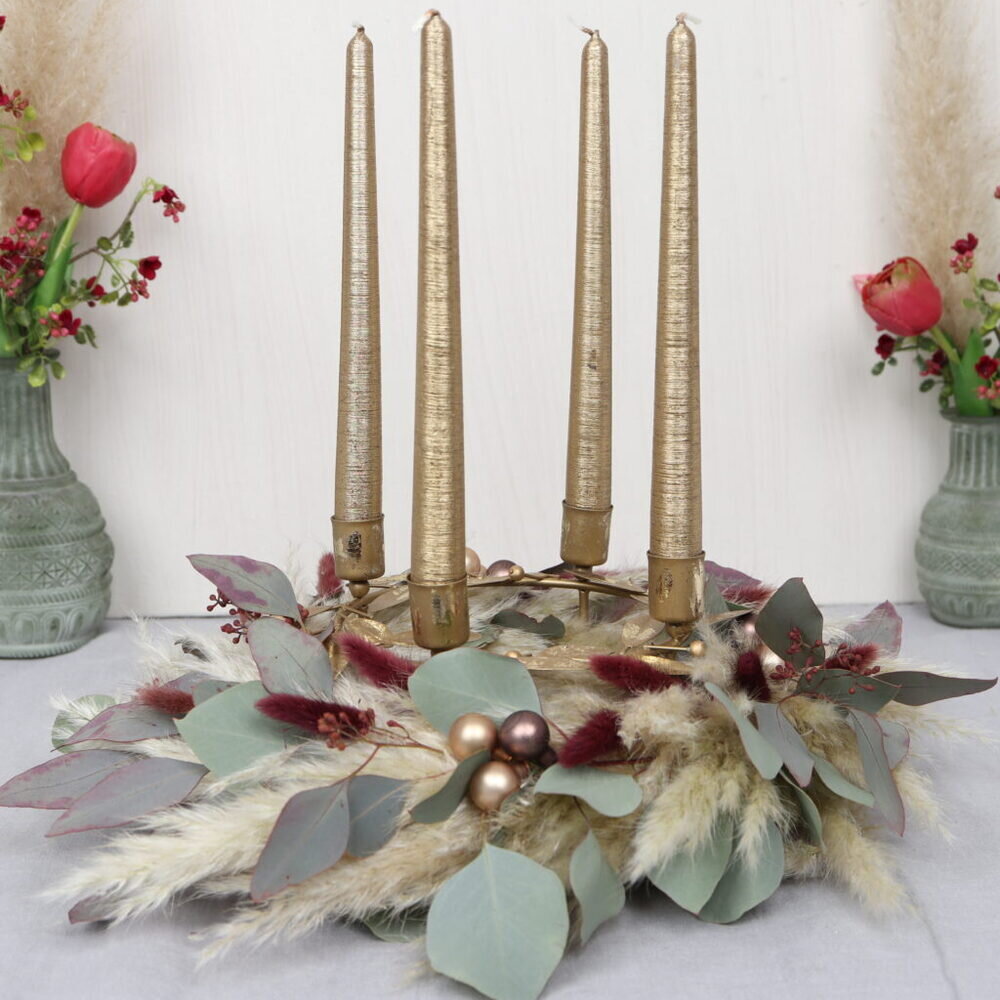 And ready is the Advent wreath! I hope this DIY has made you as much fun as me and you like the sight of the Advent decoration!