Today I will show you with a simple and quick upcycling idea how you can make a candle arrangement yourself from a tin can with a magnetic candle holder! Maybe you are still looking for an atmospheric table decoration for the winter and Christmas season? Or would you like to make someone happy with a souvenir you made yourself? With the following step-by-step instructions, you can easily recreate this beautiful winter arrangement with a candle, pine cones and moss from an empty tin can!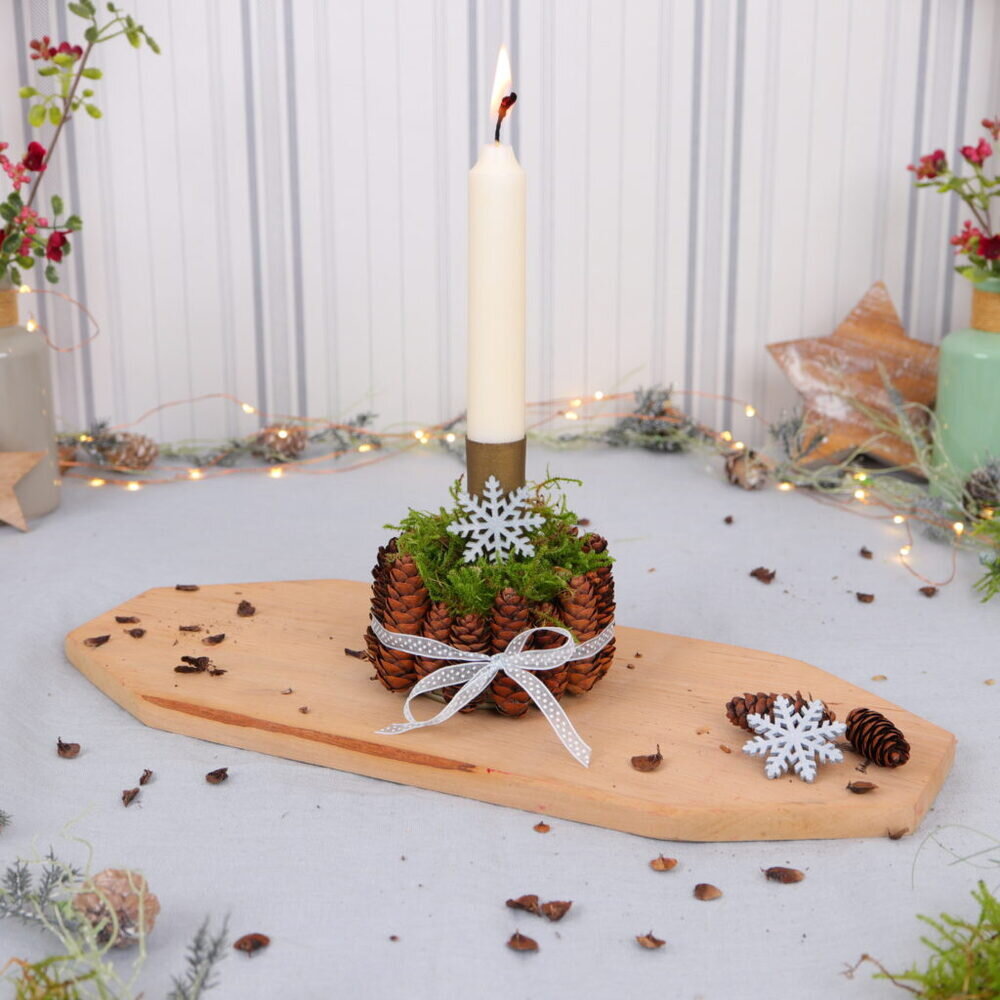 I love to create pretty decorations out of "garbage" and that's why I'm always busy collecting "waste", such as empty milk cartons, lids or cans. In this DIY I turn a tuna can into a candle holder. For the candle I use a magnetic candle holder – which is a cool cool invention! Thanks to the magnet, the candle holder simply sticks to anything out of metal. This way you can quickly and easily decorate something with a candle.
I place the magnetic candle holder on the tin can, stick pine cones on it and decorate it with moss and a snowflake tag.
Tip: You can also easily make an alternative Advent wreath from this DIY by placing four of the candle arrangements next to each other.
Tools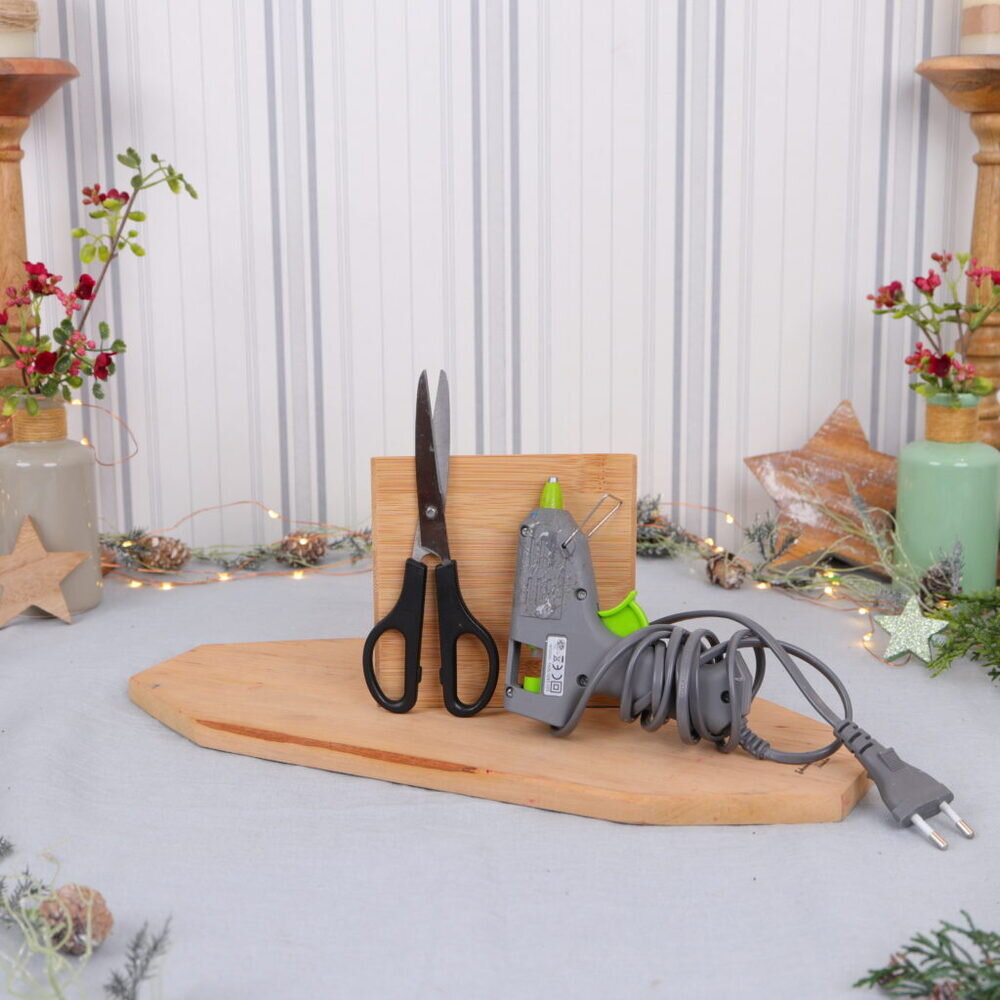 Here you can see which tools I used for the candle arrangement. You will need a hot glue gun with hot glue sticks to attach the cones and scissors to cut the ribbon.
Materials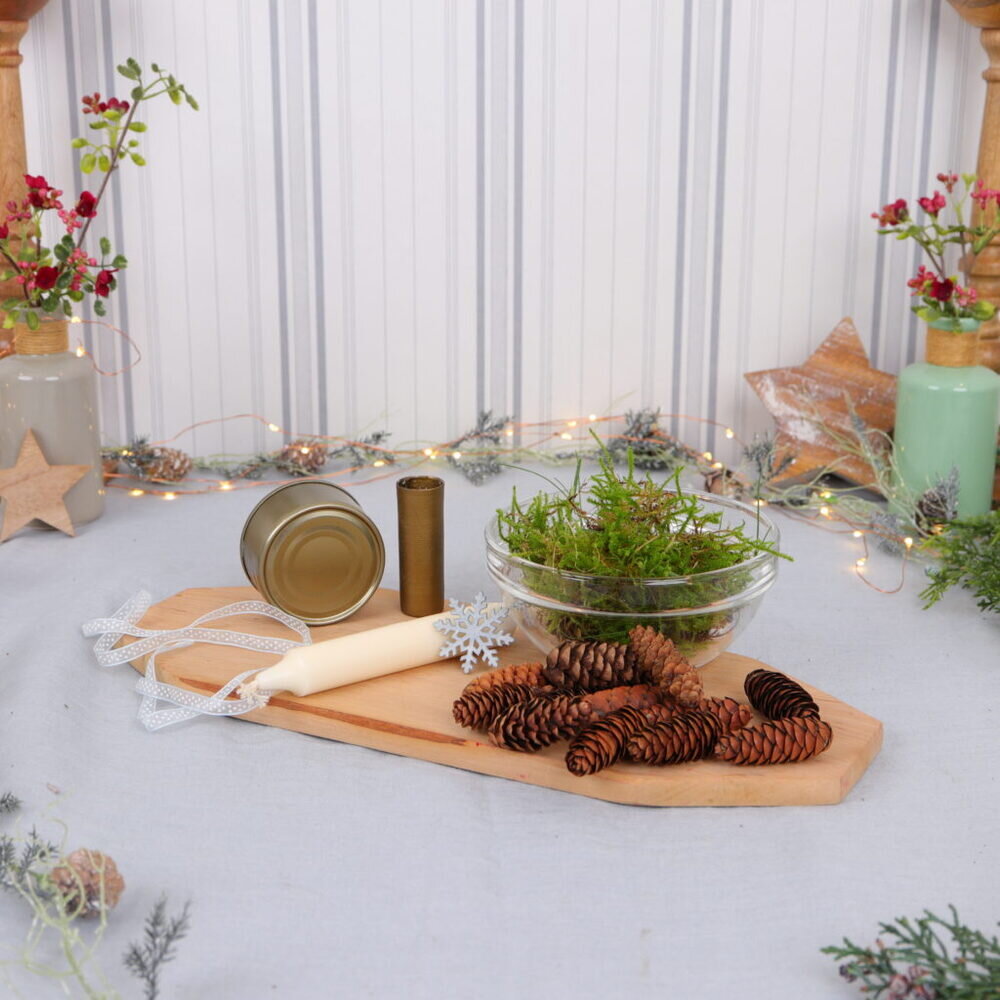 Materials I used for the upcycling project: An empty tin can, a magnetic candle holder, a stick candle, pine cones, moss, a decorative white ribbon and a snowflake tag.
Instructions | Upcycling: Make your own candle arrangement from a tin can with a magnetic candle holder
Step 1: Glue the pine cones to the tin can
In the first step, I stick the pine cones all around the tin can.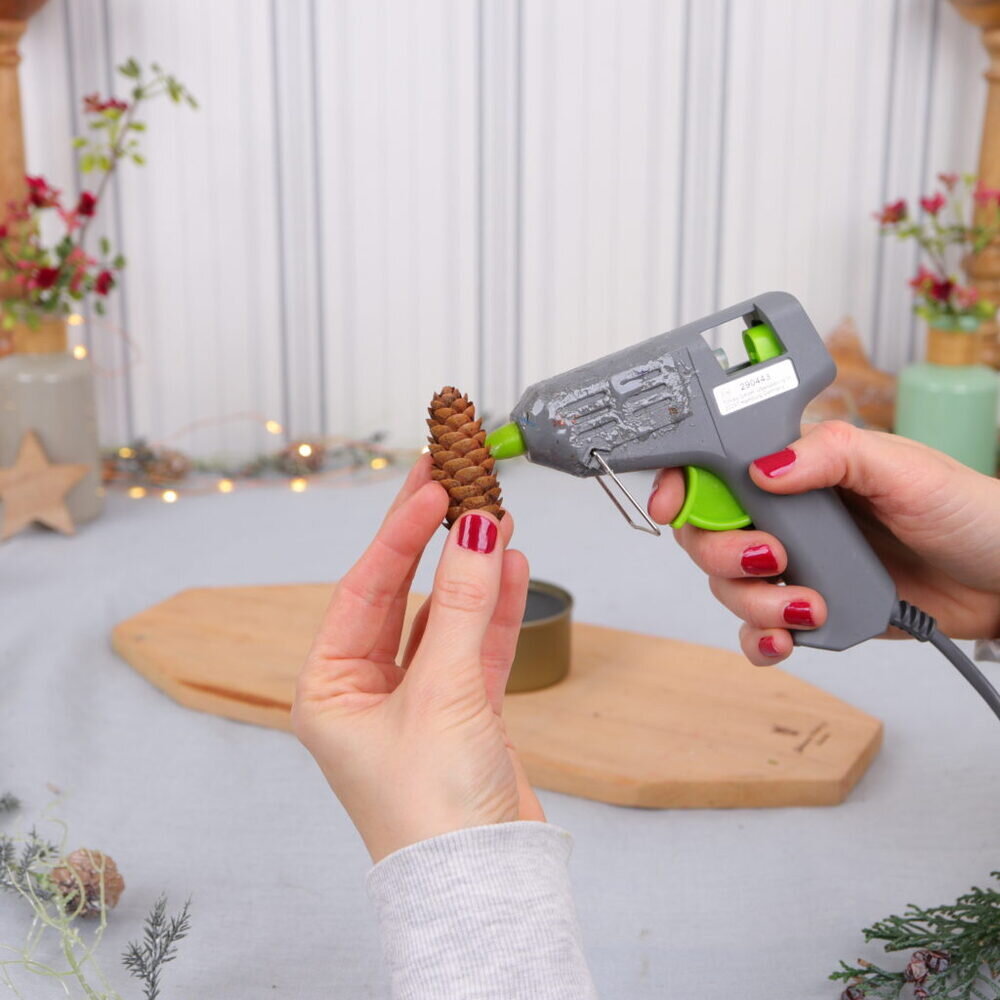 Caution: The closed side of the tin can must be on top and the opening must face down.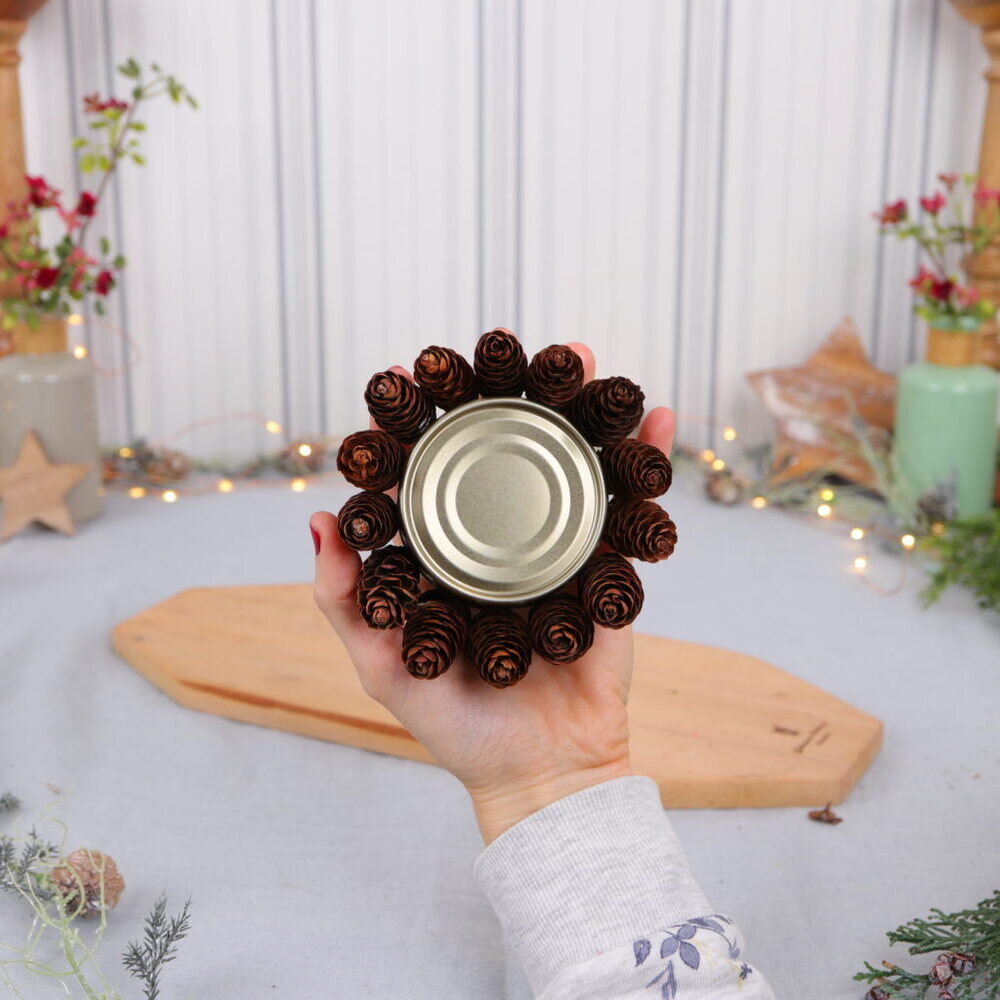 For gluing, I use my hot glue gun and attach the pins to the bottom edge of the can. The cones are allowed to protrude at the top, because the space in between will be filled with moss later.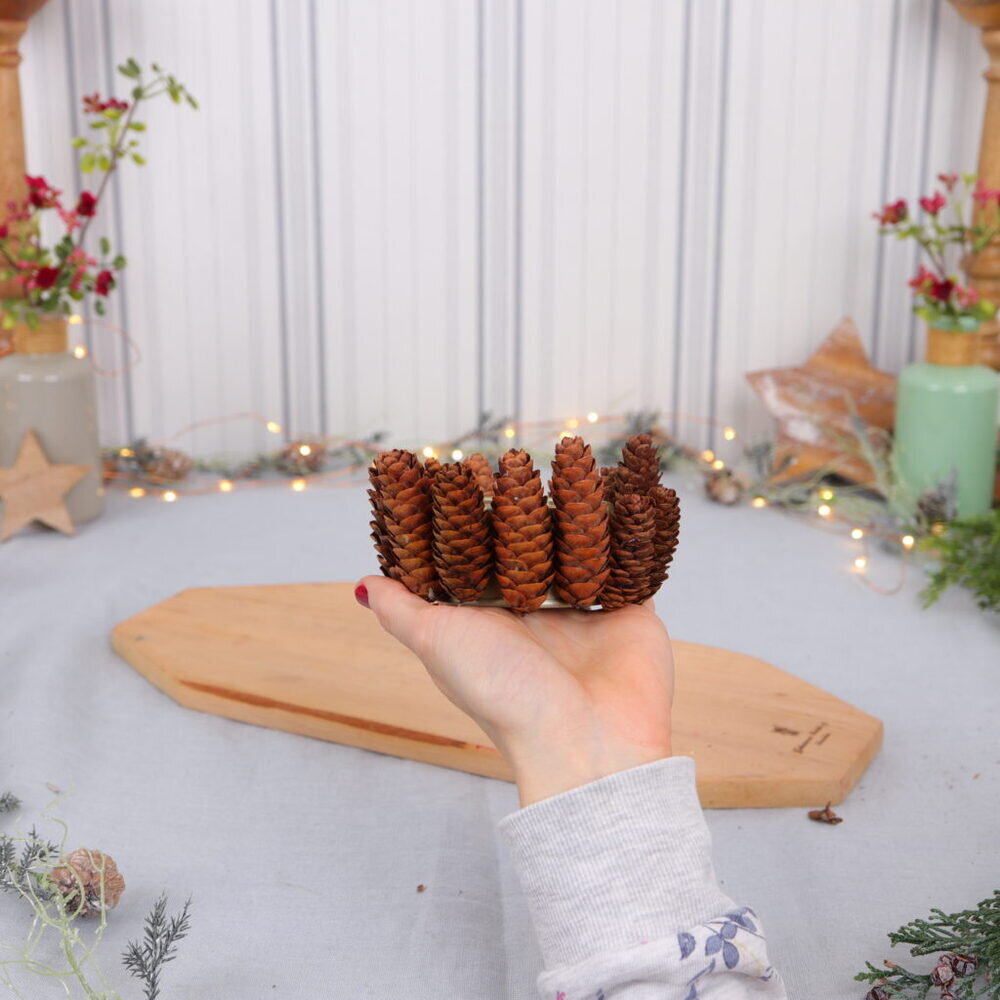 Step 2: Attach the ribbon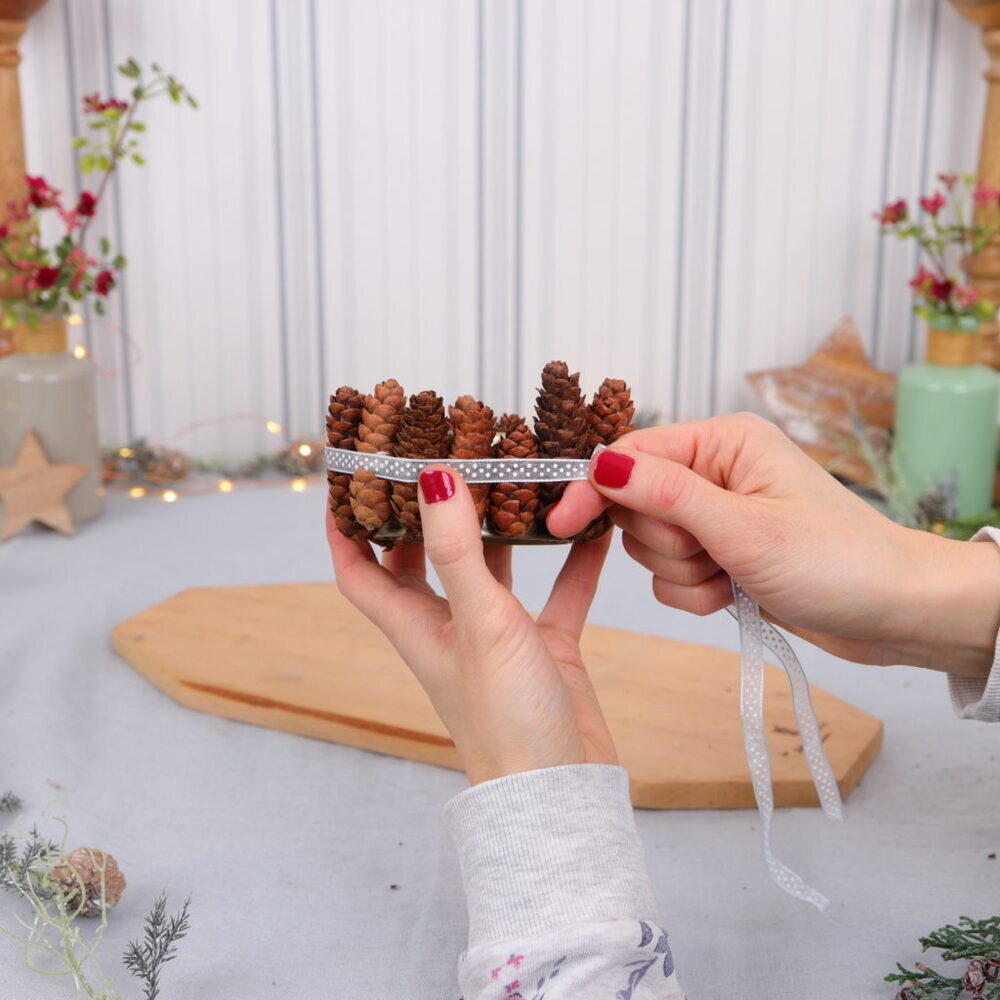 I wrap a white organza ribbon around the cones and close it with a bow knot.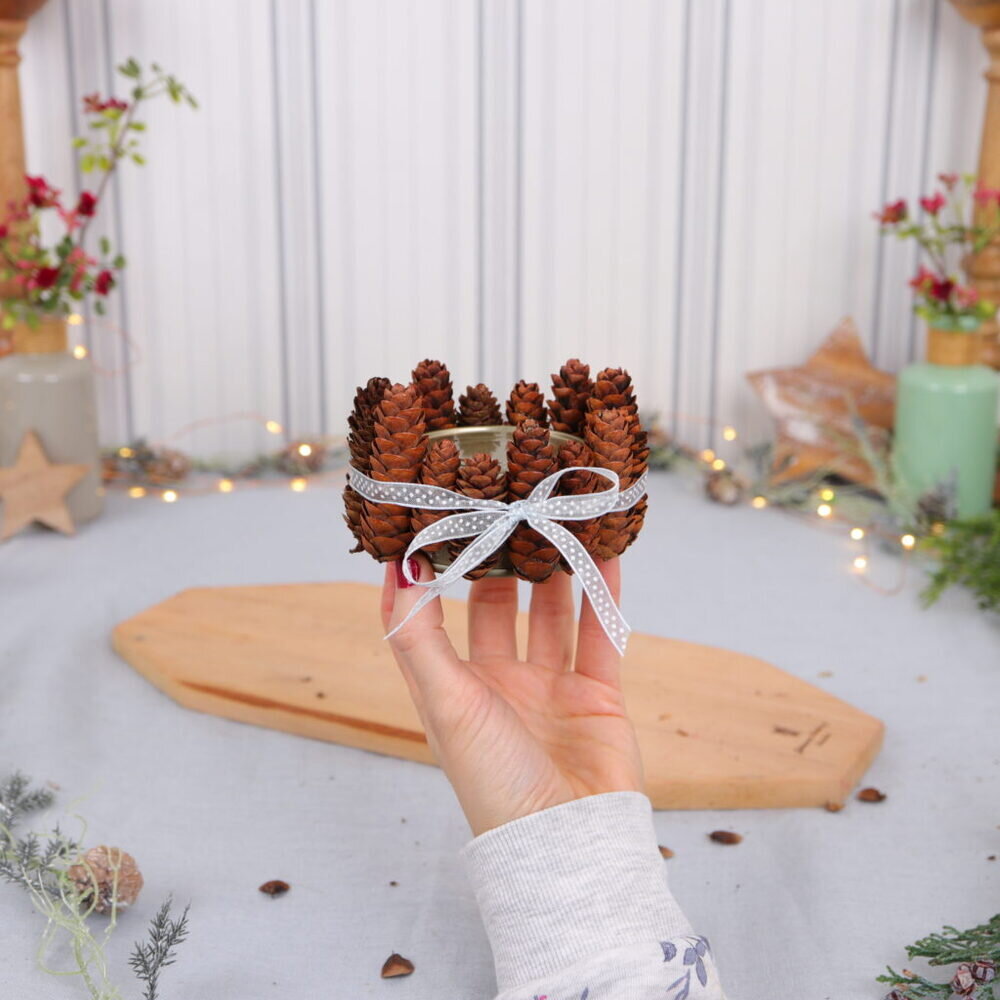 Step 3: Attach magnetic candle holder
Now I take the magnetic candle holder and put the candle in it.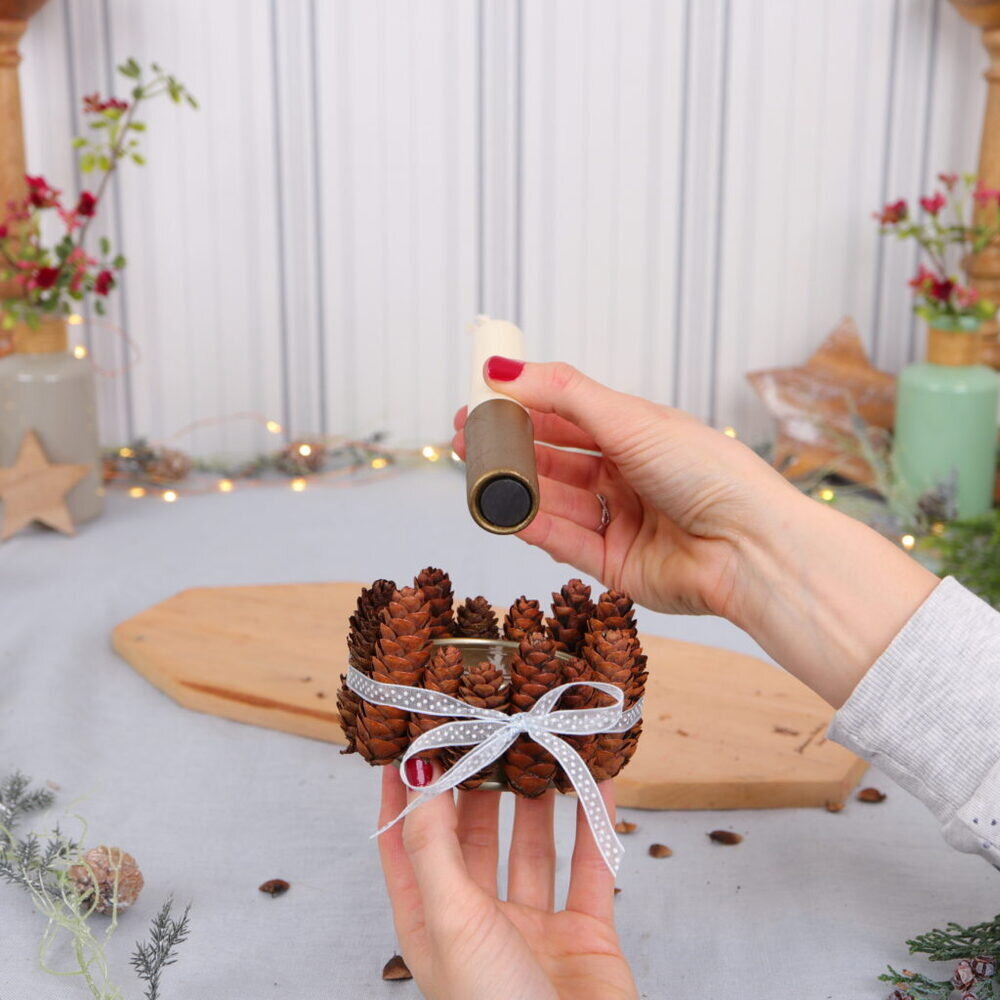 To attach the magnet holder, I simply place it in the middle of the tin can.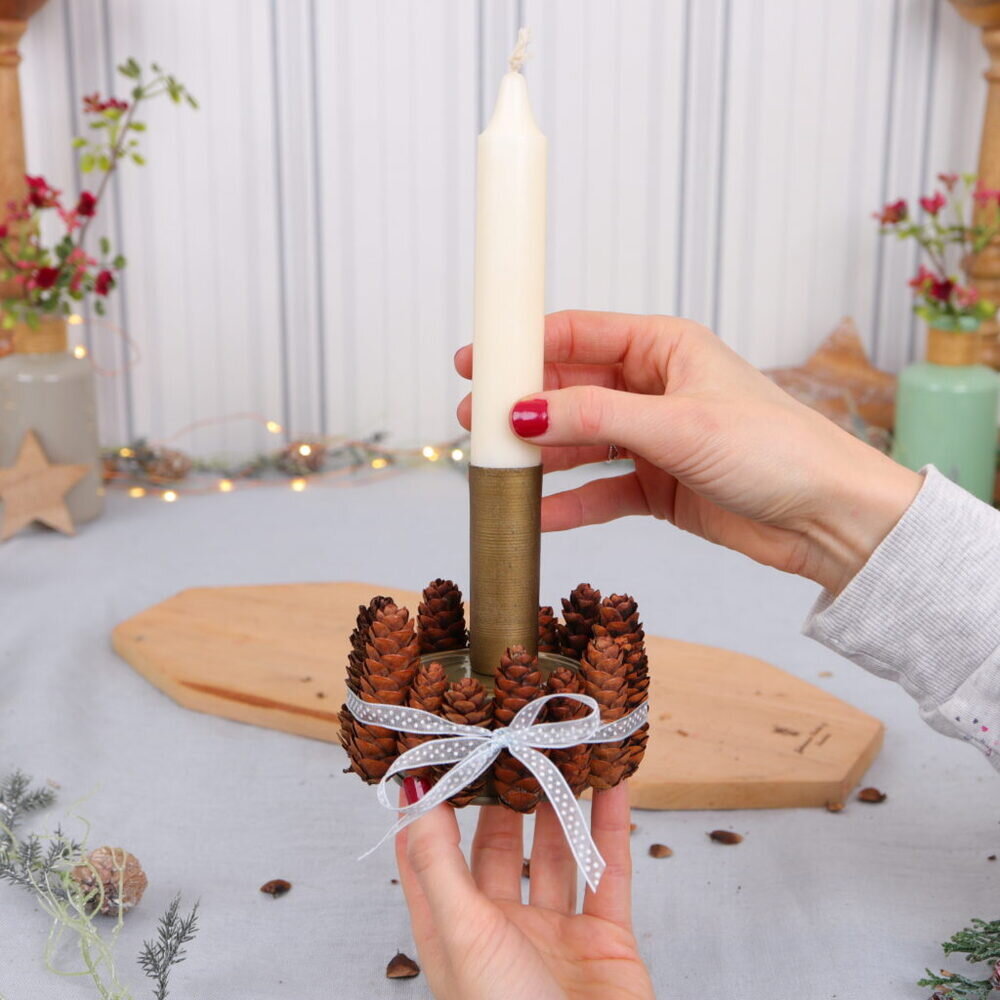 Step 4: Attach moss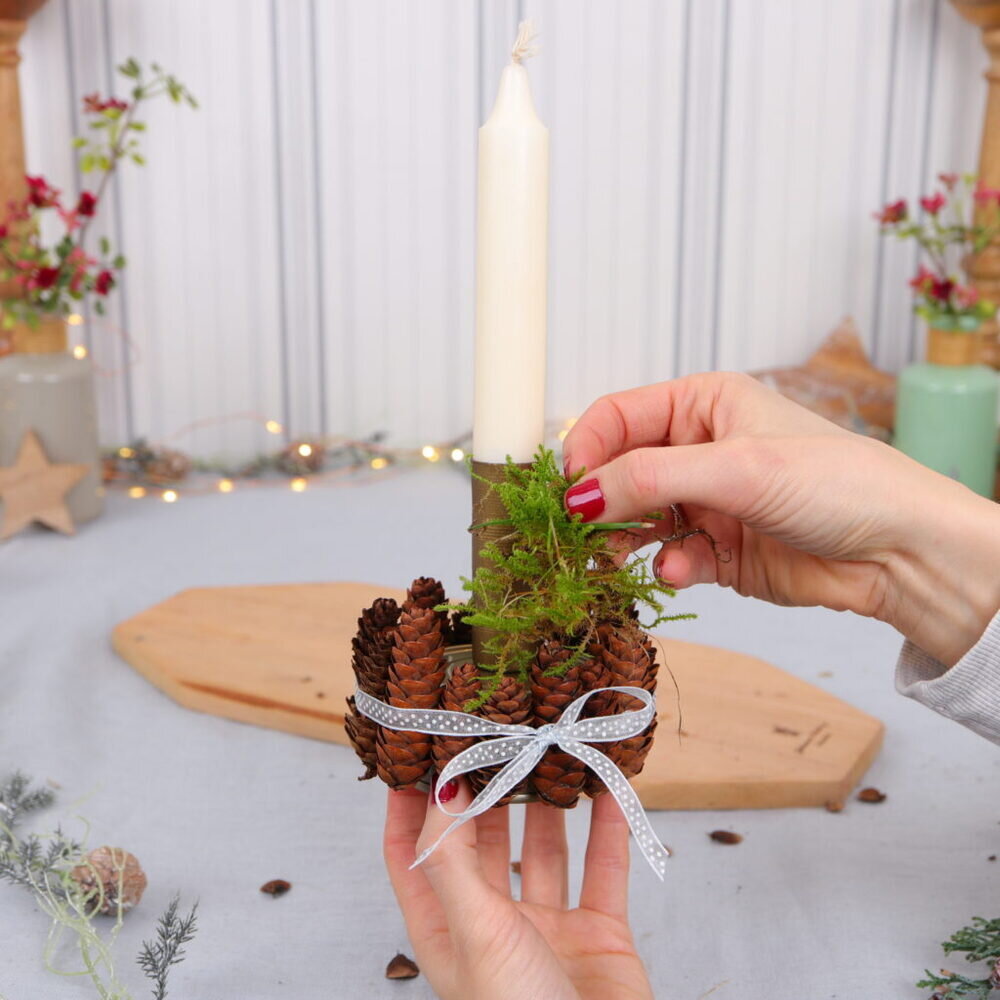 I fill the gaps with the green moss.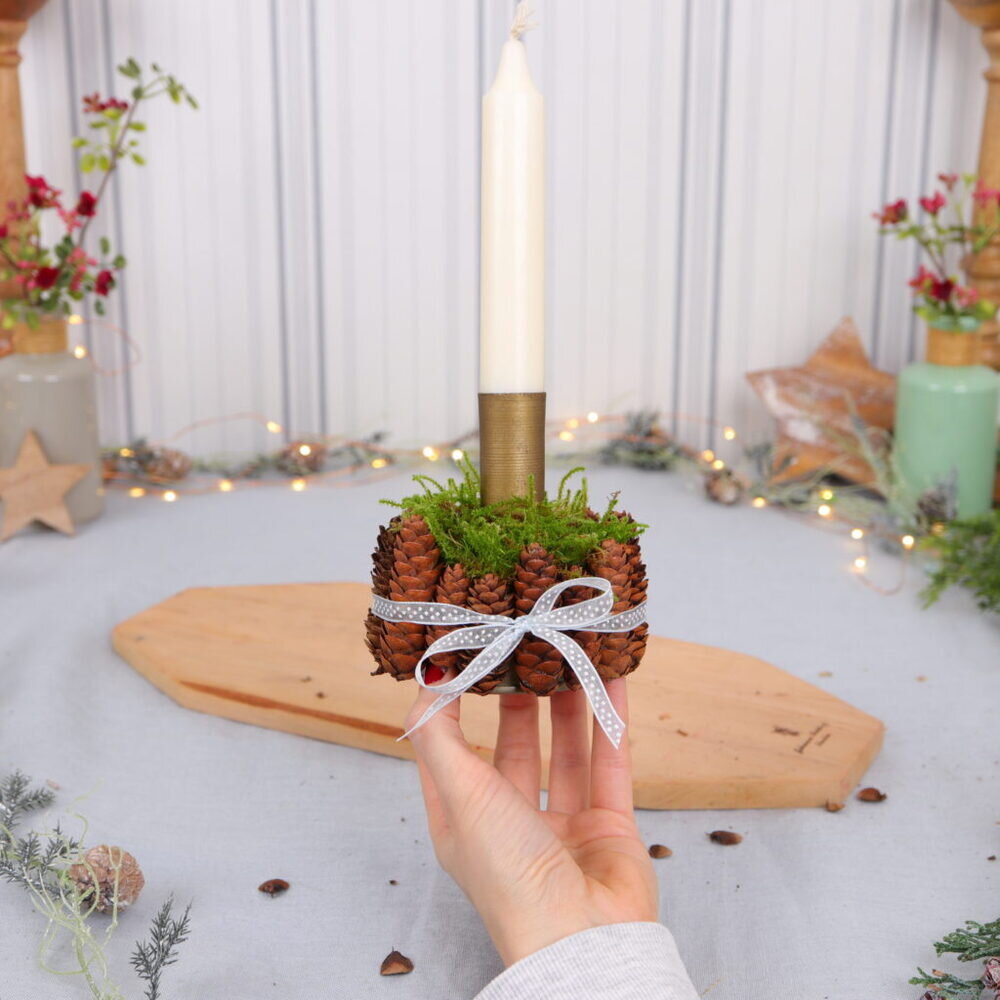 Step 5: Attach snowflake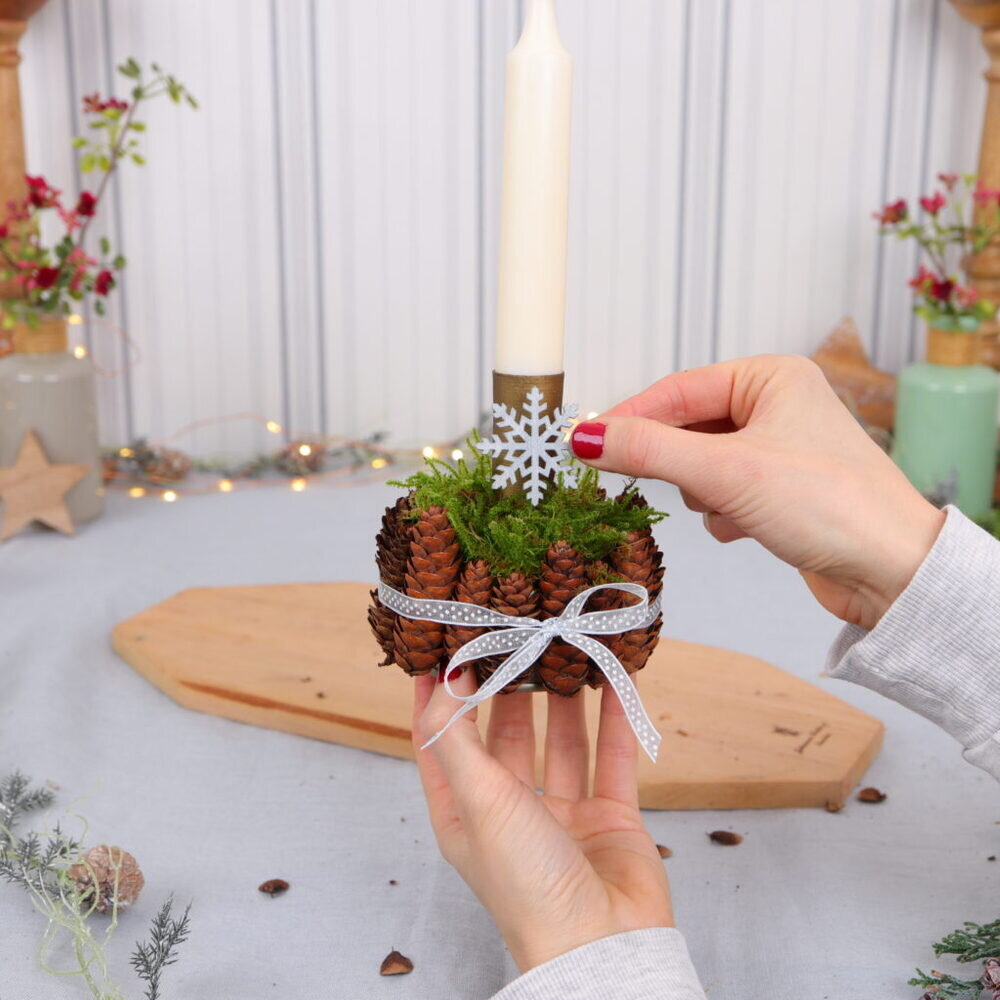 In the last step I place the gray snowflake tag in front of the magnetic candle holder.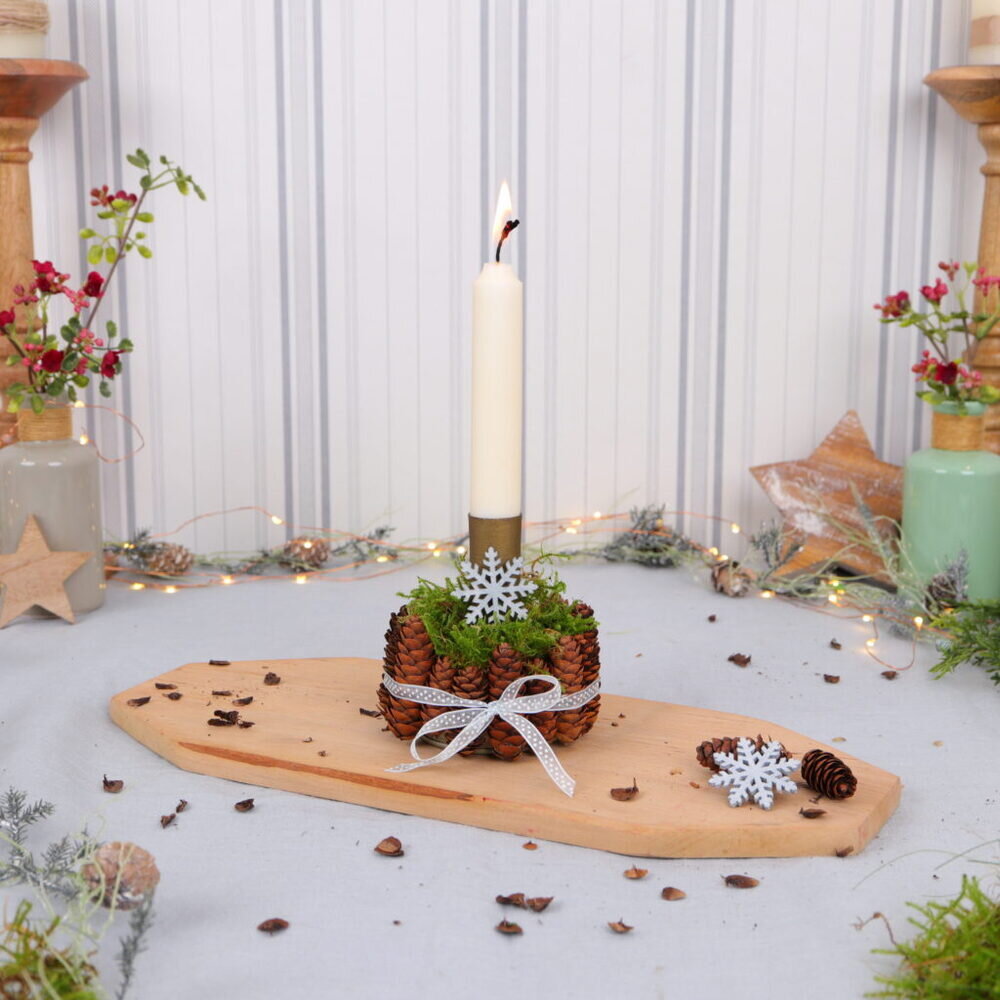 And the wintry candle arrangement from the can is done! I hope you enjoyed this DIY as much as I did and enjoy looking at the upcycled deco!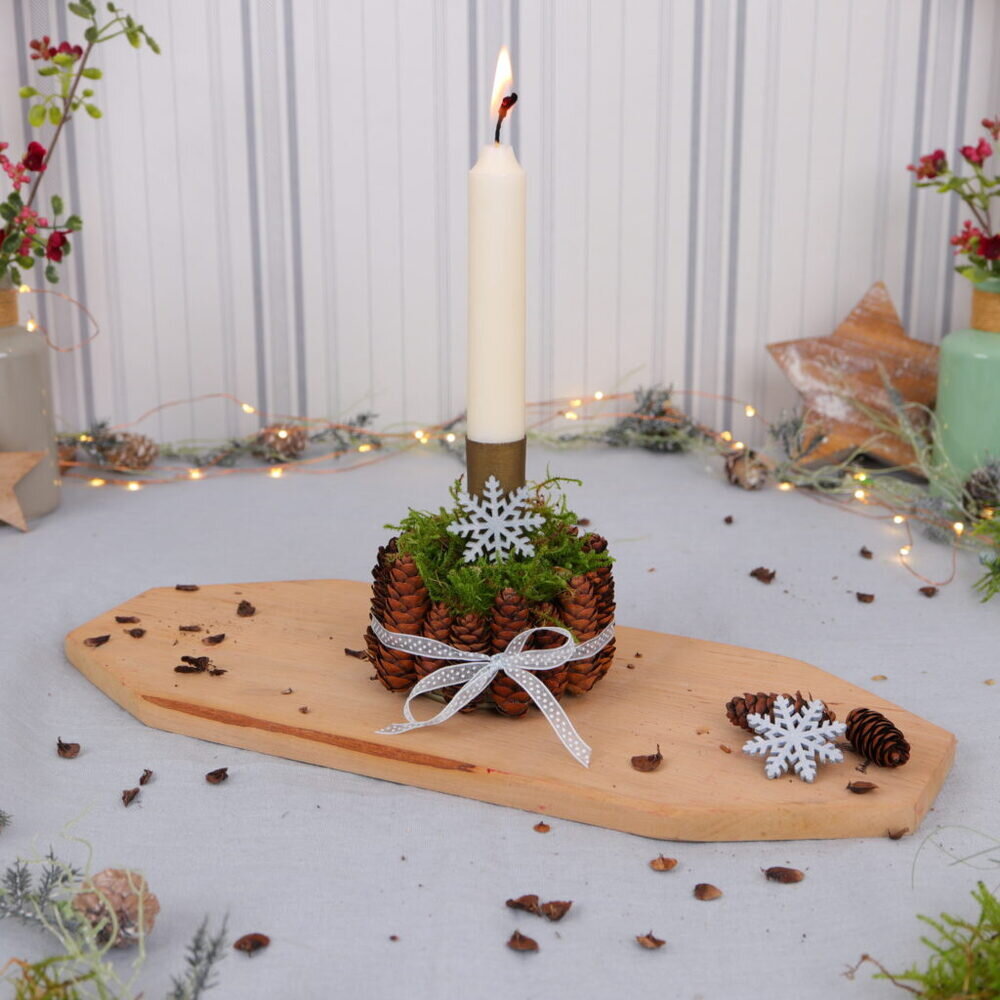 Looking for more upcycling craft ideas? Then have a look here: