Today I would like to inspire you a little bit, so I have four DIY ideas with dried flowers. I have picked these four ideas from previous DIY projects. In addition to links to each detailed tutorial, I present some tips on working with dried flowers.
Dried Flowers Trend:
Dried flowers are still in vogue and it is impossible to imagine the DIY world without them. No wonder, because with these durable flowers you can simply craft so many great things! Dried flowers also play a major role of my personal home decor. You can use dried flowers for so many things, such as bouquets, wreaths, table decorations and wall decorations.
Drying flowers yourself:
I like to dry many flowers myself. Very good experience I have made with the drying of the following flowers:
Roses
Baby's breath
Cloves
Eucalyptus (leaves and fruits)
Pampas grass
Lavender
Hydrangea
Grasses, such as quaking grass, wheat or oats
Tips:
I simply air dry my fresh flowers. To do this, I take a few stems together in a bundle and tie a nice piece of string around it. Then I just hang them upside down in the apartment.
I make sure the flowers aren't too wet and make small bundles so the moisture doesn't cause them to mold.
If I don't want to dry the leaves with them, I remove them before hanging.
I hang large flowers, such as hydrangeas, individually (and not in bunches).
The room should be rather dry for drying. So a damp basement room is not so suitable.
When the flowers are dry, I spray them with a little hairspray. This makes them more durable and holds them together better.
Buy dried flowers:
There are some dried flowers, such as phalaris, craspedia or hare's tail grass. that I almost only purchase. They can be purchased, for example, at the florist, decoration stores or online retailers.
Crafting with dried flowers — Four great DIY ideas:
Let's start with the 4 craft ideas with dried flowers! And here we go ;)!
1. DIY | Hanging Decoration: Metal Ring with Dried Flowers
Very popular and great as a hanging decoration is the "loop". Metal rings can be creatively decorated with dried flowers in different ways and beautify windows, walls and doors.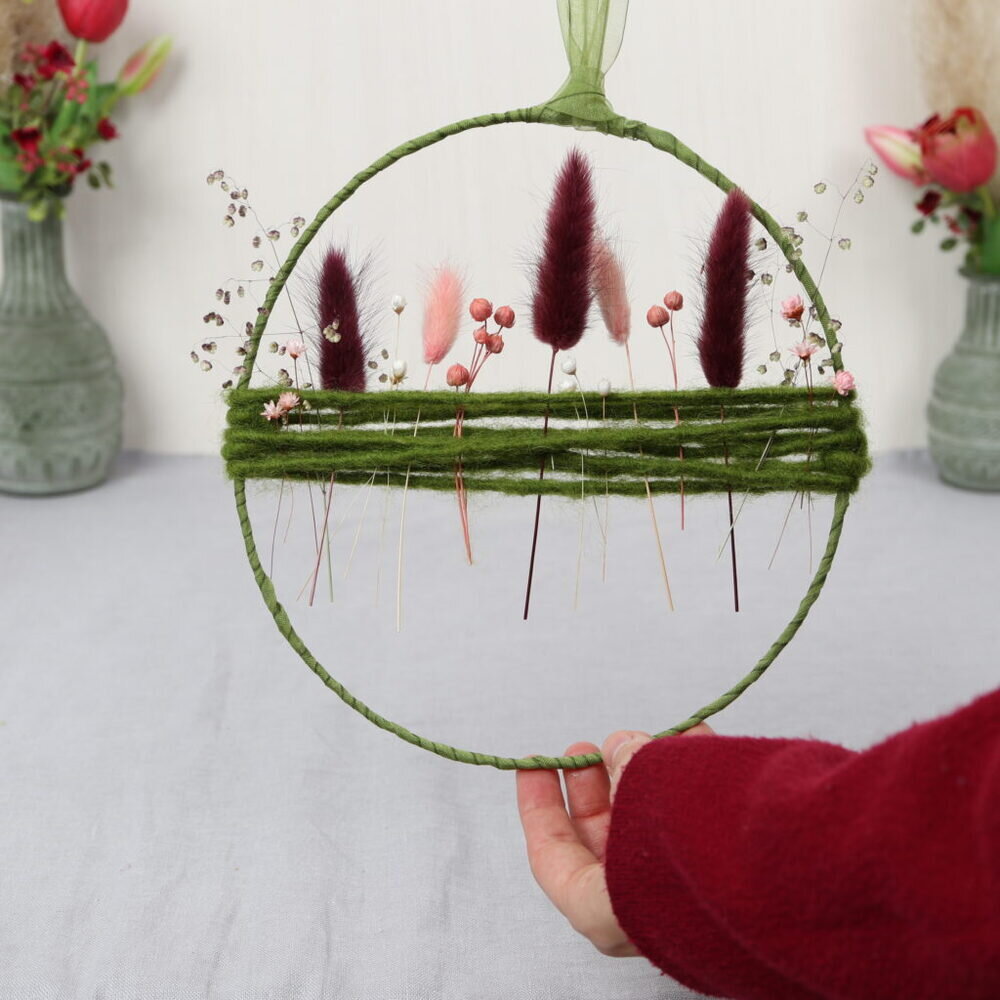 For this DIY I wrapped a metal ring with an organza ribbon. This allows you to hide and embellish the not so pretty things on the ring. Then I just stretched a wool cord back and forth and put the dried flowers in between.
With my step-by-step instructions you succeed making the flower wreath very quickly and easily!
2. DIY | Pine Cones with Dried Flowers for Winter & Christmas
Are you also a collector? I enjoy in finding great nature treasures on walks in the forest. The next DIY has been created with collected cones and makes a great decoration for autumn and winter. I have decorated it with dried flowers!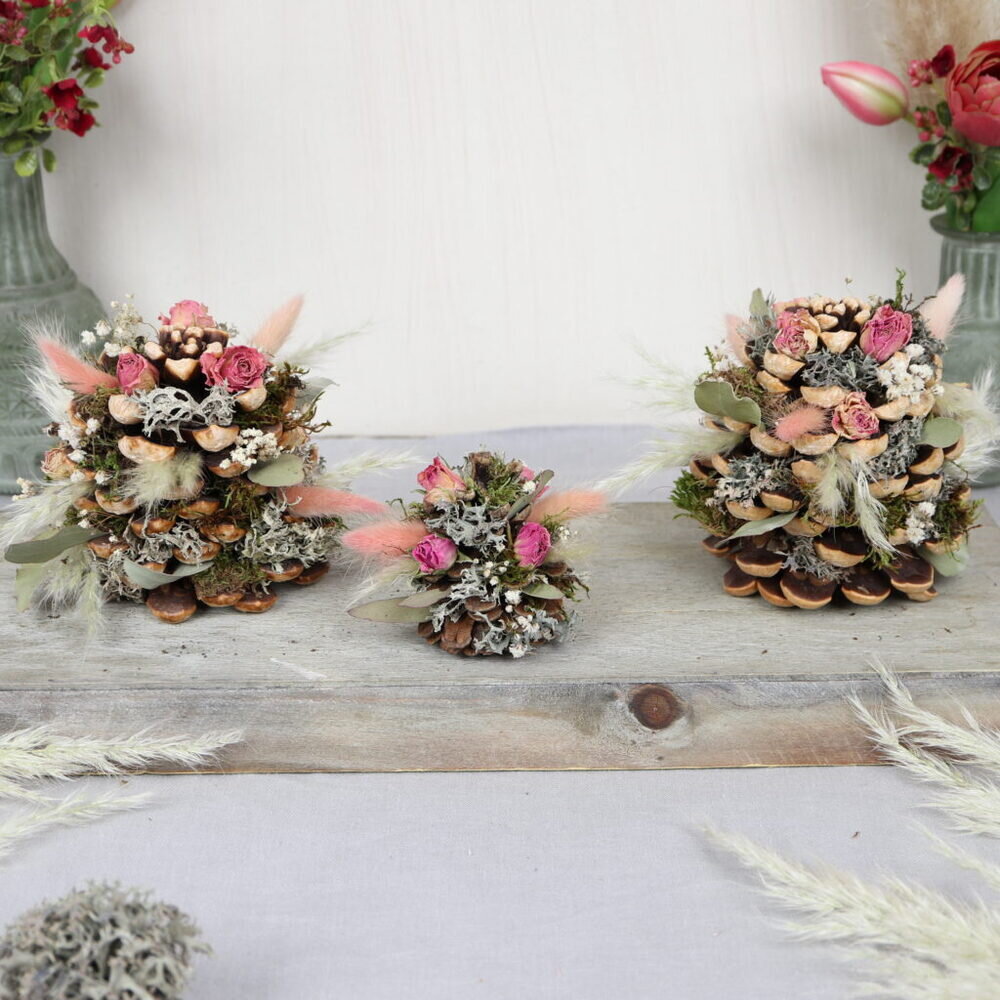 Here you can find the step-by-step instructions, the cones are really easy to make!
3. DIY | Monogram flower arrangement with floral foam and dried flowers in picture frame
A great gift idea for a birthday, wedding or the birth of a child is this pretty monogram in a picture frame. For this, the first letter of the name is cut out of dry foam and glued to the picture frame. Then it is filled only with dried flowers!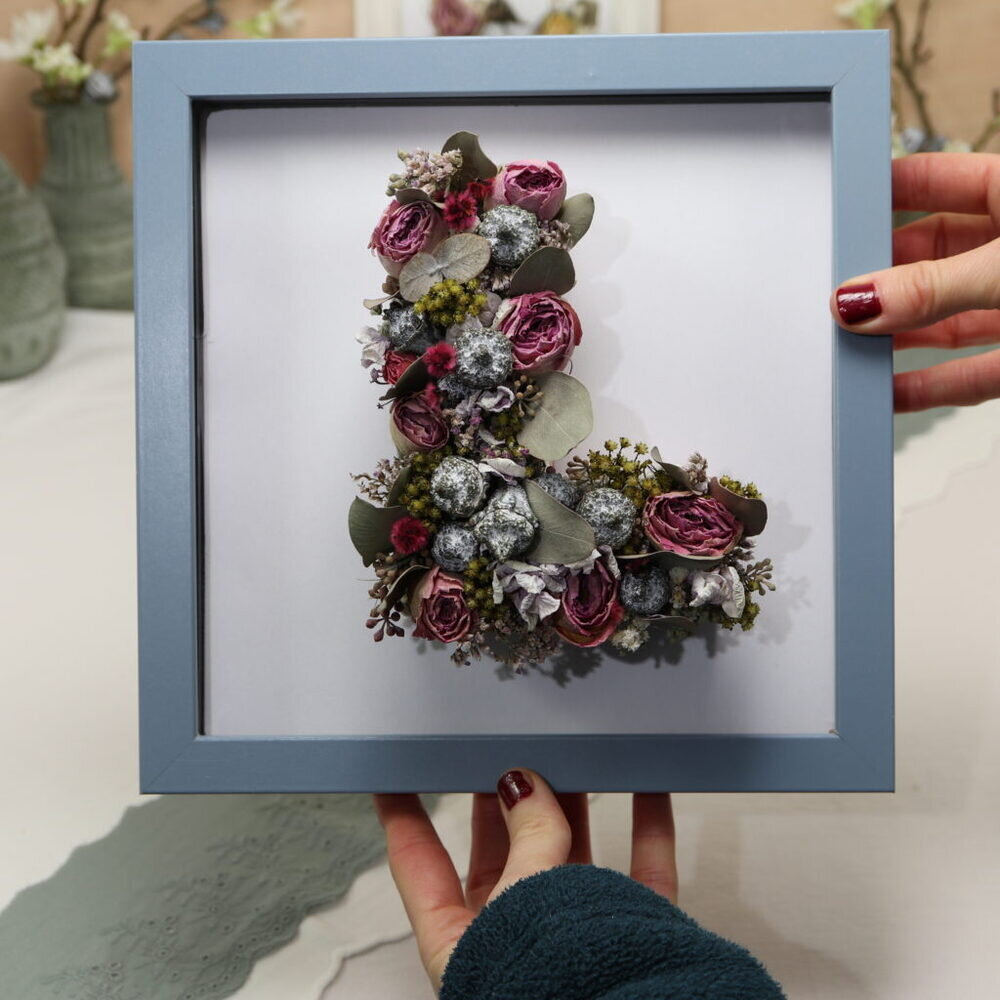 This monogram DIY is super easy to make. Here are the step by step instructions.
4. DIY | Maritime Summer Decoration: Dried Flowers in a Shell
Why not present the dried flowers in the shell? Maybe you already have the shells as a nice vacation souvenir at home? Then just fill them with sand and put the dried flowers inside! It could not be easier 😉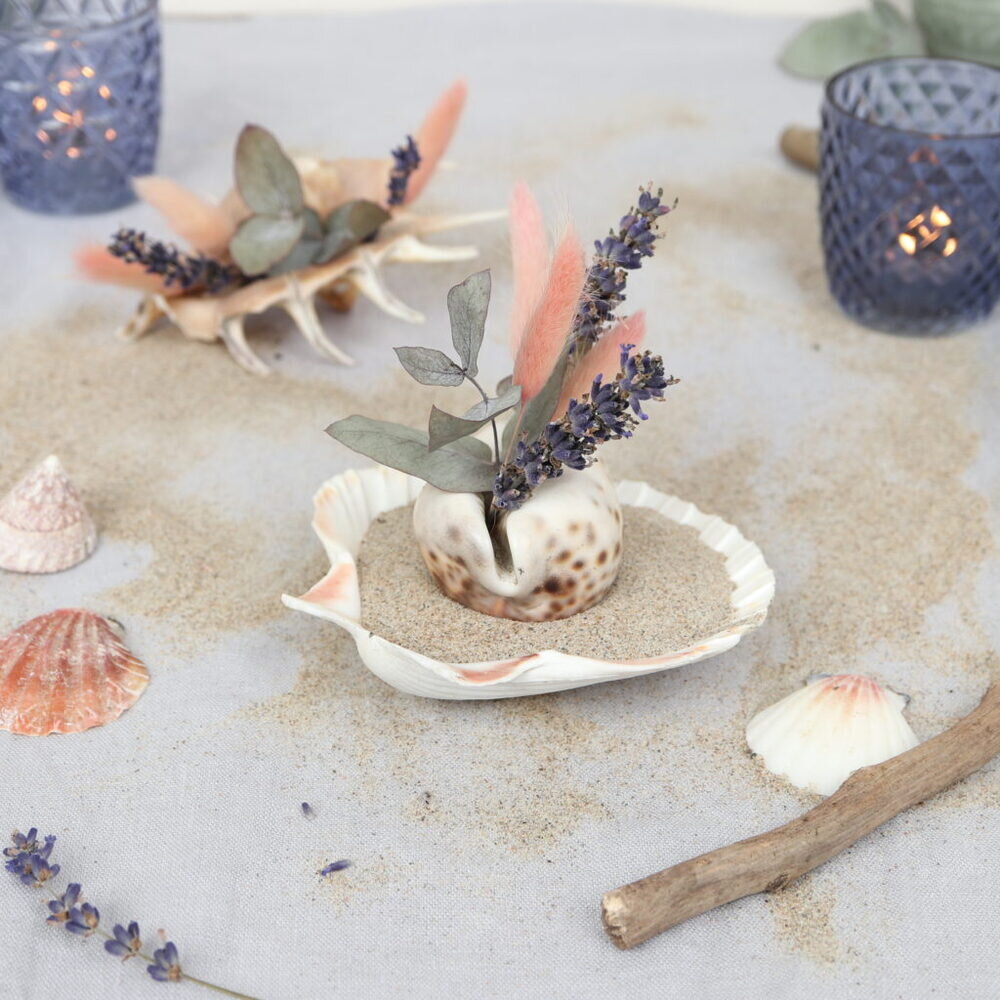 Here you find the step by step instructions for the DIY with dried flowers in a shell!
Those were my tips and my 4 ideas for crafting with dried flowers!