Today I show you how you can easily make an autumn table lantern with rose hips and pampas grass!
Every year I think about decoration ideas with natural materials for autumn and the rose hips can never be missing! Since they dry up nicely, they can be perfectly combined with dried flowers, such as pampas grass. To attach the rose hips and pampas grass to the table lantern glass, I use the "rubber band trick". For this, the rubber band is stretched around the lantern glass, the flowers are stuck inside the rubber band and then the rubber band is covered with a jute cord.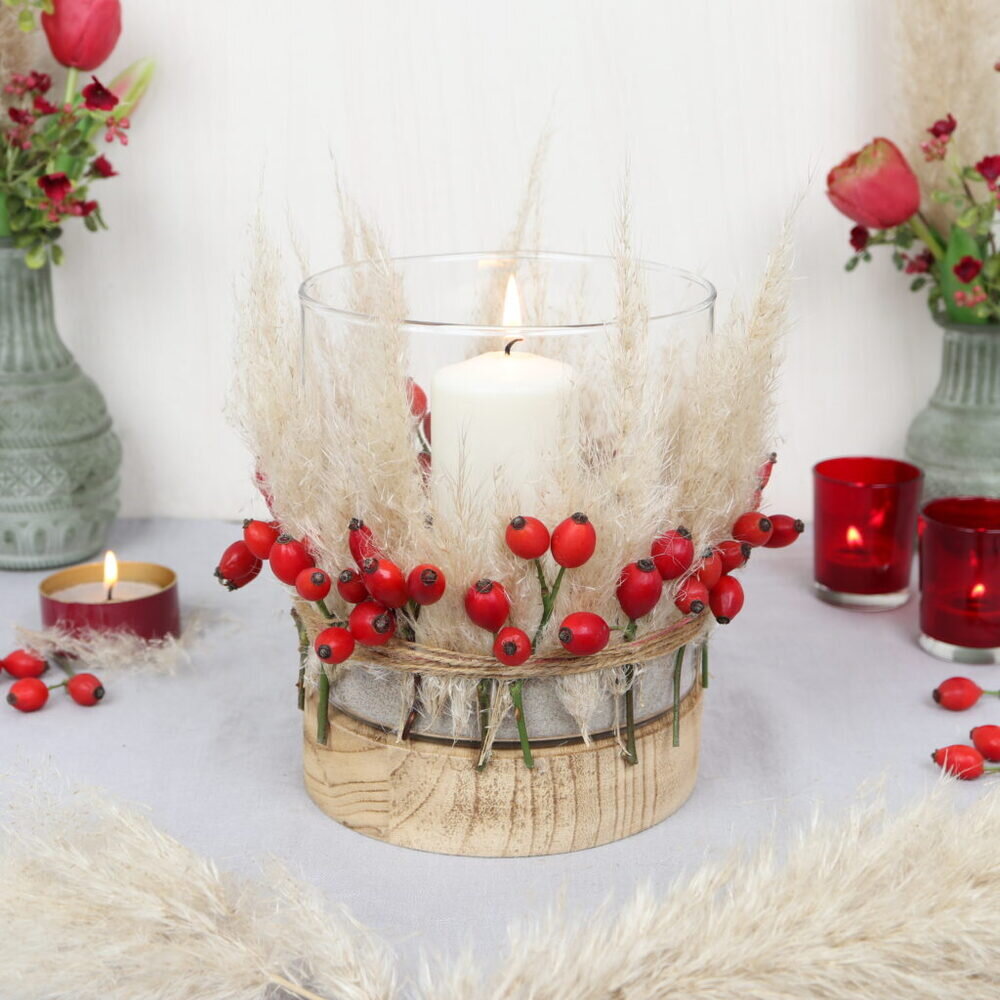 With the following step by step instructions you can easily make the autumn decoration yourself!
Tools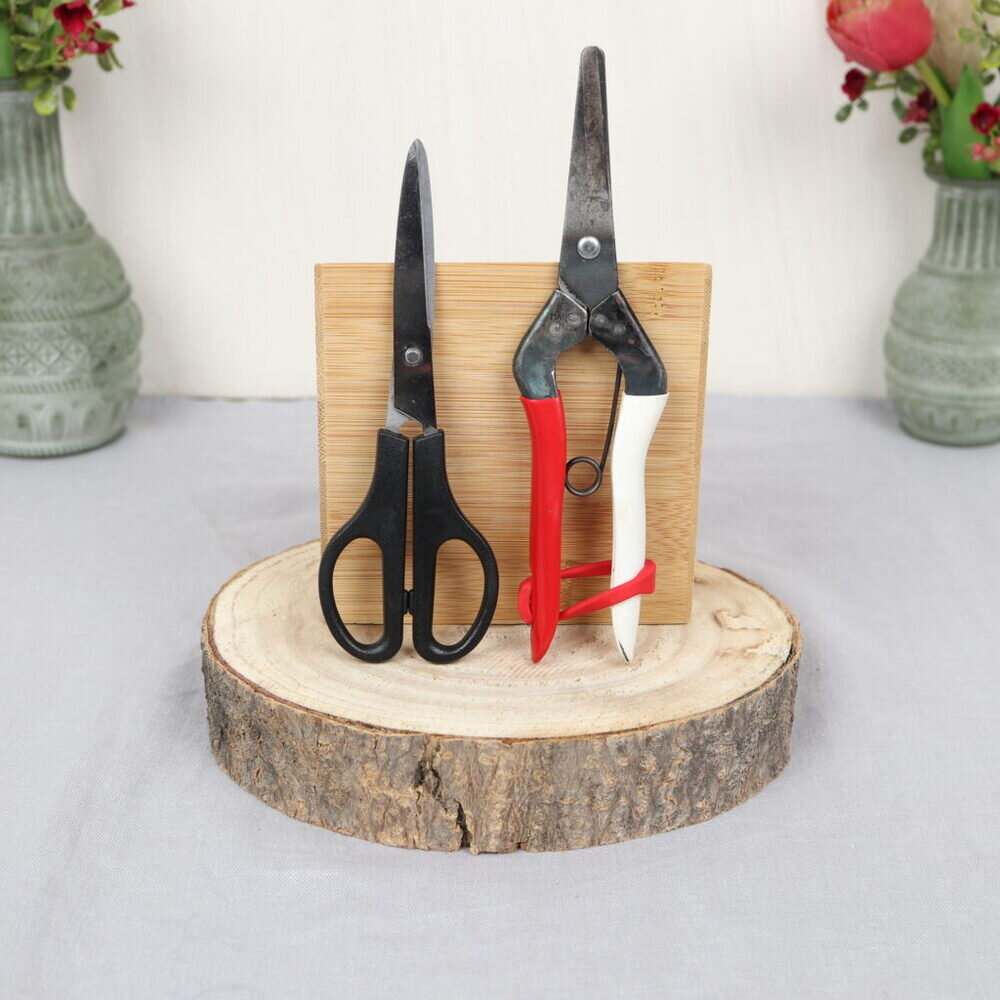 Here you can see what tools I used for the autumnal lantern. You need scissors and flower scissors.
Materials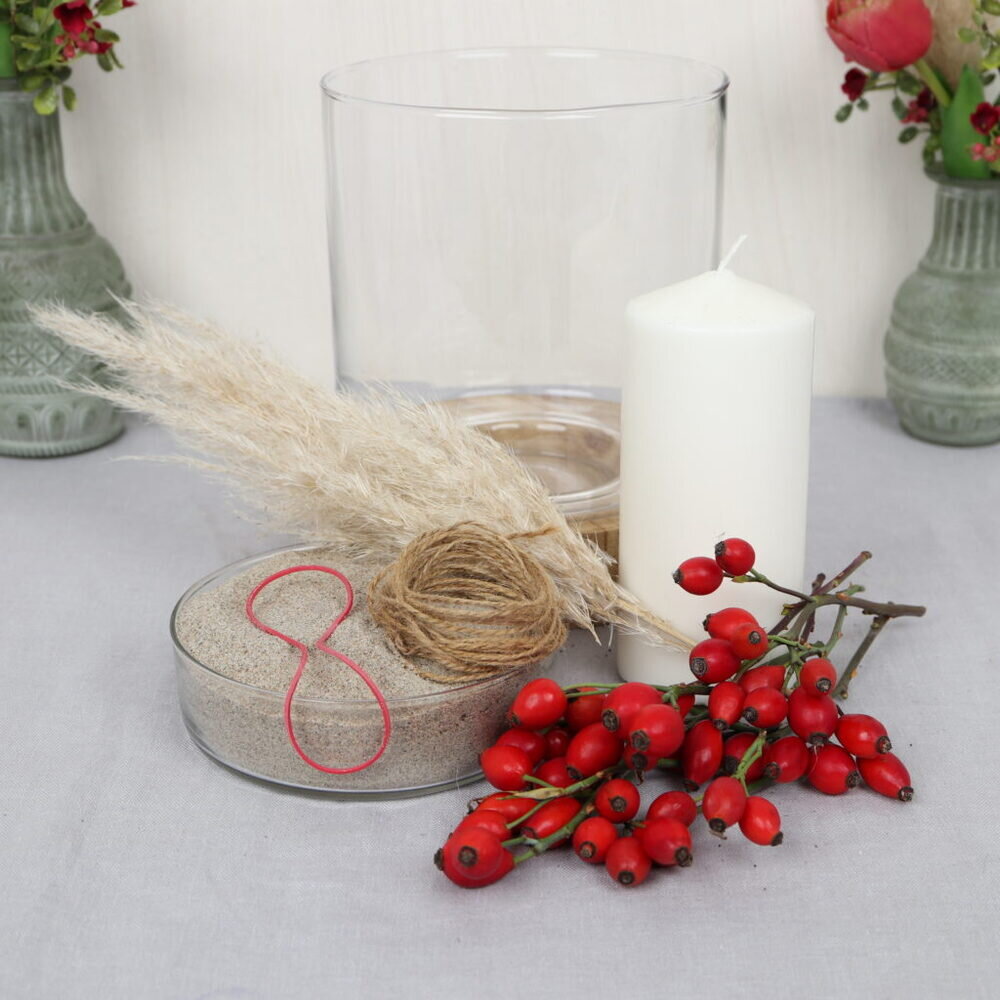 These are the materials I used for the fall decoration: a glass lantern with a wooden base, rose hips, pampas grass, a rubber band, jute twine, sand and a white pillar candle.
| Material | Search on |
| --- | --- |
| Glass lantern with a wooden base | * |
| Rose hips | * |
| Pampas grass | * |
| Rubber band | * |
| Jute twine | * |
| Sand | * |
| Pillar candle (white) | * |
Tutorial | Autumn lantern with rose hips and pampas grass
Step 1: Cut rose hips
In the first step, I cut the stems of rose hips short.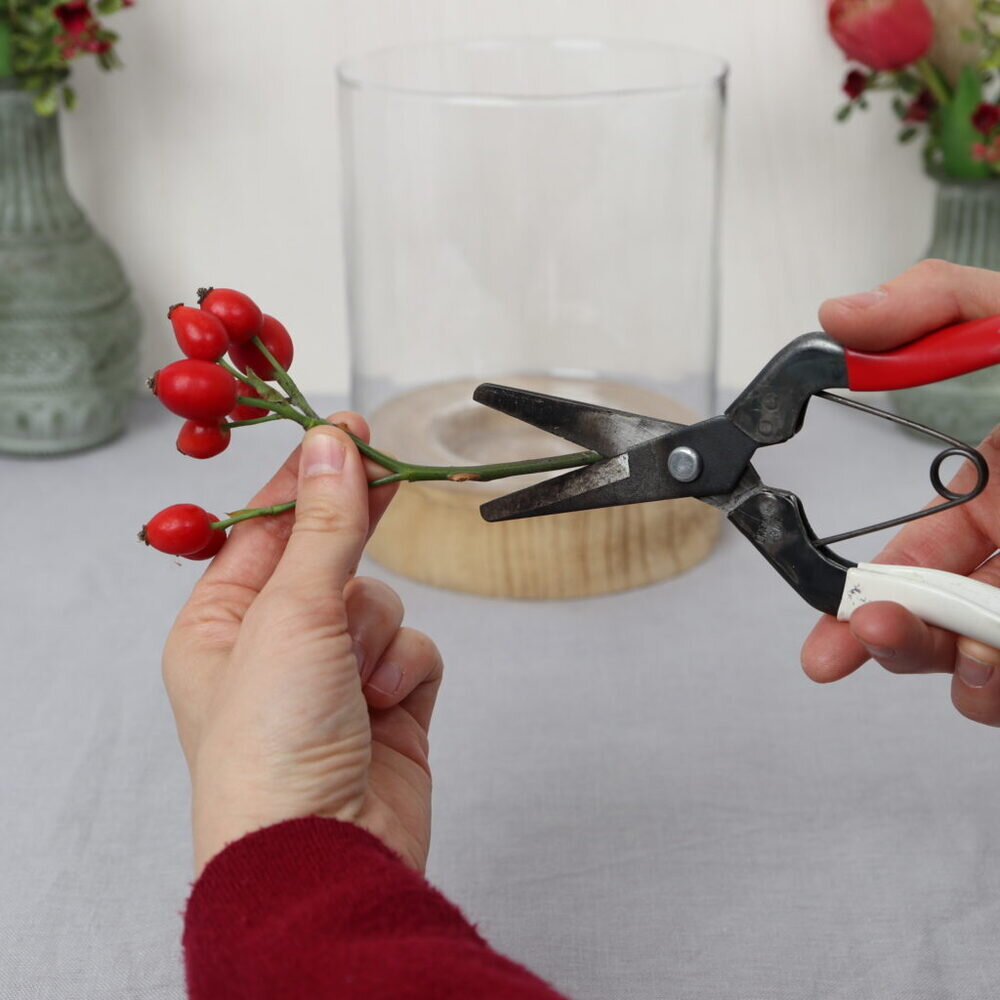 I use my flower scissors for this.
Step 2: Pluck pampas grass
In the second step, I pluck individual stems from the pampas grass. By the way, there's a great hack to make the pampas grass less fuzzy and more durable: You can just spray it with some hairspray!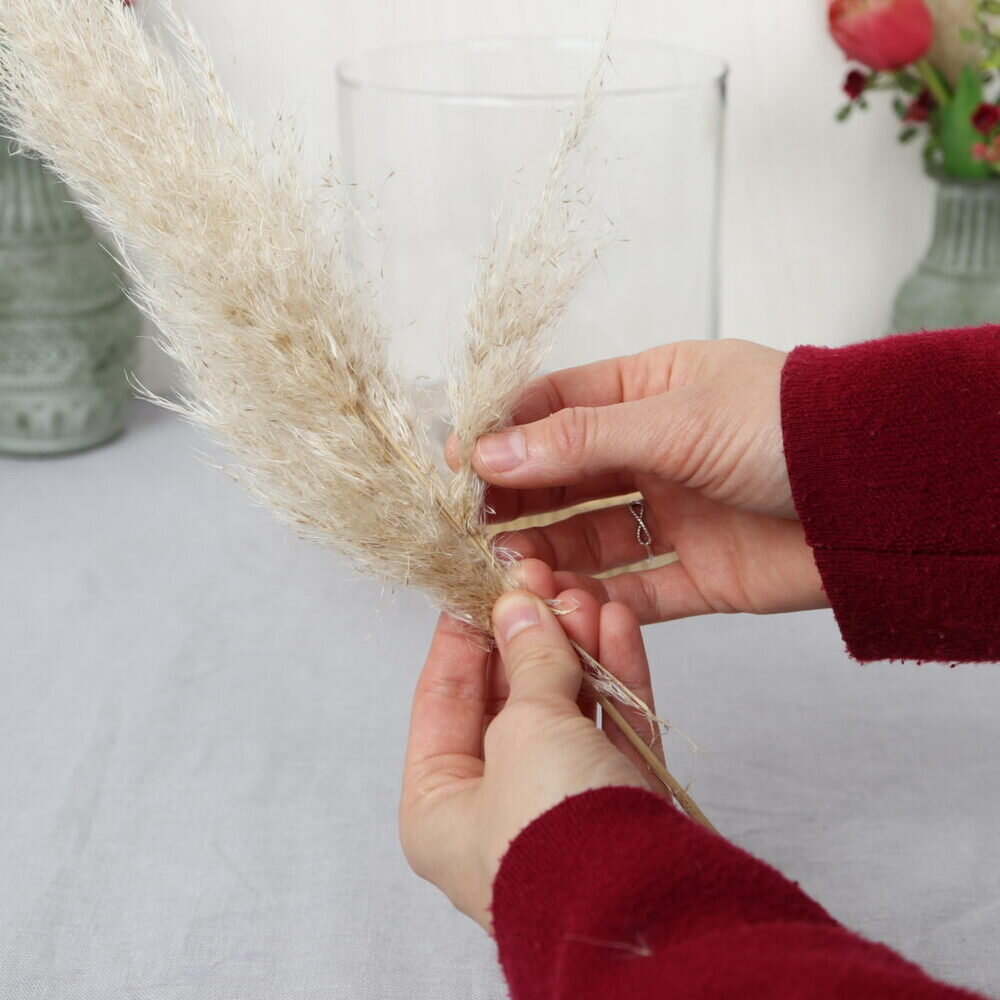 I make sure to pick off different lengths.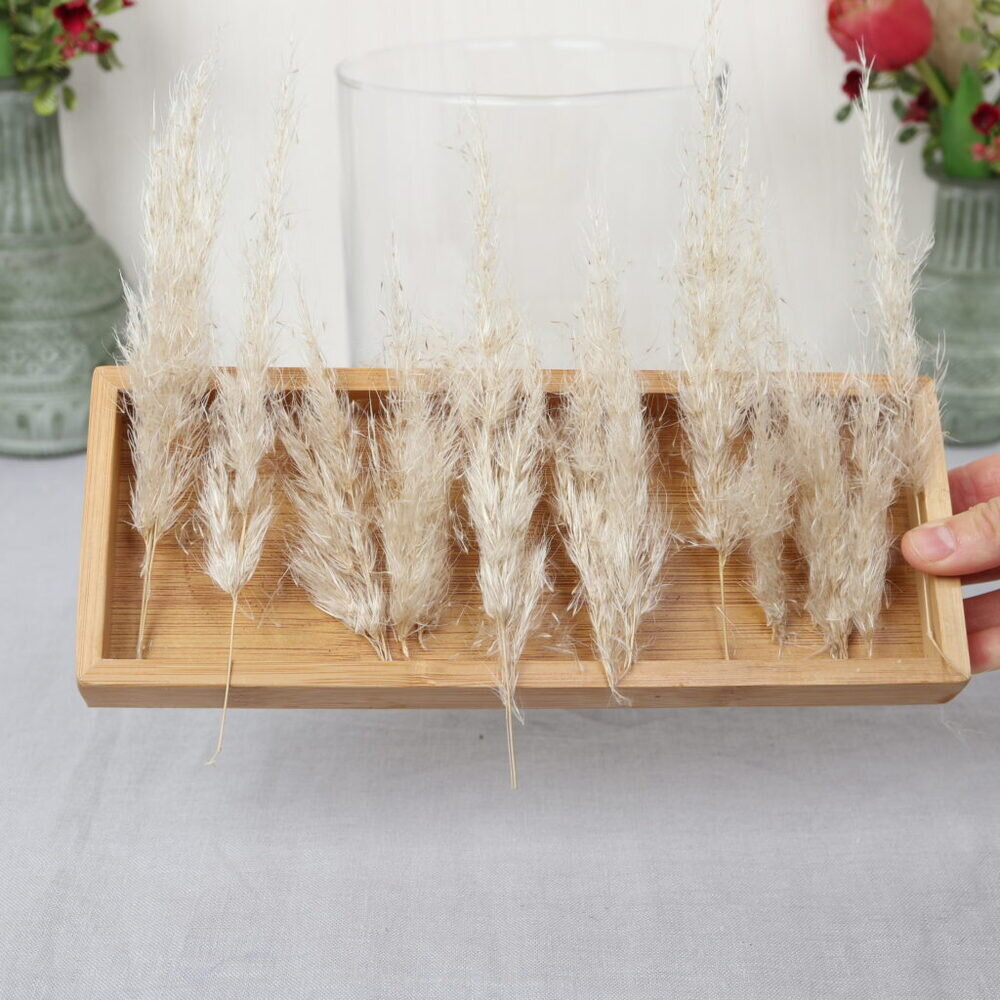 Step 3: Attach Rubber band around glass
For the rubber band trick, the next step is to tighten the rubber band around the lantern glass.
Step 4: Insert rose hips and pampas grass
Now the rose hips can be easily inserted between the rubber band and the glass.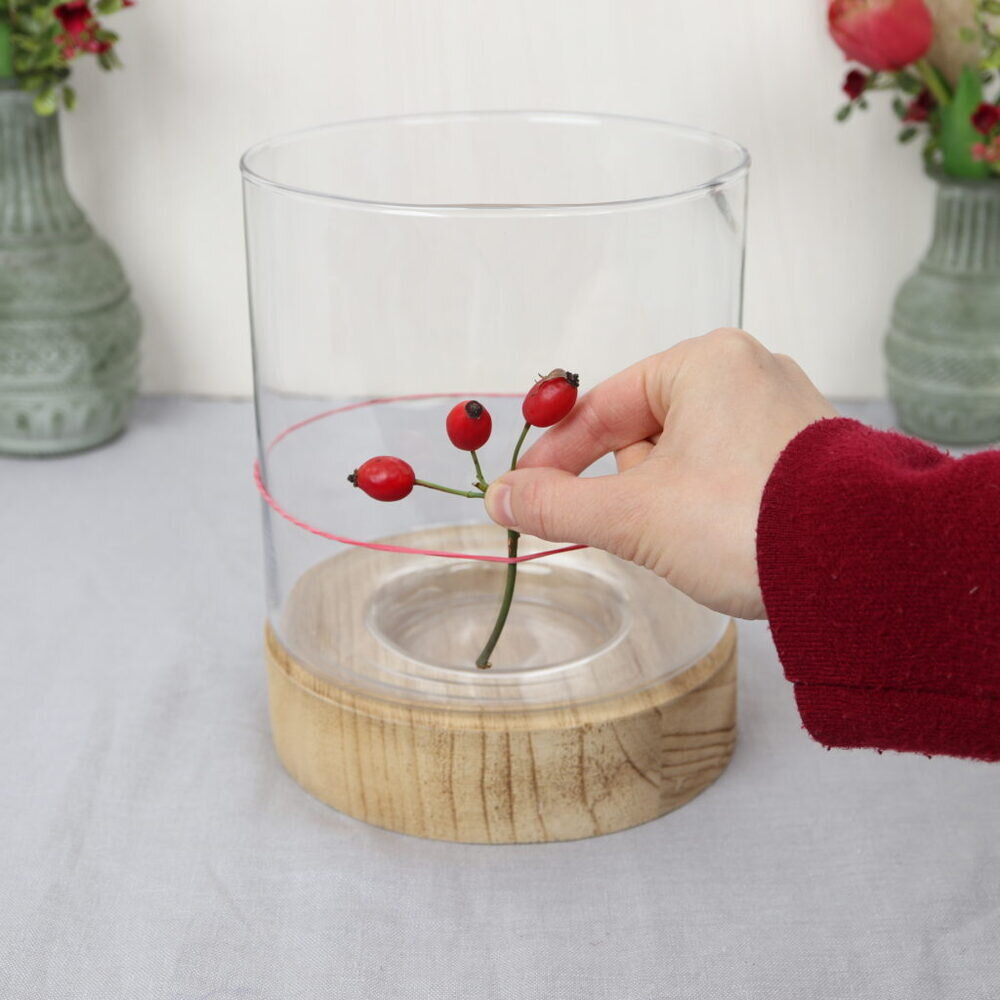 I leave some space for the pampas grass.
The intermediate result then looks like this: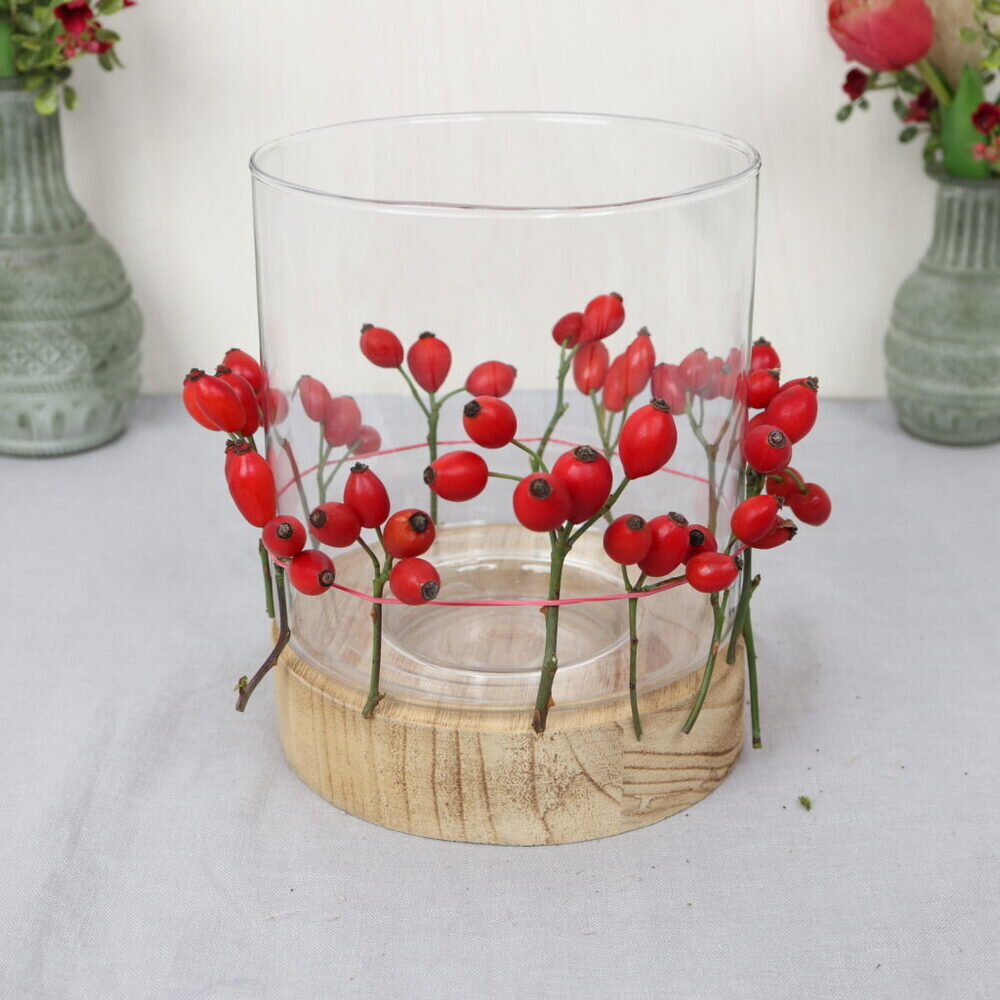 I now put the pampas grass into the spaces between the rose hips.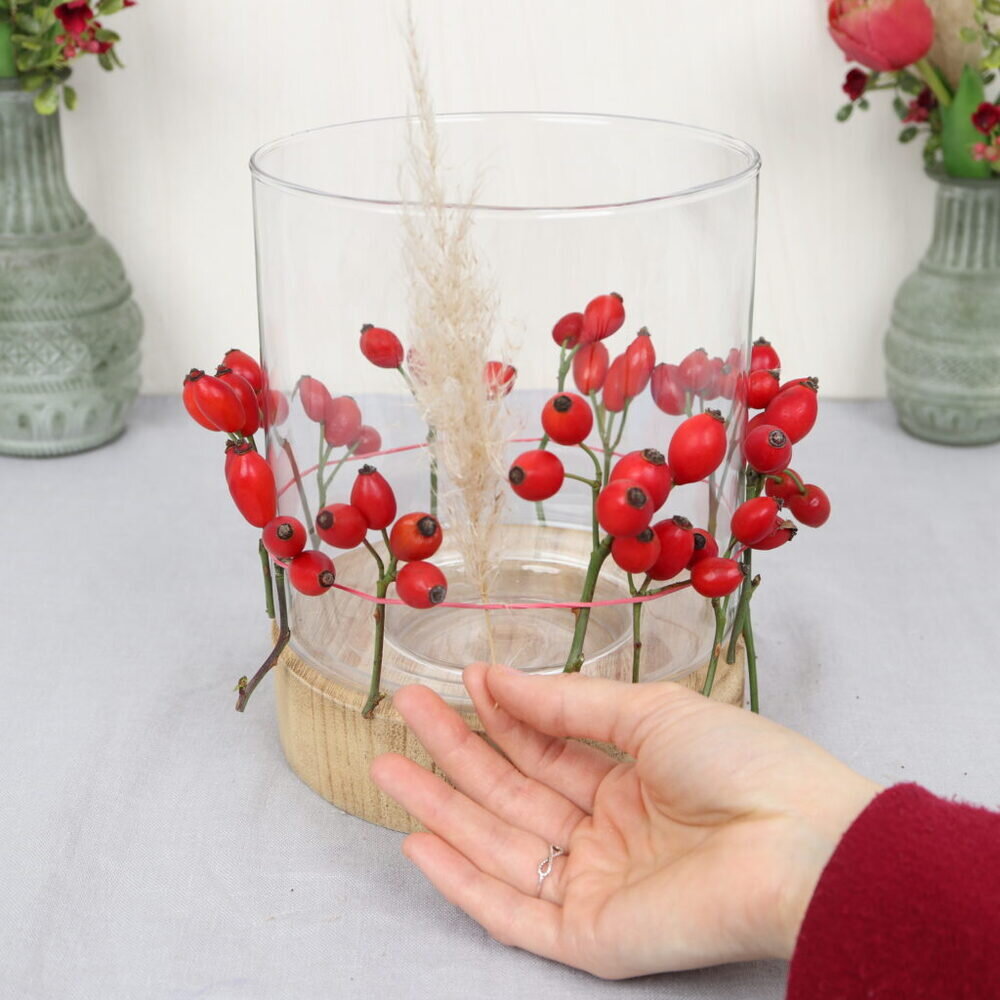 The rose hips and the pampa grass bunches have different heights: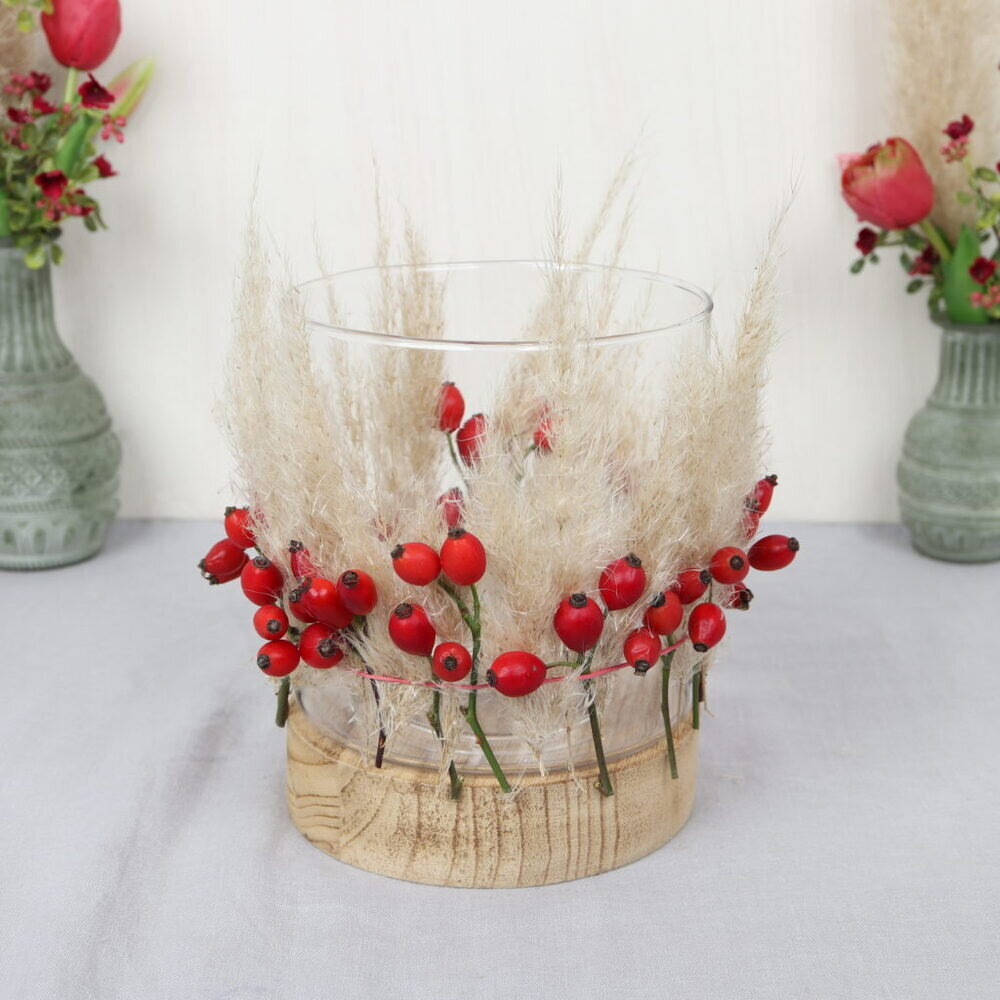 Step 5: Attach jute twine
Now the rubber band is hidden with the help of the jute string.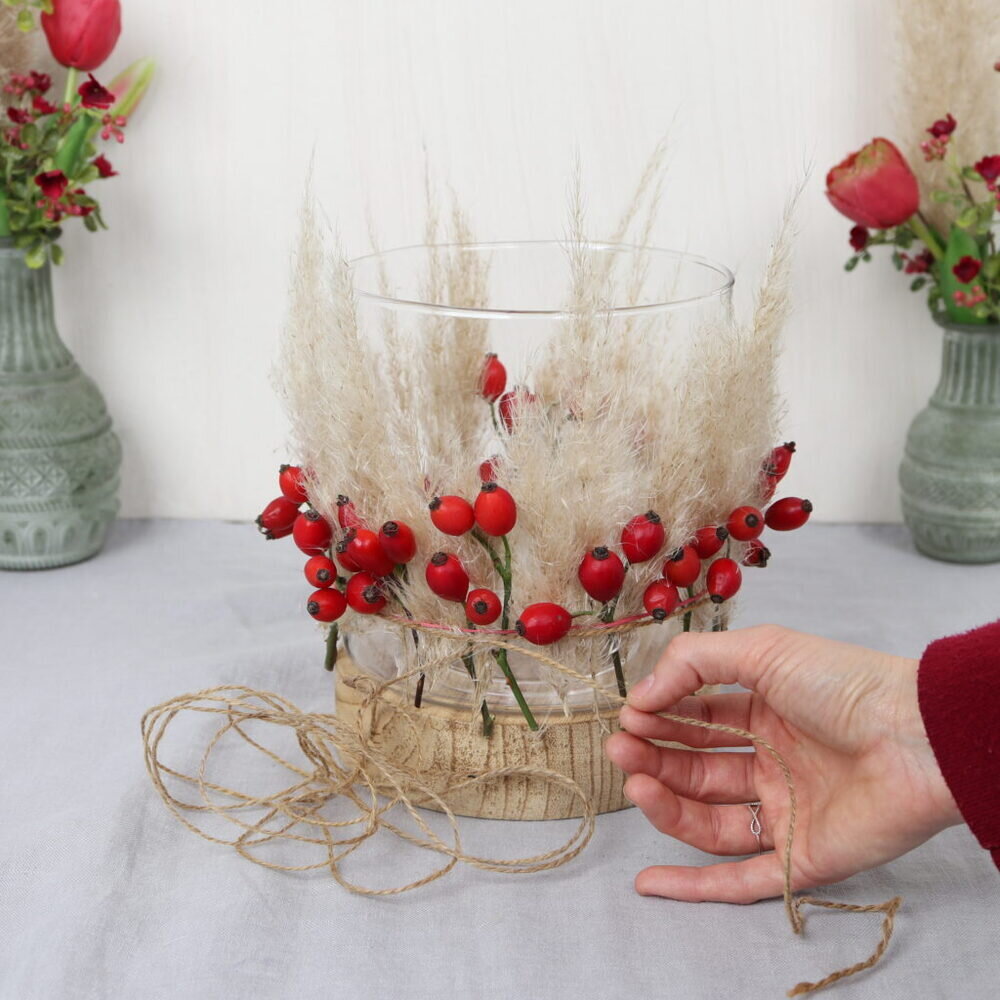 To do this, I wrap a piece of jute string several times around the lantern glass and close with a knot.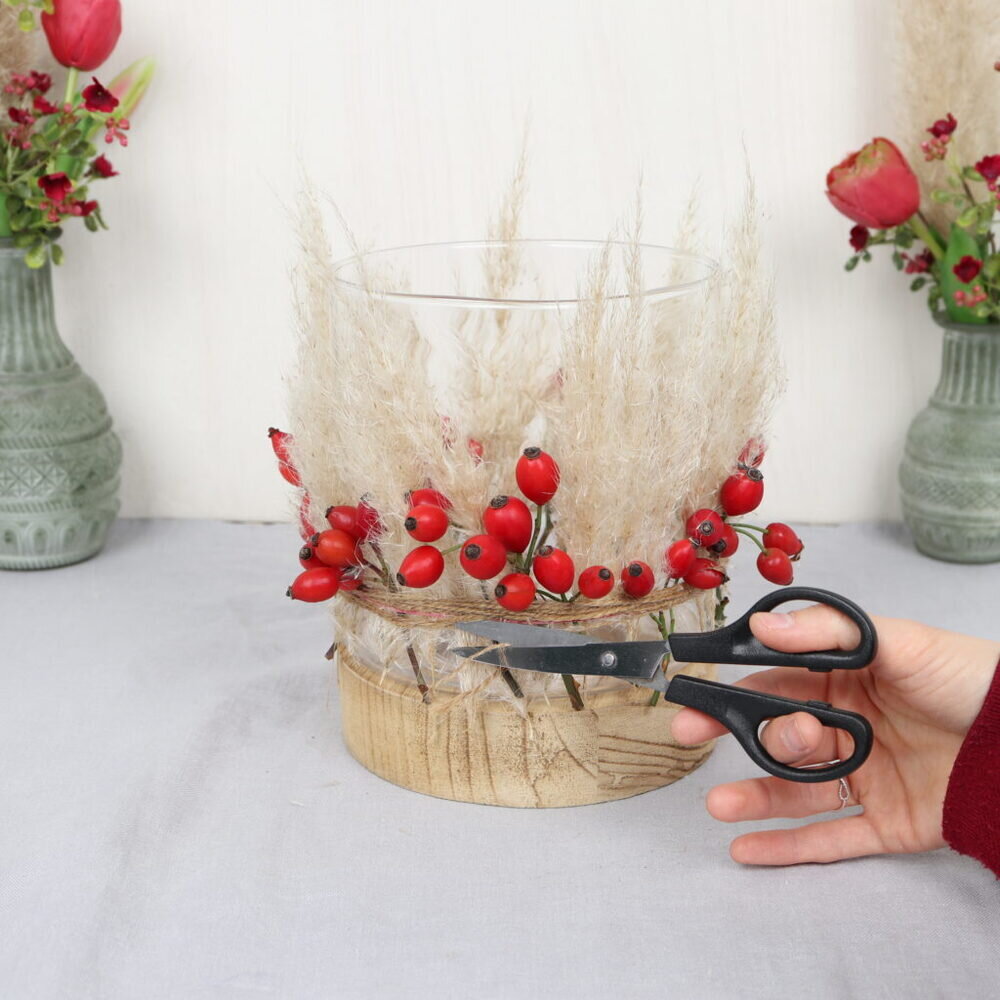 I cut off the ends with the scissors.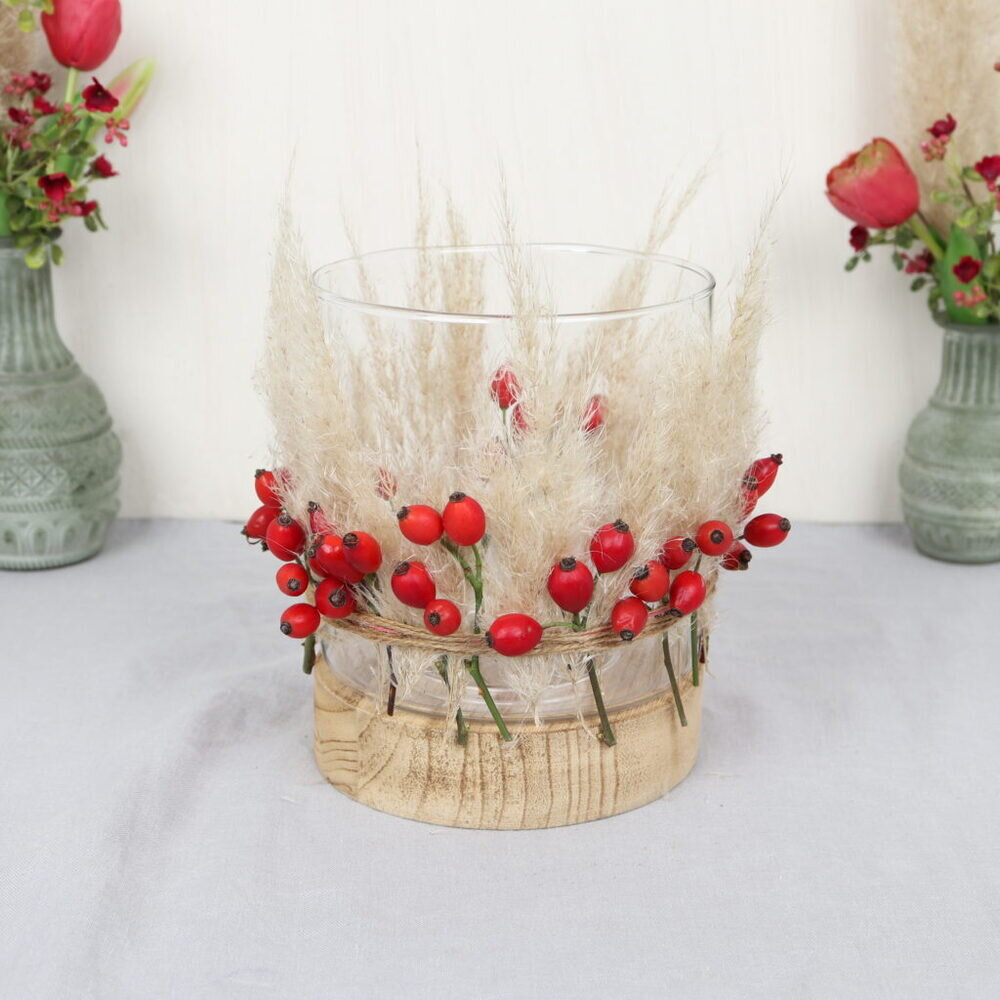 Step 6: Fill with sand
Now some sand is filled into the glass.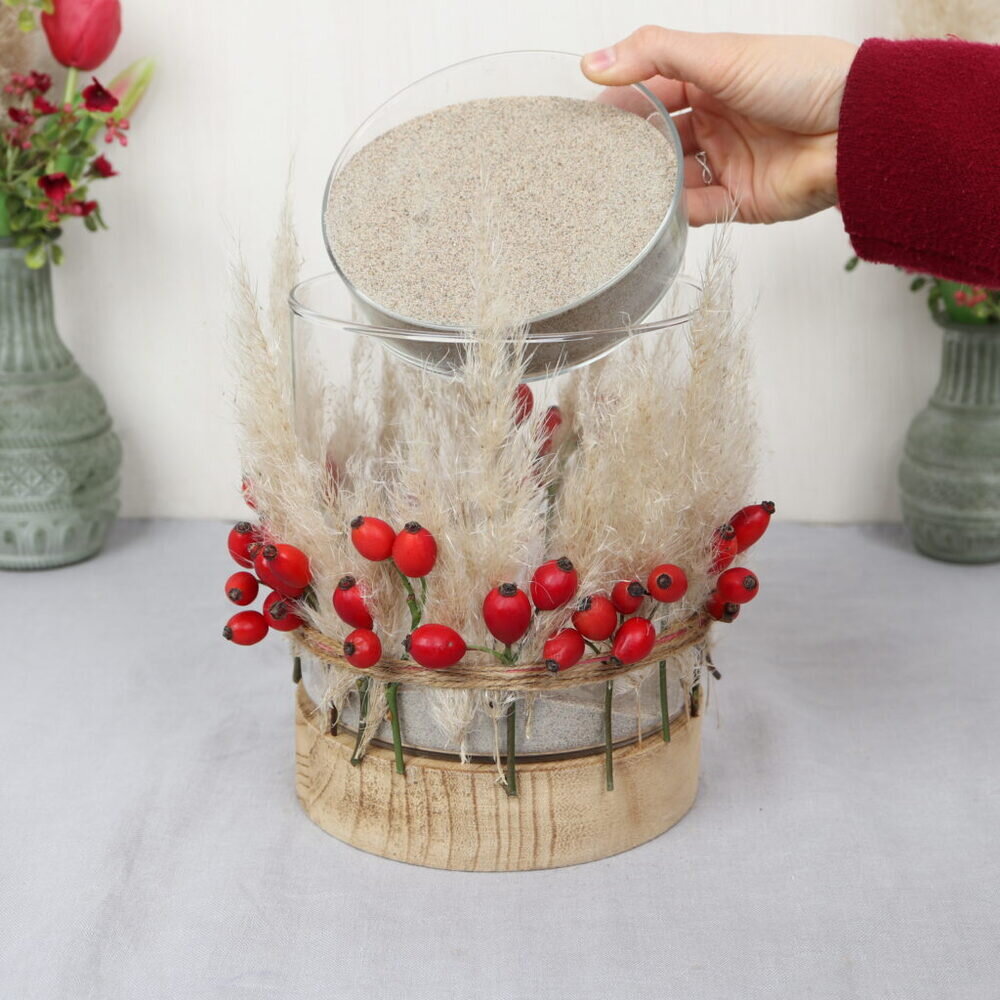 Step 7: Insert candle
The last step is to insert the pillar candle into the glass.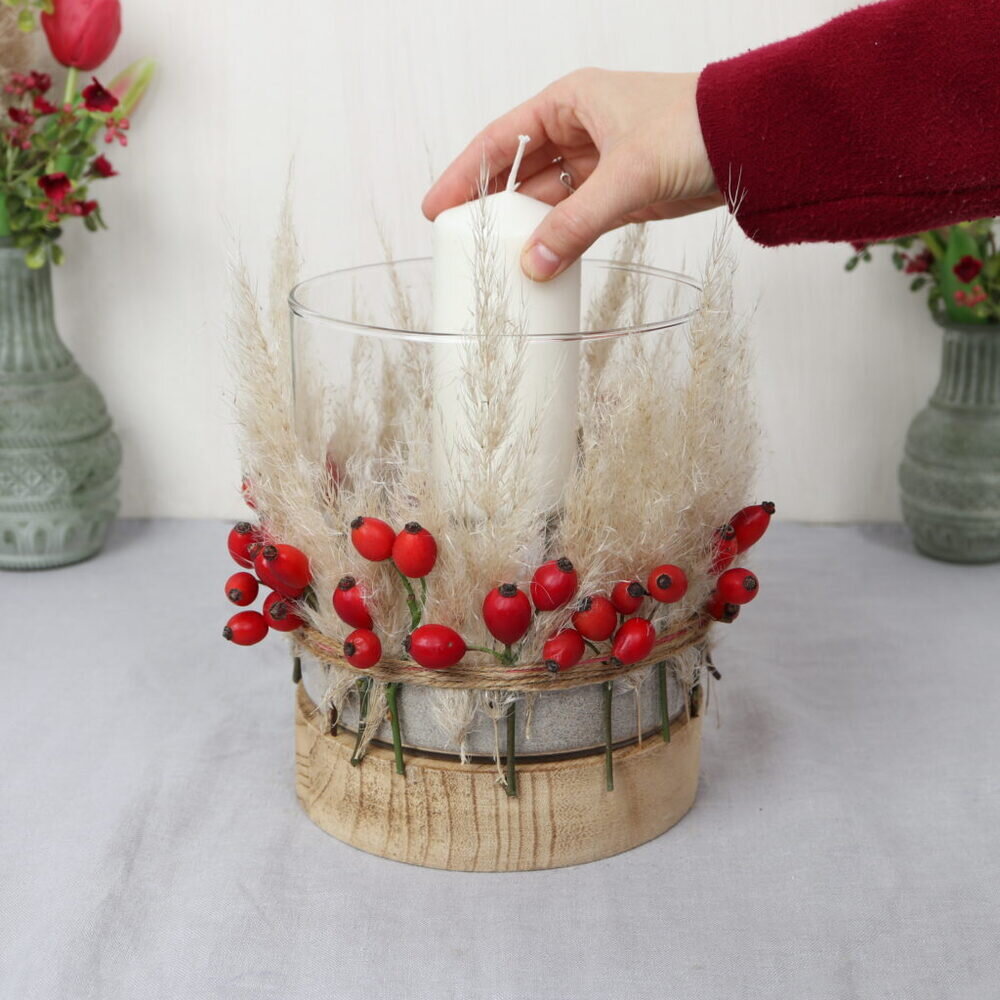 As always with candles: make sure everything is safe and the pampas grass does not catch fire!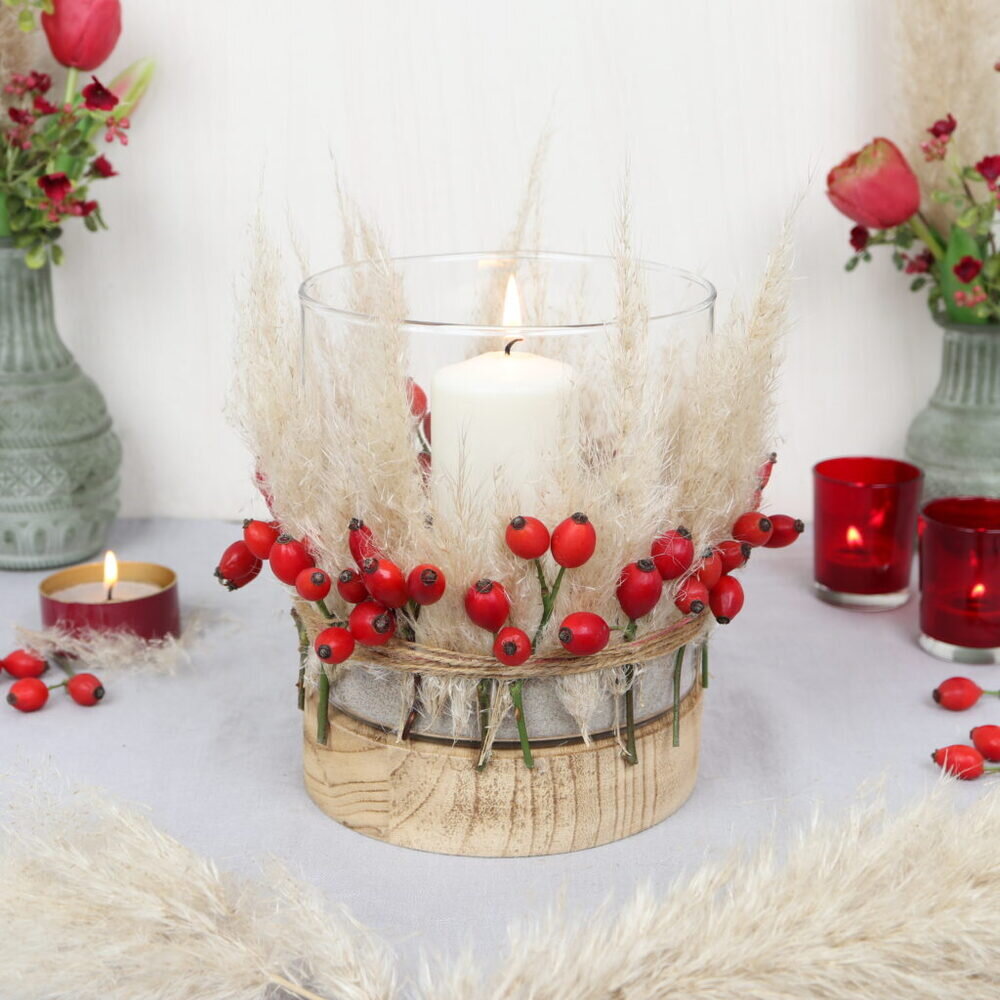 And ready is the autumnal lantern with rose hips and pampas grass! I hope this DIY has made you as much fun as me and you like the sight of this autumn decoration!