Today I'm going to show you how to make a wild spring arrangement with a Kenzan yourself. I use pink tulips and blue hyacinths as spring flowers. The branches and the blueberry herbs give the arrangement a wild look. I like to use the Kenzan (also known as a stick hedgehog) as an alternative plug-in aid for my flower arrangements. It is a more environmentally friendly and sustainable alternative to traditional floral foam. And with it you can easily make beautiful arrangements, for example a flower arrangement with daffodils, a arrangement with baby's breath or a flower arrangement in pastel colors. The flowers are simply stuck onto the spines of the hedgehog!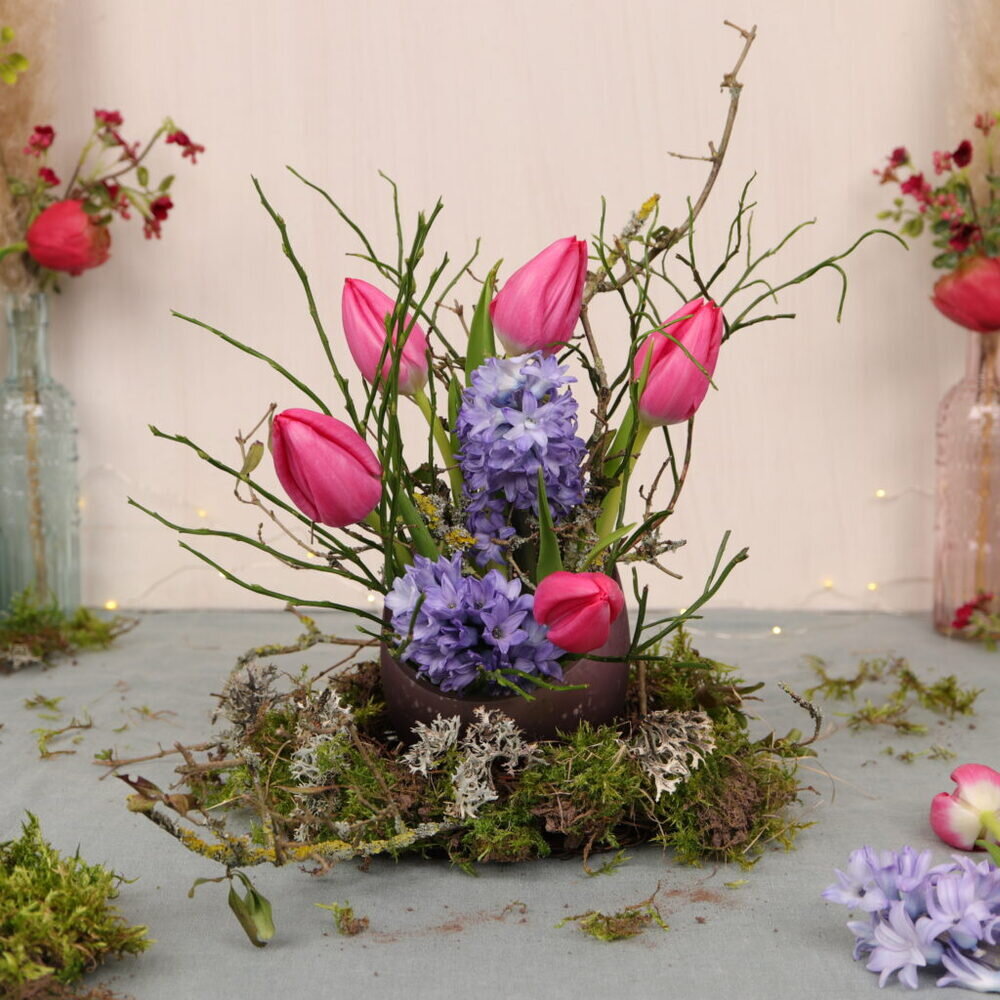 With the following step-by-step instructions you can easily make the spring arrangement with Kenzan yourself!
Tools
Here you can see the tools I used for the spring decorations: flower pruners and flower scissors.
| Tool | Search on… |
| --- | --- |
| Flower pruners | * |
| I use the Japanese flower pruners Okatsune 103 | * |
| Flower scissors | * |
| I use the Japanese flower scissors Okatsune 304 | * |
Materials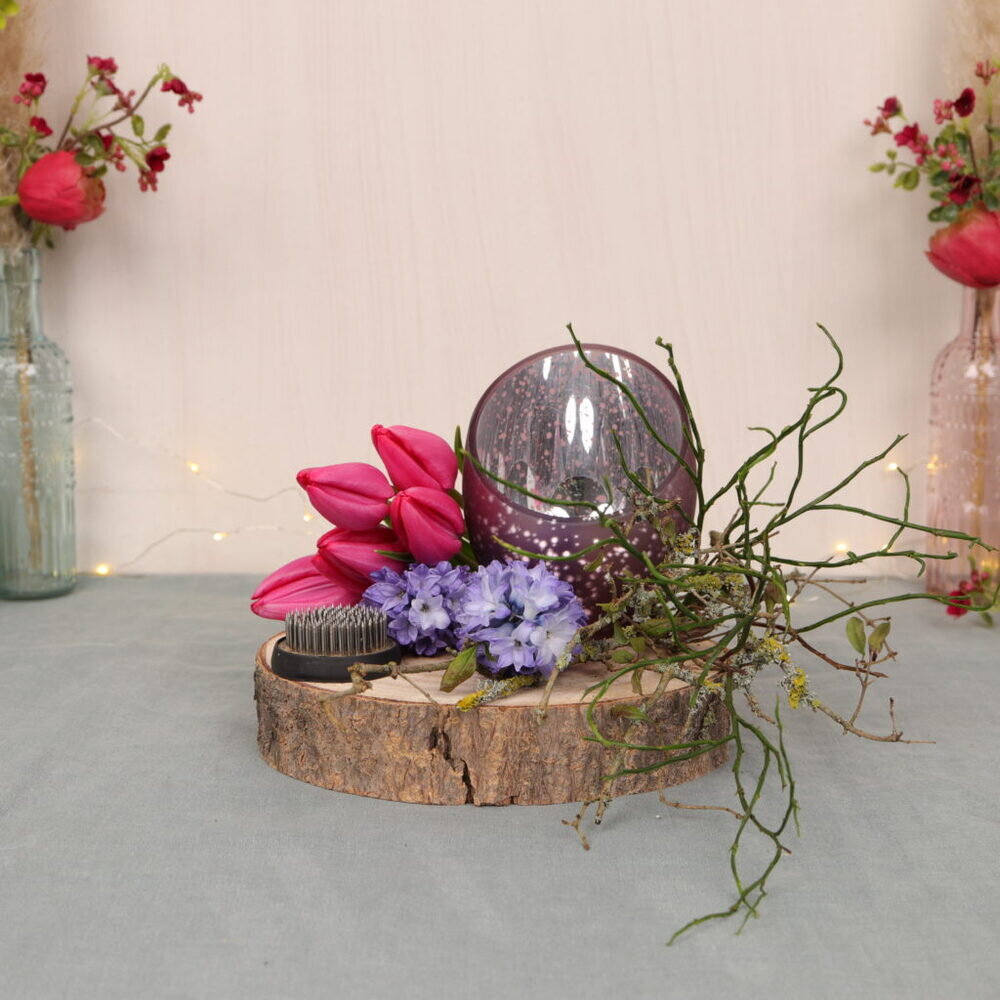 These are the materials I used for the floral arrangement: a semi-circular vase, a kenzan, pink tulips, blue hyacinths, moss-covered branches and bilberry branches.
| Material | Search on… |
| --- | --- |
| Semi-circular vase | * |
| Kenzan (flower frog) | * |
| Pink tulips | * |
| Blue hyacinths | * |
| Moss-covered branches | * |
| Bilberry branches | * |
Instructions | Make a wild spring arrangements with Kenzan yourself
Step 1: Cut branches
In the first step, I shorten the moss-covered branches and the blueberry.
I use my flower pruners for this.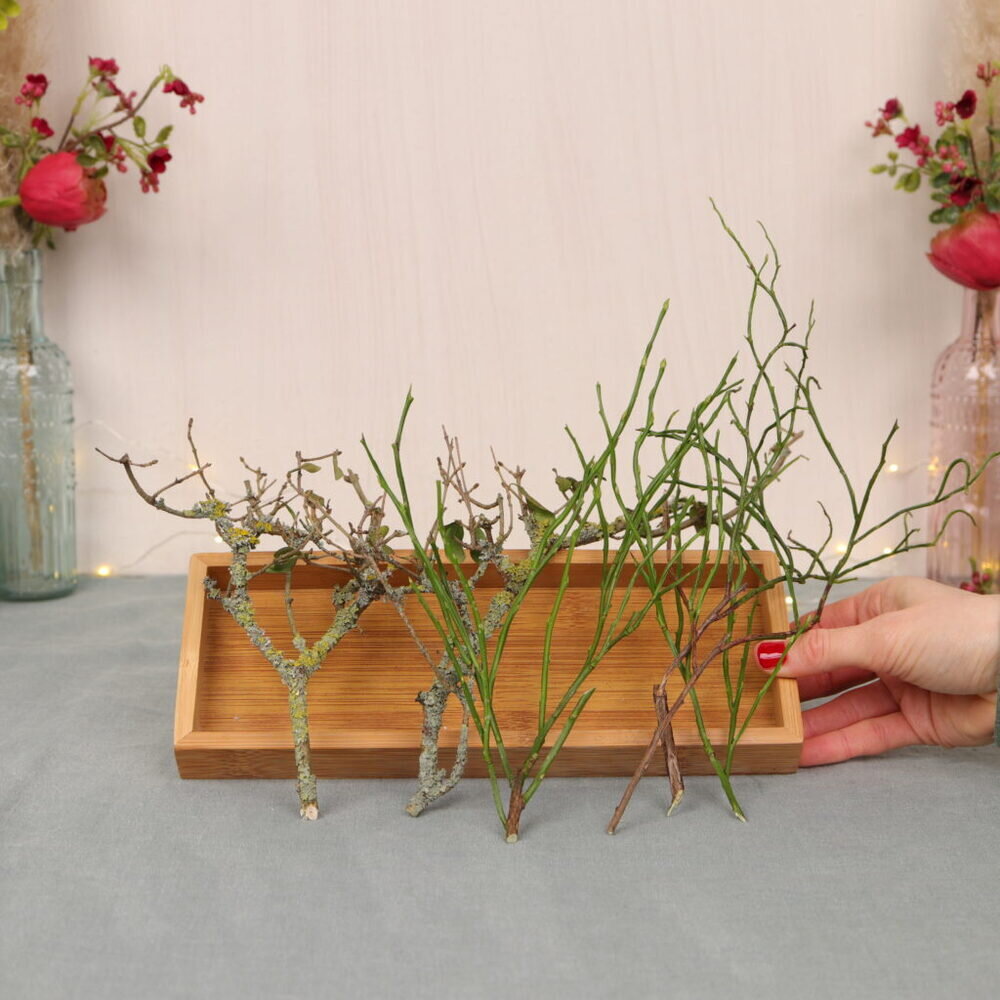 Step 2: Cut spring flowers
In the next step I cut the tulips and hyacinths.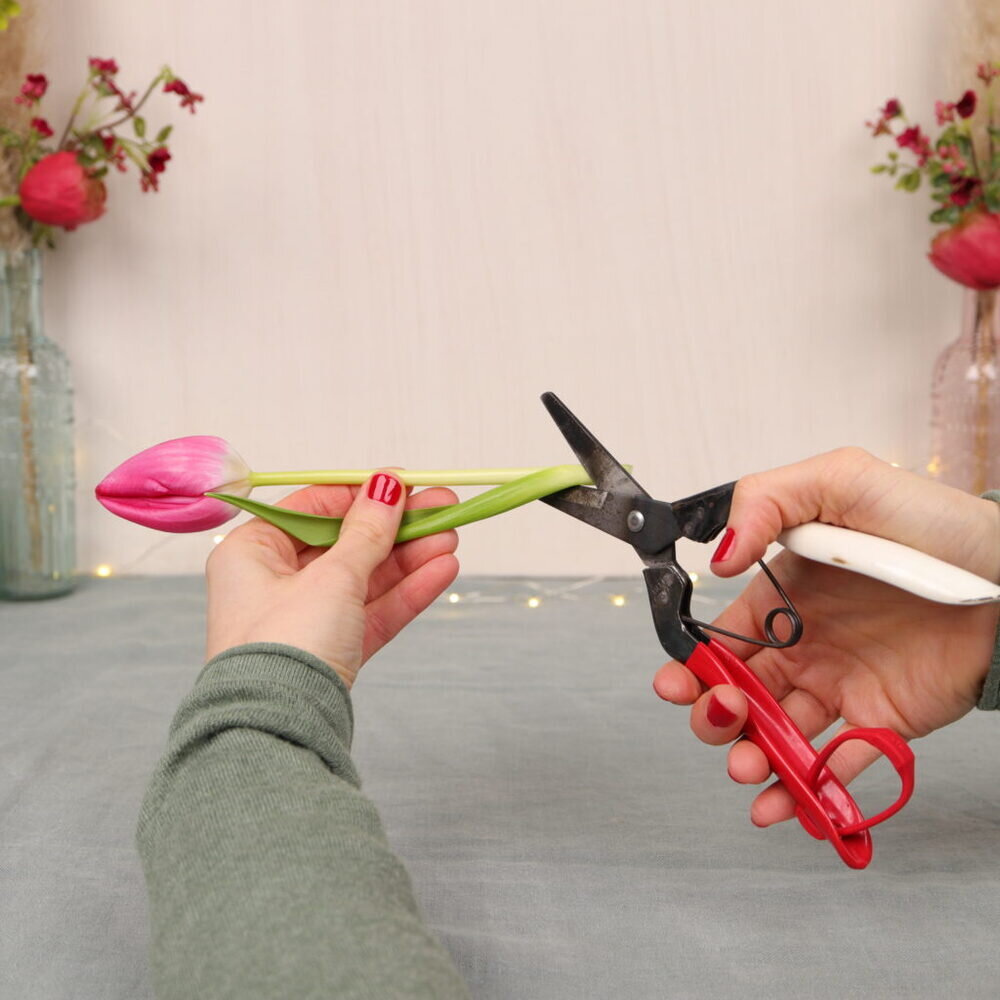 I use my scissors for this. To make the arrangement more interesting, I cut the flower stems to different lengths.
Step 3: Insert kenzan flower frog
Now the kenzan is used.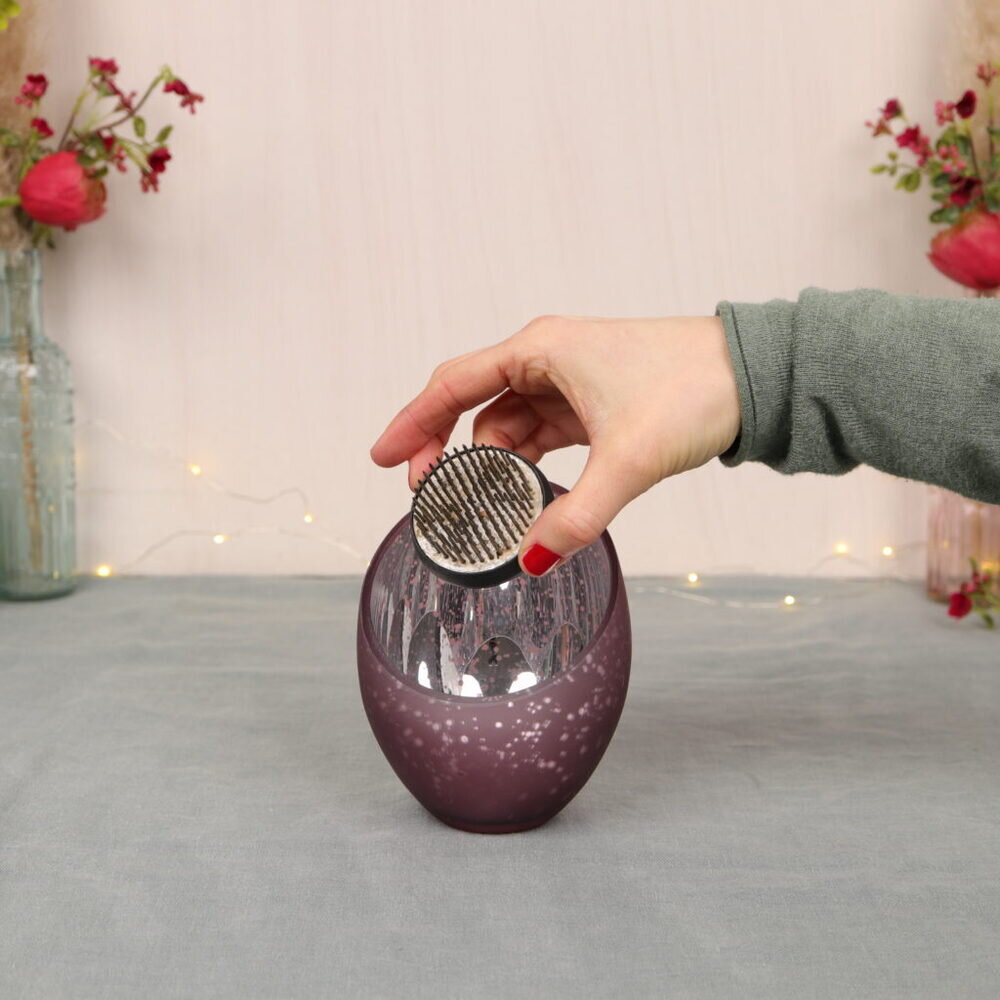 I just put it on the bottom of the vase.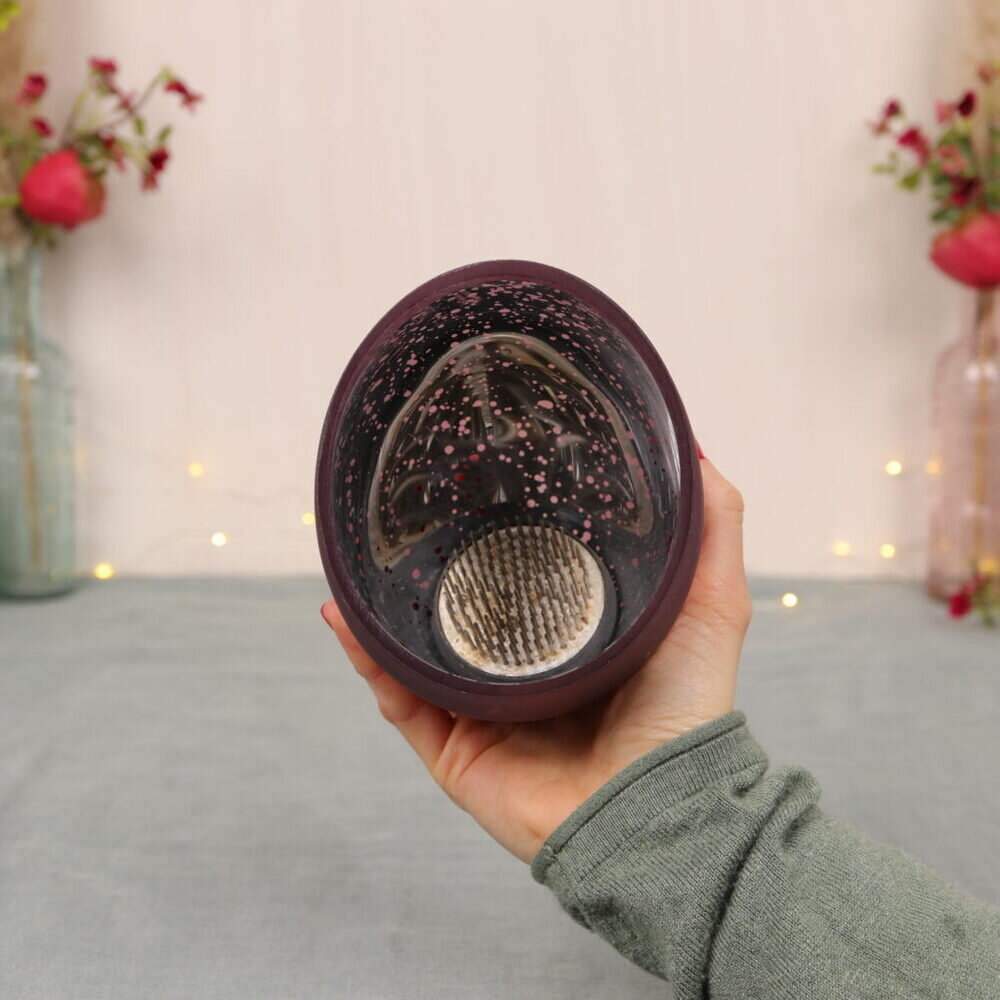 Step 4: Insert branches
Now it's time to insert something!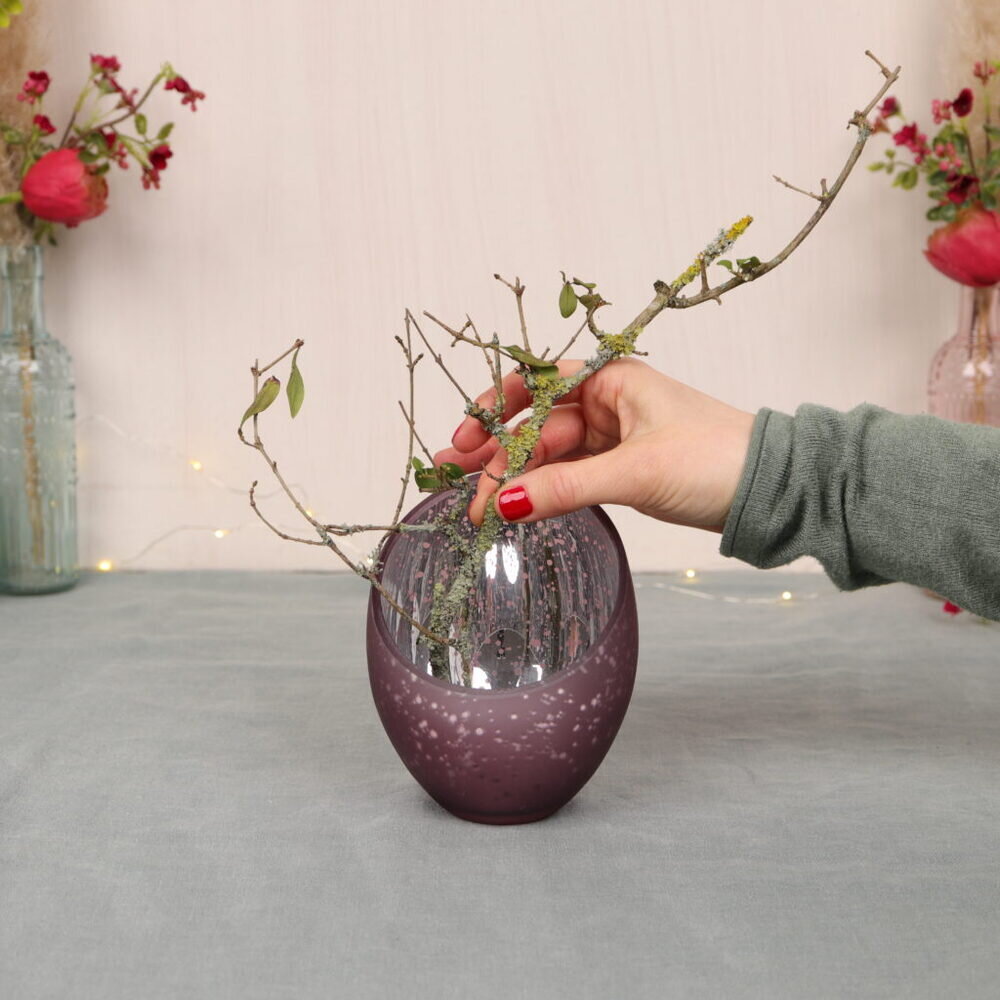 I start with the mossy branches and put them on the spikes of the kenzan.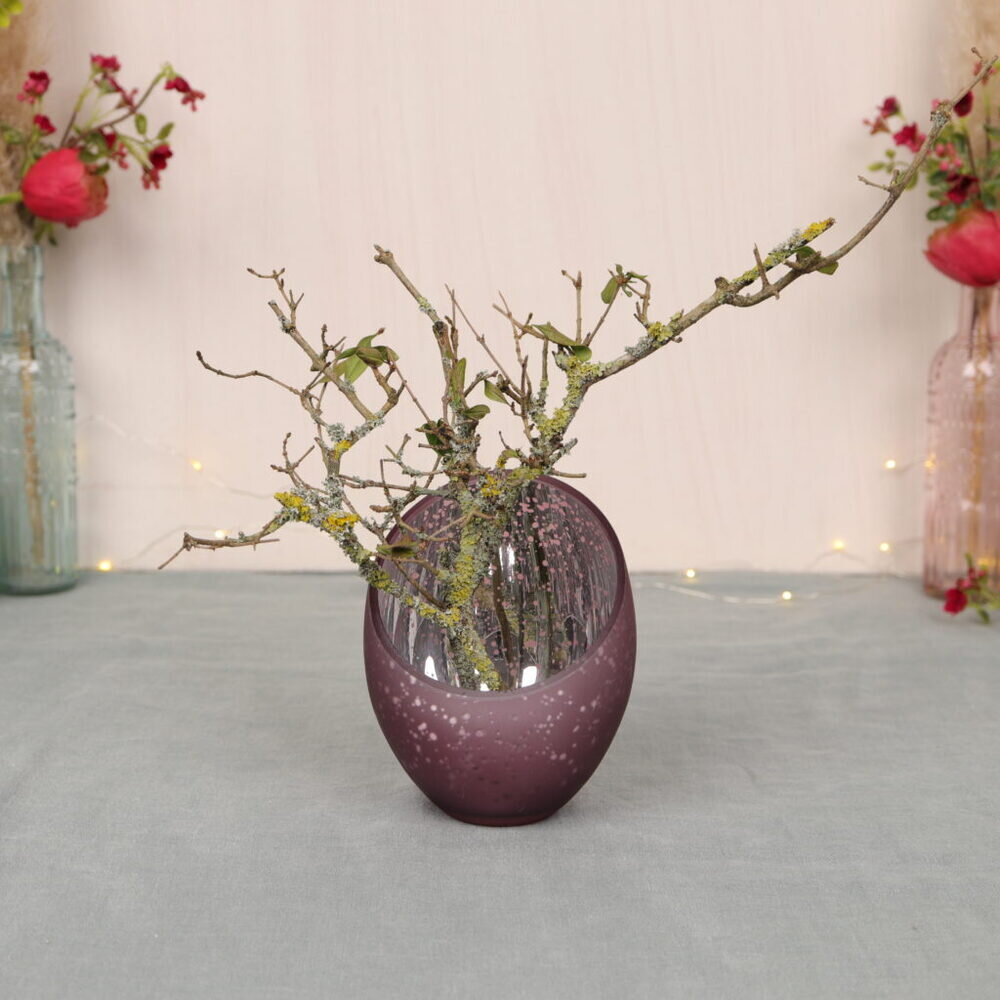 Then come the blueberry branches.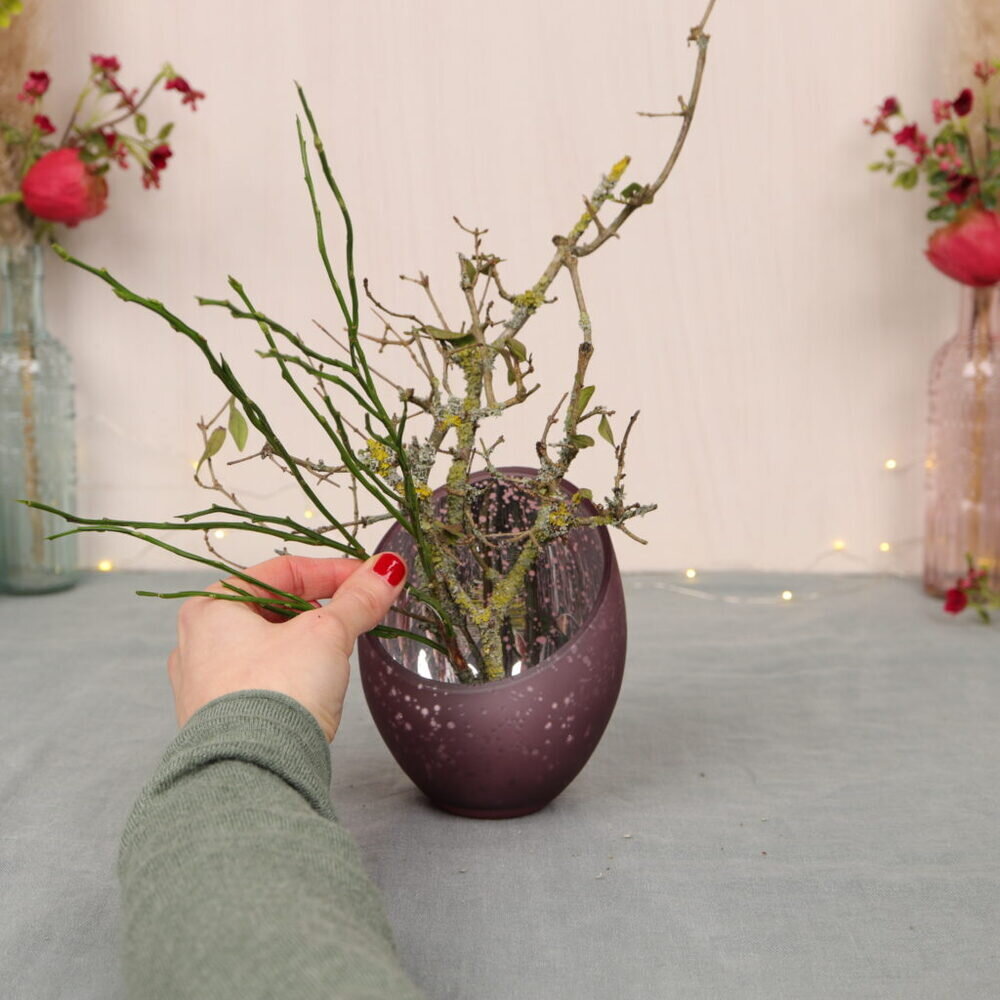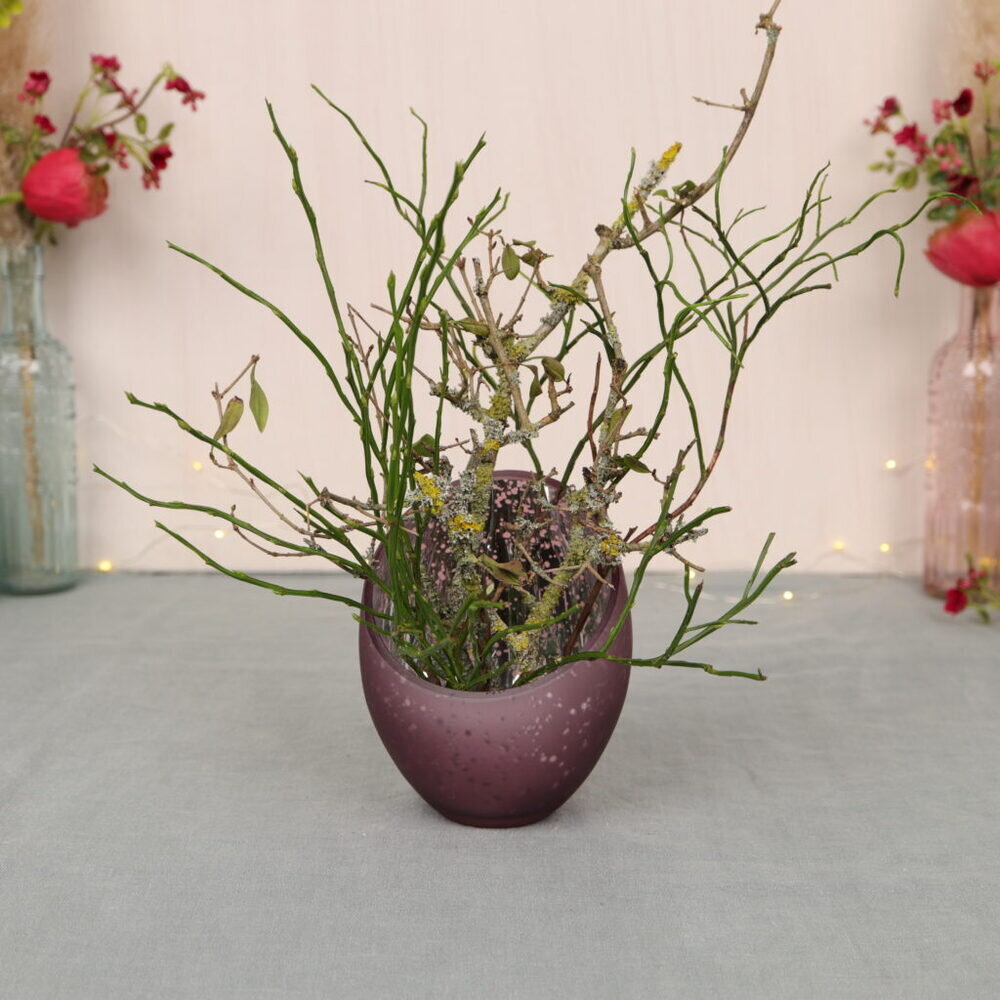 Step 5: Insert flowers
Now I put the hyacinths on the spikes of the Kenzan.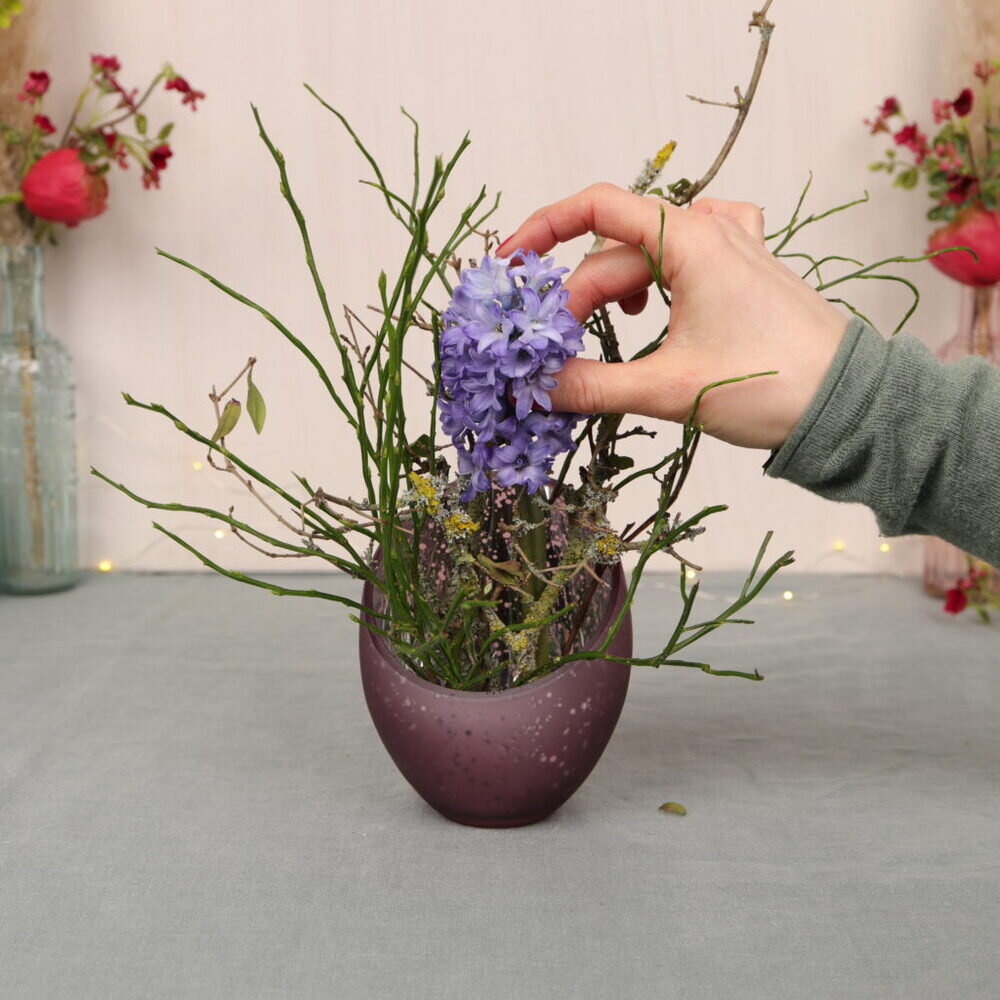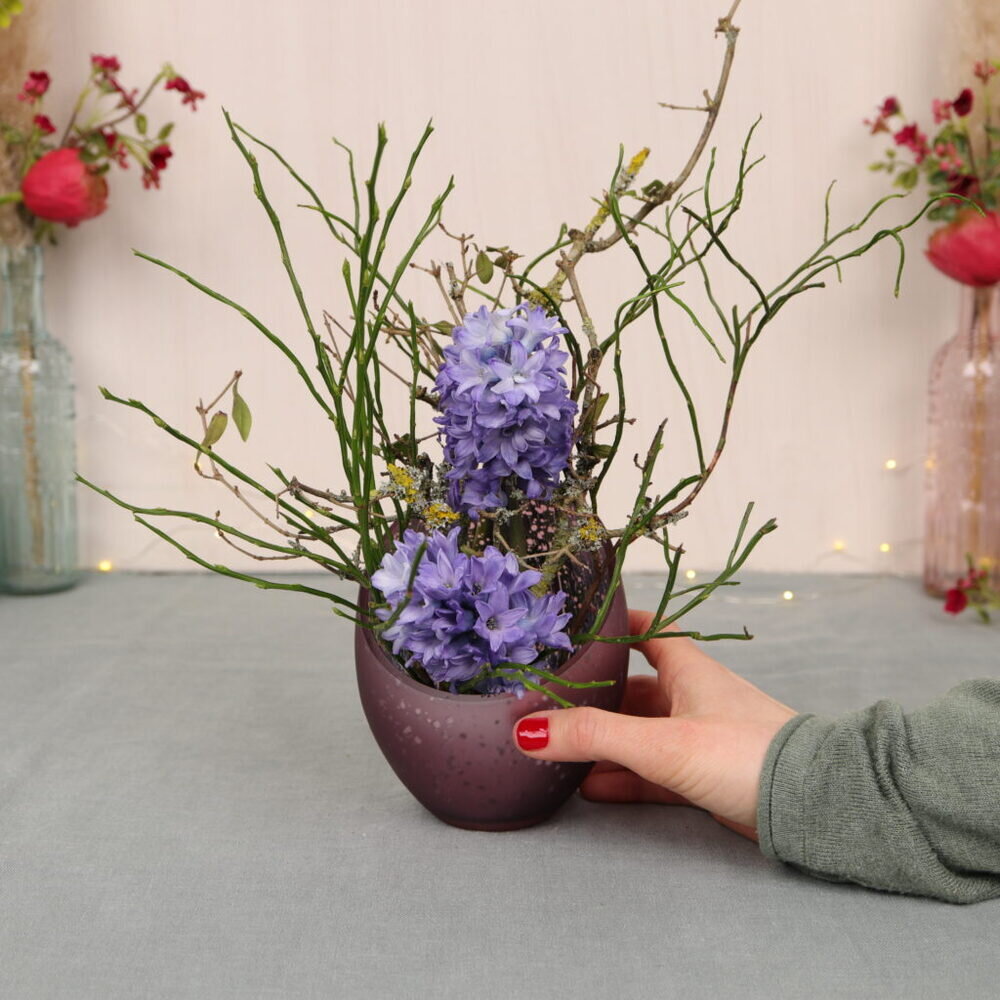 Then come the tulips.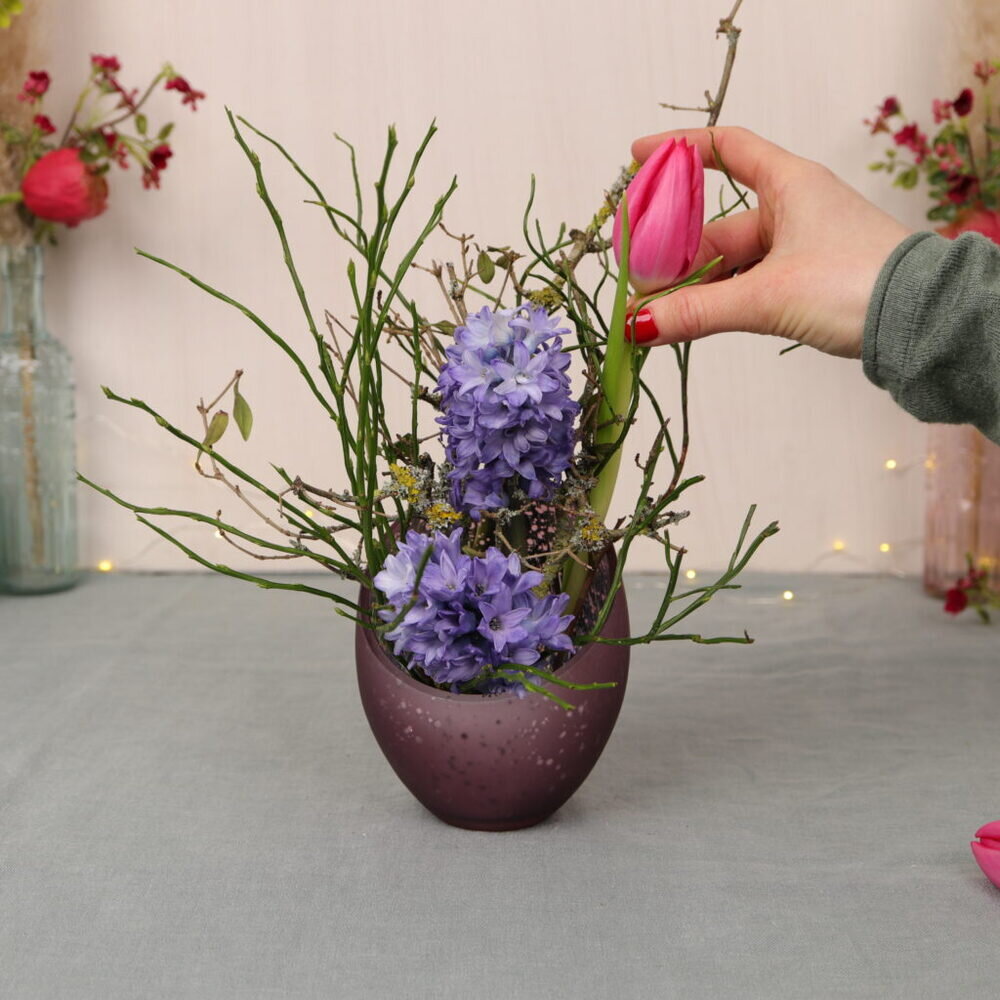 Step 6: Pour water
As a step I fill the vase with some more water.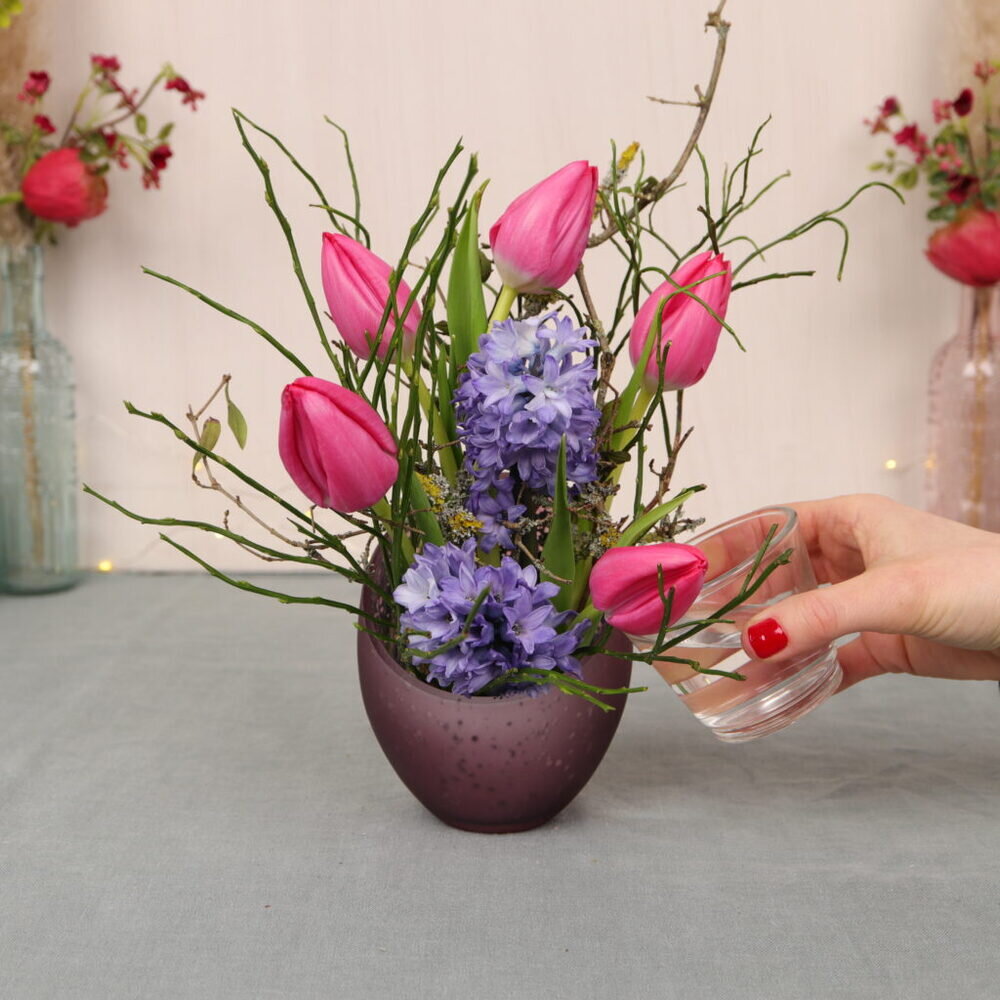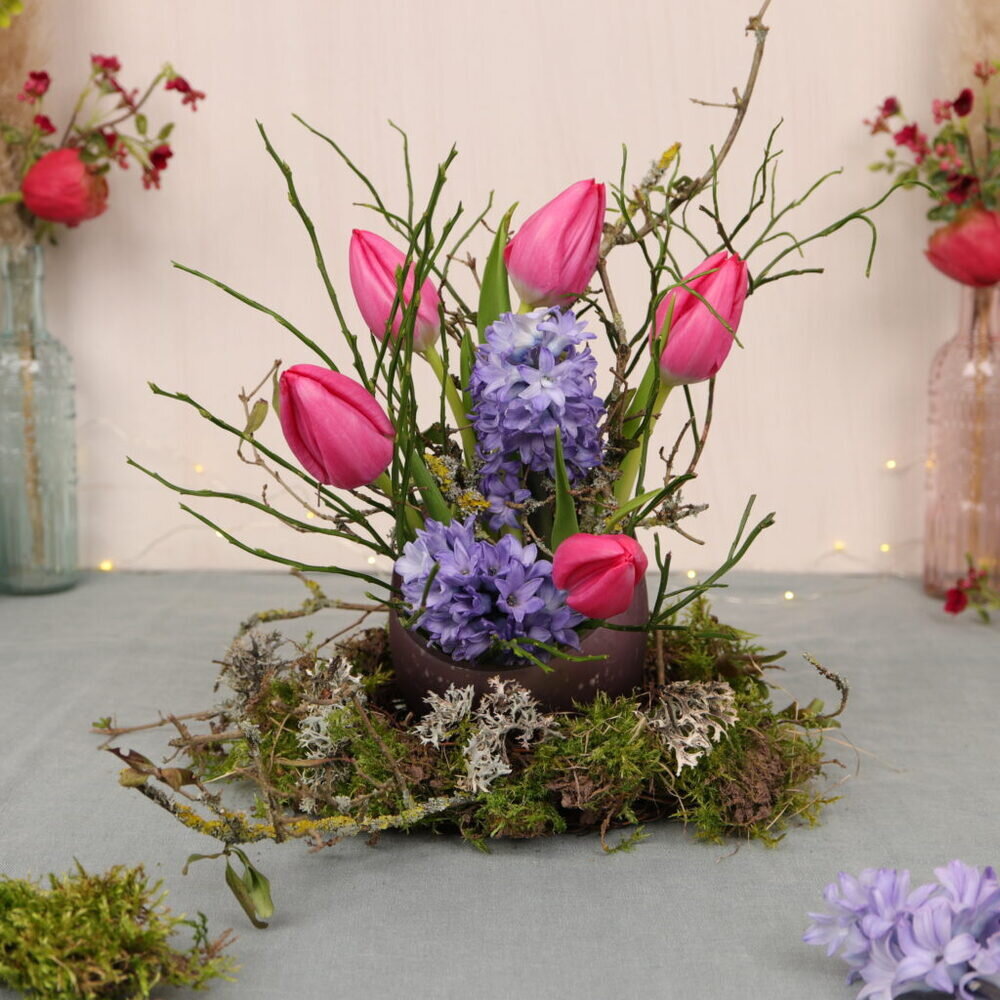 And the spring arrangement with Kenzan is ready! I hope you had as much fun with this DIY as I did and that you enjoy looking at the floral decorations!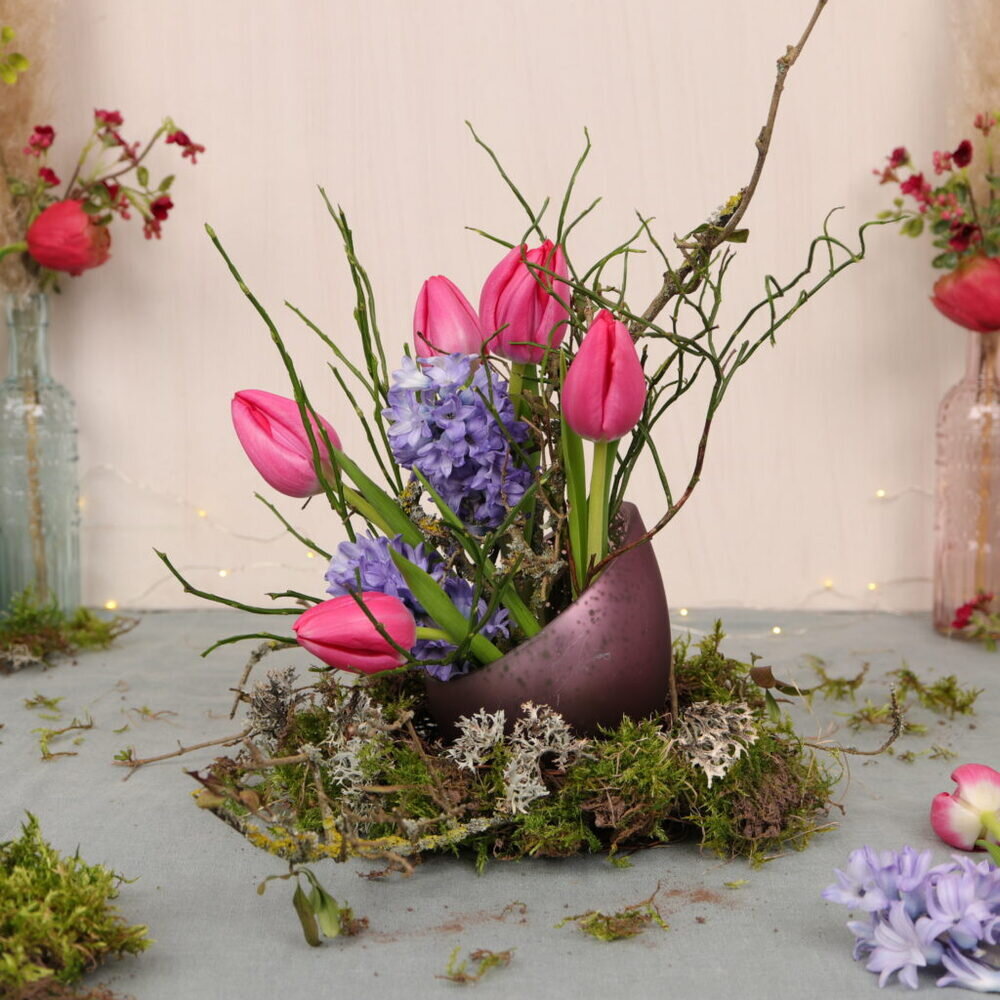 If you would like to make a stick hedgehog yourself, take a look here: Upcycling: Floral Pin Frogs from Old Lids